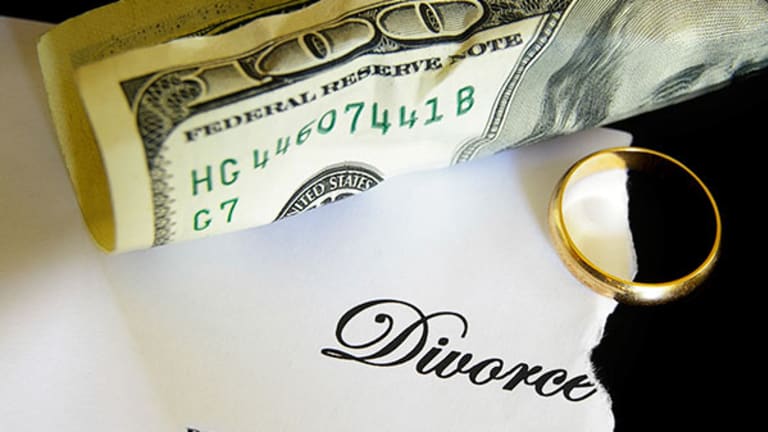 Financial Infidelity: A Cautionary Tale
If one spouse or partner is dishonest about money, the entire relationship is at risk.
Leslie Tayne is a highly respected New York City attorney, with a 17-year track record of specializing in debt resolution, bankruptcy alternatives and consumer financial distress.
All that experience didn't stop Tayne from being victimized by an increasingly common, but insidious, occurrence: financial infidelity.
"Even as an independent, professional businesswomen, financial infidelity still found its way to infiltrate my relationship," says Tayne. "It doesn't matter how much money you make or how close you are with your partner, if you don't discuss your finances, then you are not on the same page and it may cause a rupture in your relationship."
Tayne was engaged to be married, but soon discovered her fiancé didn't want to discuss his personal finances or disclose any of his personal financial information. "I'd seen examples of this hesitation firsthand, from some of the clients I've worked with and knew this wasn't a good sign," she says. "After a long wait with no promise for financial discussion with her fiancé, I realized my fiancé was not being straight with me and I decided not want to remain in a relationship that lacked financial honesty and disclosure."
That decision resulted in Tayne ending the relationship. "I realized I was a victim of 'lying by omission,' - when someone opts to leave out important facts in order to foster a misconception," Tayne adds. "Lying by omission includes failure to correct pre-existing misconceptions."
That could mean hiding finances from your partner, failing to disclose information about how much your partner makes or not disclosing where he or she keeps his or her money, Tayne says. Financial infidelity is a rising issue that can lead to the end of a relationship, Tayne adds.
"If you're in a serious relationship and considering a future with your partner, make sure you have a financial conversation," she advises. "Know how much money your partner makes, what they are spending, if he or she is in debt, and if so - by how much. When you have a financial disclosure discussion with your partner, you are paving the road to a long lasting financially healthy relationship."
According to a 2014 study by the National Endowment for Financial Education, over 33% of adults in a relationship admitted to committing financial infidelity against their partner. When that happened, 76% say the infidelity negatively impacted their relationships. The study also notes that three in ten adults who have combined their finances have "hidden a purchase, bank account, statement, bill, or cash from their partner or spouse."

Another 13% admit to lying about personal debts incurred or the amount of money they make on the job. The issue is especially troublesome for couples coming out of divorces and reconnecting in new relations, experts say. "Financial infidelity can be a lot worse, and a lot more difficult to move beyond than sexual betrayal in a relationship," says April Masini, a New York City-based relationship expert and founder of the Ask April advice column. "It happens when couples aren't honest about money and it can take the form of actively lying and cheating about money - or simply withholding information about money."
Masini says blended families have a lot of financial landmines, and when children are involved, sometimes a new spouse won't disclose assets earmarked for children. "When it's discovered that there's been money hidden - because non-disclosure sure seems like someone's hiding something when it's discovered - prepare for fireworks," she adds.
Kathryn Dickerson, a family law attorney and partner at SmolenPlevy in Vienna, Va., says legal statutes on financial infidelity, as opposed to, say, marriage infidelity, are murky. "Financial infidelity is generally when one spouse spends money or incurs debt that the other spouse does not know about and to which the other spouse would probably object," Dickerson says. "This is a very loosely and ill-defined term that is provocative and pejorative. The purpose of the debt or money issue is not incorporated into the definition, nor are the circumstances of the parties and the marriage."
Dickerson advises couples to communicate early and often on money and debt issues and to steer clear of any money problems turning into relationship problems. "Both parties should know what their income is, what their liabilities are, and agree as to their financial goals," she explains. "Too often, one spouse is primarily responsible for managing the financial affairs of the family and the other spouse doesn't have even a cursory knowledge. It's often a surprise when the spouse who is less involved learns of the financial state of the parties' affairs. Sometimes the spouse with less knowledge argues that the other spouse is financially controlling - thus they need to secretly incur debt to pay for their expenses but this ignores the basic reality of the family's income versus debts."

Or, as Tayne puts it, the more serious your relationship becomes, the more serious your financial discussions should be. "You must always have mutual financial disclosure with your partner," she says.
That not only comes from 17 years as a financial attorney, it comes from personal relationship experience, too.