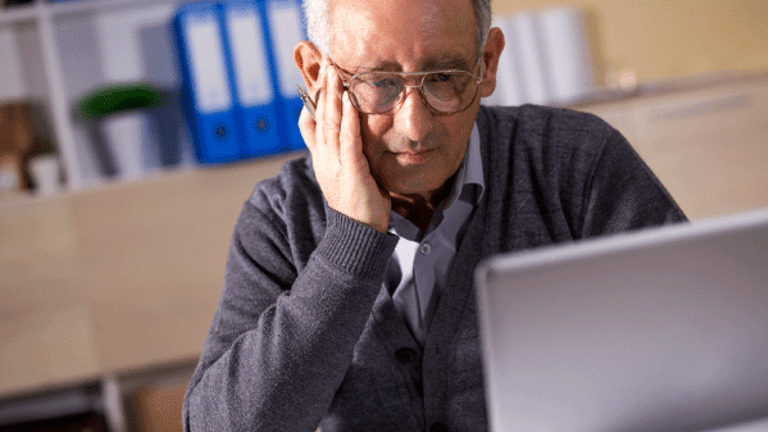 Publish date:
Financial Advisers Should Emphasize Spending, Not Portfolio Results
One Wall Street big wig at Morgan Stanley says that advisors who focus on portfolio returns over client spending are making a big mistake.
One Wall Street big wig at Morgan Stanley says that advisors who focus on portfolio returns over client spending are making a big mistake.
Are financial specialists giving short shrift to client spending as a key retirement planning issue?
One Wall Street investment guru thinks so.
Ben Huneke, investment solutions head at Morgan Stanley Wealth Management, told the audience at the Investment Company Institute's annual conference last week in Washington, D.C. that "client "spending" is the big issue in retirement savings - not investment portfolio performance.
Huneke said that if a client is significantly overspending on a monthly basis, that will severely curb cash flow in retirement - and that issue needs to be a priority for financial advisors.
While the topic doesn't get much play in the financial media, some advisors say it's a topic that advisors should be addressing much more often.
"You need to focus on what you can control versus what you can't control," notes Matt Gulbransen, owner of Callahan Financial Planning Corporation in Minneapolis. "You can control how much you save and how much you spend relative to assets. You can't control what the stock market does. So, yes, I believe that it's definitely more important to focus on spending versus market returns."
Gulbransen says he likes to share an analogy with his clients. "During our lives, we're focusing on climbing up a mountain - saving for retirement," he explains. "Retirement is the top of mountain. And now it's time to climb down the mountain. Since market returns are never consistent, we must come down the mountain safely and make adjustments when markets underperform, to help preserve our wealth long term. To make those portfolio adjustments, you must be flexible and make adjustments to your spending as well."
Others agree, adding that, due to historically underperformance in most retirement funds, clients must make up the difference somewhere, and spending cuts fit the bill.
"Most investment managers underperform their index so we focus on index (global) investing with low costs as a strategy, but we target a reduction in spending is key, as well," states Genti Cici, founder of StandUP Advisors, LLC, in Baltimore, Md.
Cici says his "number one goal" is to go through client budgets and show how clients can save money - they just need to manage their money better and stick to a plan. He says younger savers can especially benefit. "Take a 22-year-old who saves an extra $400 per month and invests the proceeds and garners an 8% annual return," Cici says. "At age 67, that retirement saver will have cumulated $2.1 million."
"But if they miss saving from ages 22 to 30, they'll lose $1 million in potential savings," he adds. "That has nothing to do with investment performance, but with people not saving money and engaging in good financial behavior."
Some money managers disagree with the notion that client spending trumps client investment returns.
"I think the returns are more important," says Leonard Fox, a financial specialist at Scarecrow Trading in Savage, Minn.
Fox says there is a tendency to accept mediocre returns, because investors often feel that they have no control over the financial markets. "Making the effort to find stronger returns can be exhausting and difficult, but there are a few places that can help," he says.
Fox says his firm's equity strategies are third-party tracked by two sources, which is a big help in maximizing returns. "I use Theta Research and TimerTrac," he says. "Both track investment picks from professional money managers, advisors and average Joes trading on their own time."
"I think you solve the returns challenge first and then find the motivation to work on your expenses," Fox adds. "For example, skipping that $2.50 cup of coffee every day would turn into $640 -- based on the Rule of 72 -- in 30 years. Now that's incentive."
Yet with too many retirees underfunded with their retirement savings, the idea of looking into personal spending cuts seems like a no-brainer, and should be a priority for financial advisors.
"Working people, versus people already in retirement, still mistakenly believe that Social Security or even an employer's pension plan will cover their retirement needs," says Kirsten Curry, president of Leading Retirement Solutions, in Seattle.
The fact is, Social Security is merely meant to provide a minimum retirement savings foundation and traditional Pensions Plans have dwindled, Curry says. "Consequently, you're ultimately responsible for the comfort level of your retirement and being financially prepared for not just Social Security planning, but also personal savings, investment returns and private retirement plan benefits," Curry adds.
The takeaway? The more you cut spending, and the more you start saving, the better your retirement savings.
That sounds like a winning recipe for any retirement saver - as long as he or she recognizes the importance of a household spending budget, and who has a financial advisor standing by to make sure they follow it.