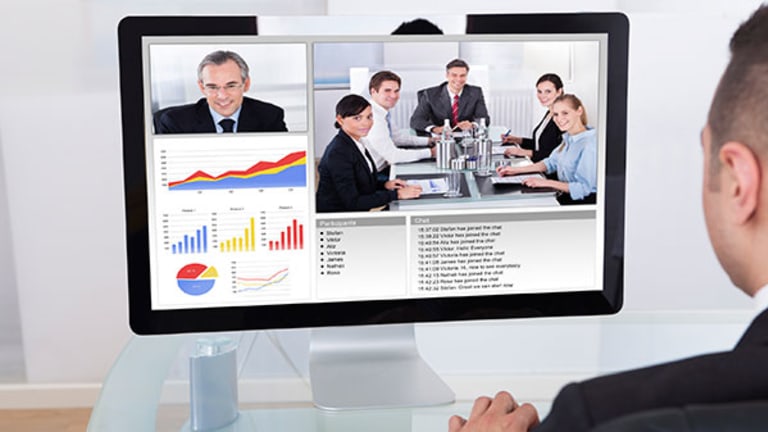 Financial Advisors Adopt Technology To Meet With Clients Online
Financial advisors have adopted the use of more technology to reach out to clients when it's convenient for them, instead of juggling time to meet in person for every meeting.
NEW YORK (MainStreet) — For Jenev Caddell, a Nashua, N.H. resident, managing her retirement portfolio became simpler when she switched financial planners, giving her greater latitude to meet with him periodically through Join.me, a Boston-based free online meeting provider.
Instead of trying to carve out time to meet with her financial advisor in person while Caddell manages a business of providing relationship coaching for female entrepreneurs, she rebalances investments and views their performance online with Michael Solari, principal of Solari Financial Planning, a Boston-based financial advisor.
"Join.me was a super easy screen sharing tool that allowed me to easily see and understand a complicated form that Michael helped me complete," she said. "It was very user friendly."
Clients Skipping Coffee Klatches
Caddell's experience is not out of the ordinary -- not in 2015. Financial advisors have adopted the use of more technology to reach out to clients when it's convenient for them, instead of juggling time to meet in person for every meeting. It's all the more of the essence to compete in an age of robo-advisors. Forgoing meetings at their homes or the office of advisors means investors can play a greater role in making investment decisions for their retirement by simply using software such as Skype, Google Hangouts or Join.me to check the performance of their assets or whether the portfolio needs greater diversification or rebalancing. Many advisors also connect with their clients by providing news about stocks or the market via Facebook, Twitter or LinkedIn.
More clients are also demanding that their financial advisors offer a virtual office so they can keep up with their investments easier. Many Gen X and Y professionals still want to manage their own retirement portfolio but are seeking advice only when they run into questions, said Solari who charges a flat monthly retainer ranging from $200 to $300 for financial planning advice. After meeting a new client in person for the initial two to three meetings, Solari follows up via email and connects with consumers with Google Hangouts, Skype, Twitter or LinkedIn.
"It's important to have the face to face contact at first," Solari said. "I don't manage their assets, so they can roll over their 401(k) or other assets into whatever account they want and can alert me to issues when they happen. Many of them have gotten to the point where they just need someone to lean on as a guide."
The majority of Solari's clients, especially Millennials, prefer to email with him instead of calling to ask questions. Millenials will "ping a few times" and prefer a quick response, he said.
"I try to make a point to reply in less than 24 hours, since many people have come to expect everything to be instant," Solari said. "Technology is helping advisors to stay on top of that."

Other investors will email to make an appointment to meet up in the evenings via Skype or Google Hangouts, which is great for video conferencing because there is no delay in responses.
"It works out great and we usually meet for an hour online," Solari said. "Clients like it, because we can do it after work and it's less of a hassle than finding time to meet."
Electronic communications is the primary method that Covestor's internal advisors communicate with their clients, said Kalen Holliday, director of communications for Covestor, the online investing marketplace based in Boston and London. In addition to a blog, they use Twitter, Skype, Google Hangouts and instant message.
"We are witnessing more of our managers being 'social' and leveraging electronic tools," she said.
Although Charles Sizemore usually picks up the phone or sends an email to discuss an issue with his clients, Skype is helpful for overseas clients. Unlike many advisors like Solari who refrain from texting their clients, Sizemore, a portfolio manager on Covestor and a registered investment advisor with Sizemore Capital Management in Dallas, Texas, uses it to communicate more often nowadays.
"This is something I would have seen as unprofessional just a short time ago, but a lot of clients prefer a quick text to a lengthy phone call or cumbersome email," he said.
Age is not a factor in Sizemore's clients who range from the late 20s to late 80s. They prefer to communicate with him electronically and even people who are retired and "well into their 70s prefer texting and Skyping to traditional communication while some younger clients prefer email," he said.
"Some of my clients are now telling me they want a little less communication as they are comfortable with my strategies and feel the constant attention is overkill," Sizemore said.

Investors have higher expectations now which also extend to other areas such as viewing their portfolio online like a dashboard, which mimics the "same look and feel of robo advisors," said Bijan Golkar, who is 29 and CEO of FPC Investment Advisory in Petaluma, Calif.
Waiting for a quarterly statement is no longer commonplace, because people "want it customizable, when they want it and how they want it," he said. "There are no excuses anymore and advisors need to be doing that."
The industry should expect more change, because clients now expect you to be "Johnny on the spot with email and phone calls," Golkar said.
Using texting is a better option now because tracking messages for compliance is readily available, he said.
"We try to limit it to set up meetings, and it's done through internal VOIP because it tracks it," Golkar said.
The majority of investors know the etiquette of texting and refrain from going beyond asking simple questions, although some "try to abuse it to make a trade," he said.
Using Social Media To Engage With Clients
Social media and messaging services are not only an easy form of communication, but they also keep your clients "aware of what you're doing with their money and why," said Sizemore.
Twitter is a great option, because a "short tweet can be seen as more 'real' than a lengthy article full of disclaimers at the bottom," he said.
Staying on top of breaking news is also paramount, because investors are also following changes in the market throughout the day through on Twitter and StockTwits, the New York-based financial communications platform for investing, Sizemore said.
"Being engaged on Twitter and StockTwits puts you right in the middle of the action," he said. "I've tried nearly all of them at one point or another and I have settled onto the handful which seems to work the best for me. I use Twitter and StockTwits almost daily."

An added benefit of social media is it gives advisors an opportunity "to let a little of your personality out, Sizemore said. "At the end of the day, clients want more than a robotic money manager," he added. "They want a person to talk to and your social media presence allows them to get a feel for your personality."
Both Facebook and LinkedIn have helped generate new clients, said Greg Skidmore, president of Belpointe Asset Management in Greenwich, Conn.
"I use Facebook and Instagram to share a combination of my personal life and communicate about business with clients and prospective clients," he said. "We actually get a fair amount of new clients from Facebook."
Although more Gen X-ers and Millennials are fans of managing their own money and technology has made the task easier and more accessible, this strategy is not for everyone, Solari said.
"It's good for do-it-yourself people like engineers who are more analytical," he said. "They get it and can do it, but they need a kick in the butt, so I am pushing them along the way."