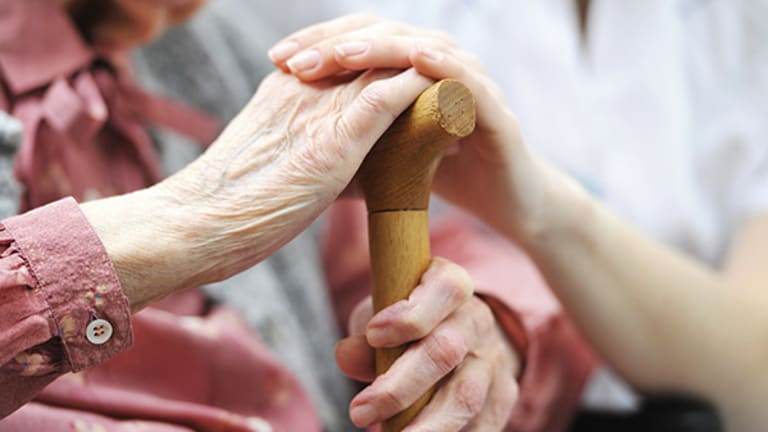 Financial Abuse by Profiteering Guardians Awaits Aging Boomers and Heirs
Sometimes the people you trust to care for your elderly relatives can hurt you the most financially.
Sometimes the people you trust to care for your elderly relatives can hurt you the most financially.
NEW YORK (MainStreet) — In May 2008, Larry Mills filed in Texas to become legal guardian of his then 80-year-old mother, Willie Joe Mills, who'd had a stroke. But by July 2009, Judge William McCulloch in a Harris County probate court appointed a third-party guardian who was also an attorney.
"The guardian put Mama in memory care with dementia people, then he sold her house for $86,000, cashed out $1 million in CDs and put it all in a trust before she was declared incompetent," said Sherry Johnson, who is one of three of Mills's adult children. "She never had a trial or due process."
The nightmare Willie Joe Mills and her heirs experienced is part of a growing trend. Some 37% of judges, court managers and clerks who responded to a Center for Elders and the Courts survey revealed that guardianship filings have increased over the last three years and 43% noted an increase in caseloads.
In most states, it is not uncommon for the elderly to lose their individual rights around residence, medical care, assets and property once they are placed under guardianship. The consequences can be detrimental for families -- financially and in terms of the older relative's health.
Lasting Effects of the Swindle
Willie Joe Mills's trust was reportedly billed on a quarterly basis by the guardian to pay his monthly salary to manage the elderly woman's affairs, but Johnson claims her mother's health began failing once she was placed under care at Silverado Senior Living in Kenwood, Texas.
"She had pneumonia and urinary tract infections and the facility medical staff failed to treat her because the guardian told them not to," said Johnson. "The guardian used a Do Not Resuscitate document my mother signed to avoid treating minor health problems that could have been arrested."
There are federal regulations that protect seniors in government funded retirement homes. "But if it's a private retirement institution, it is more difficult to find a remedy under federal law," said Phil Ross, an elder care and civil rights attorney in Texas.
In 2012, there was $1.6 million in Willie Joe's trust, according to Johnson, and in 2013 there was $1.5 million. She has yet to receive an accounting for 2014.
"I'm not sure I'll receive my inheritance, because the judge and probate court have tied the hands of Wells Fargo bank," said Johnson. "I would have never thought Texas law would allow the judge, guardian and probate court to do what they are doing to my family and many others."
"We are seeing financial exploitation of the elderly by court appointed third-party guardians where there is little oversight," said Debby Valdez, president of Guardianship Reform Advocates for the Disabled and Elderly (GRADE) in San Antonio, Texas.
Elder abuse is commonly thought of as identity theft or telephone scams but chances are a significant number of the 77 million Baby Boomers approaching the threshold of retirement and old age will face physical abuse, sexual abuse, psychological abuse, neglect, abandonment, isolation and financial and fiduciary abuse at the hands of those they hoped would assist.
Money Talks
"Baby Boomers are the last generation of great wealth, so it stands to reason that things are going to get a whole lot worse and quickly," said Elaine Renoire, president of the National Association to Stop Guardianship Abuse in Indiana.
Symptoms of elder abuse include sudden depression, withdrawal in social settings, bloodied under garments and abrupt changes in financial documents.
"A caregiver's refusal to allow visitors is another red flag," said Kerry Peck, attorney with Peck Bloom and author of Alzheimer's and the Law (ABA Book Publishing, 2013). "Dehydration, unusual weight loss, poor hygiene and unsafe living conditions are others."
Help That Hurts
Typically, Adult Protective Services (APS) is the first point of contact responsible for investigating alleged abuse.
"When APS receives reports of elder abuse, case workers go into the home to investigate and ameliorate the situation with legal, medical, psychological and social services," said Karen Roberto, director with the Center for Gerontology at Virginia Tech.
And therein lies another potential for abuse in states where anyone can reportedly initiate a guardianship by simply placing a telephone call to the probate court.
"We receive two to three phone calls a week from families whose elderly parent or family member is being forced into guardianship under the guise of protection by an APS phone call or visit," Valdez told MainStreet.
Experts advise senior citizens in any community to stay close to a group of other retirees for protection.
"It's hard to stop the spiral into guardianship abuse once it starts, so we encourage elder Americans to stay connected to senior centers and family so as not to be alone because isolated individuals fall prey to exploitation," said Ramsey Alwin, vice president of economic security with the National Council on Aging (NCOA) in Washington, D.C.
In doing so, however, the elderly are more easily identifiable among profiteers who are increasingly networking to gain new clients.
"They are scouting candidates who are aged 65 and older at senior centers, hospitals, retirement homes, clinics, banks and estate planning offices," said Valdez.
Seniors in states where there is nowhere to hide and no federal recourse can contact an attorney as well as the Administration on Aging's National Center for Elder Abuse at 1-855-500-3537 and the National Guardianship Association hotline 1-877-326-5992.
--Written by Juliette Fairley for MainStreet