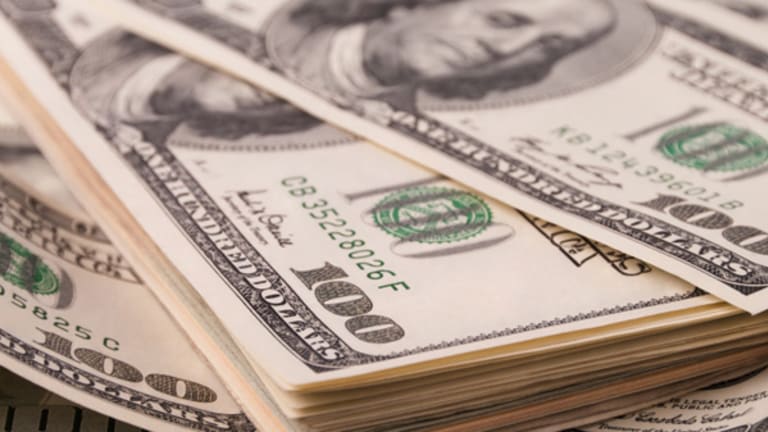 Fast-Food Workers Are Right: Raise the Minimum Wage
Workers striking for higher wages are on the right track, analysts say.
NEW YORK (
) -- Thousands of fast food chain store employees walked off their jobs Aug. 29 to join a national strike calling for higher wages. The strikes took place in more than 50 cities across the country and included employees from
Yum! Brand's
(YUM) - Get Yum! Brands, Inc. (YUM) Report
Taco Bell and KFC,
McDonald's
(MCD) - Get McDonald's Corporation (MCD) Report
,
Subway
and
Burger King
(BKC)
.
The strikers are demanding the right to unionize and a wage increase to $15 hour -- more than double the current federal minimum wage. According to the Bureau of Labor Statistics, the average fast food worker makes $9 an hour. The BLS also reports that in general, the median weekly wages of unionized workers are 27% higher than those of non-union workers.
Historically, the fast food industry has attracted young and low-educated workers, often teenagers. With the decimation of the manufacturing labor sector in the U.S., adult employment in the food service sector has increased nearly 20% since 1978, and the changing of employee demographics in the industry has led to an evolving set of needs, including when it comes to salaries.
In recent weeks, the demands of fast food workers have incited more public scrutiny and debate about the minimum wage today.
"For all too many people working minimum wage jobs, the rungs on the ladder of opportunity are feeling further and further apart," said U.S. Labor Secretary Thomas Perez in response to the strikes.
Currently, the federal minimum wage is $7.25 an hour. Several states have instituted their own minimum wages, though, with Washington state having the highest minimum wage in the country: $9.19 an hour.
When viewed in relation to the cost of living, which has increased nearly 70% since 1990, it seems the minimum wage has not merely stagnated but dropped off significantly from its historic highs in the 1960s and 1970s. In particular, a
found that the minimum wage fell approximately 29% between 1979 and 2003.
Also see: It's True: You're Paying Much More for Rent Next Year>>
At the same time, income inequality has grown substantially, with the top 10% of earners capturing 98% of all income gains since 1980, according to Economic Policy Institute. Further, economists Thomas Piketty at the Paris School of Economics and Emmanuel Saez at the University of California at Berkeley found that the income share of the top 1% of earners doubled from 10% in 1980 to 20% in 2011.
Such troubling figures prompted a re-elected President Barack Obama to propose raising the federal minimum wage to $9 an hour. If enacted, such a measure would boost the wages of an estimated 15 million low-income workers and make it the highest the federal minimum wage has been in more than three decades, adjusting for inflation.
"Even with the tax relief we've put in place, a family with two kids that earns the minimum wage still lives below the poverty line. That's wrong," Obama said in his State of the Union address in January. "Let's declare that in the wealthiest nation on earth, no one who works full time should have to live in poverty."
To others, $9 still falls short. Last March, Democrats U.S. Sen. Tom Harkin of Iowa and U.S. Rep. George Miller of California introduced legislation that would raise the federal minimum wage to $10.10 an hour. This is more in line with the position of the National Employment Law Project, which supports a federal minimum wage increase to $10.55 per hour, a rate much closer to what it would be if the wage were
adjusted to keep up with inflation
over the past 40 years.
http://www.motherjones.com/politics/2011/06/speedup-americans-working-harder-charts
Even a full time job that pays $10 an hour is still highly unlikely to offer a single adult economic security, though.
The report
The Basic Economic Security Tables for the United States
, released by the nonprofit group Wider Opportunities for Women back in 2011, found that a single worker needs an income of $30,012 a year, or slightly above $14 an hour, to achieve basic economic security. By comparison, a person working a job at the current federal minimum wage gets only an annual salary of $15,080, assuming it is a full-time position.
Also see: Student Loan Debt Bad? It's Much Worse for Women>>
Despite these compelling figures, there are still many who object to a $15 hourly wage for fast food service workers.
''There's no room in the fast-food business model for substantially higher pay levels without raising prices for food,'' Richard Adams, former McDonald's franchise owner and fast-food consulting business owner,
last month.
This may not be true, though.
According to the private-company financial-data analytics fir,
Sageworks
, revenues at fast food firms have increased more than 20% in the past two years while the percentage of revenue spent on payroll has decreased nearly a quarter. Such figures suggest that private fast-food industries could distribute their profits more evenly among lower-wage workers without a significant impact to their bottom lines.
Additionally, while it has been argued that a fast-food service worker can hypothetically work his or her way up the latter, NELP found that only 2.2% of positions in the fast food industry are "managerial" or "corporate" and that those in managerial positions earn a median wage of only $8.94 per hour.
Considering this, it may be hard to convince strikers that fast food industries are being earnest when they tout opportunities for advancement, such as when Fortune 500 company McDonald's, which achieved $34 billion in sales last year, stated on its website that it "aims to offer competitive pay and benefits to our employees."
"Regardless of how profitable McDonald's is or isn't, it's clear that in the aggregate, many businesses could afford to pay their workers more,"
wrote Christopher Matthews for Time
. "Can you really blame fast-food workers for realizing this fact and trying to force their bosses to share some of corporate America's good fortune?"