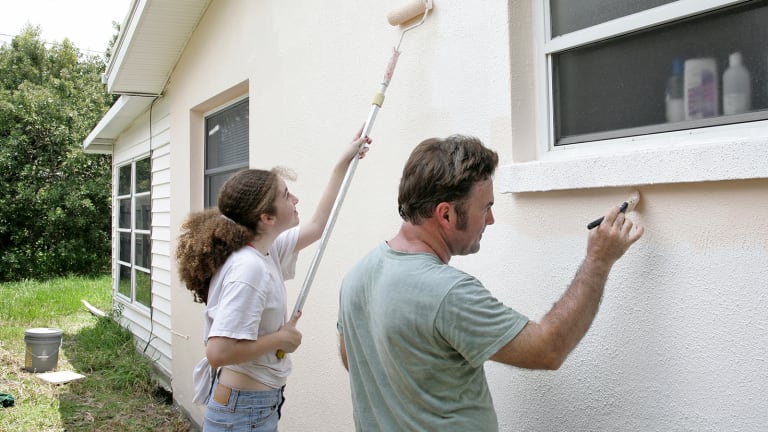 Publish date:
Extra Costs of Owning a Home Are Lower Than Consumer Expectations
First-time homebuyers are often apprehensive about the extra costs of owning a house, fearful that routine maintenance and repairs will add up quickly, exceeding their original budget.
First-time homebuyers are often apprehensive about the extra costs of owning a house, fearful that routine maintenance and repairs will add up quickly, exceeding their original budget.
First-time homebuyers are often apprehensive about the extra costs of owning a house, fearful that routine maintenance and repairs will add up quickly, exceeding their original budget.
But their estimates about replacing air filters, mowing the lawn and conducting minor repairs are often much higher than average costs. Consumers have trouble estimating the actual amount and said it would cost $15,070 for home maintenance repairs each year, according to a recent survey by NeighborWorks America, a Washington, D.C-based organization focused on affordable housing.
The actual amount is more likely to be in the range of 1% to 3% of a home's value or $2,000 to $6,000 nationwide, said Douglas Robinson, a spokesman for NeighborWorks America. Even some current homeowners' estimates were above the average amount and predicted repairs to cost $12,360. The perception among current renters was even worse with a prediction of $20,503.
"The important thing to remember about buying a home is that there are costs after the purchase that go beyond the monthly mortgage," he said. "By setting up a savings plan and budget for these costs – items such as landscaping, air conditioning and heating system maintenance – a homeowner will be better equipped to take on the expenses without having to use a credit card or worse, a high-cost emergency loan."
Budget for Insurance, Taxes and Association Fees First...

Tabulating the amount you need to save for fees and upkeep is not difficult once you factor in the larger expenses of homeowner's insurance, property taxes and homeowner's association fees. The largest costs consumers will incur include homeowner's insurance, which is $850 on average throughout the U.S., said Steve Joung, CEO of Pangea Properties, a Chicago-based apartment building operator.
"Given that the national median home price right now in the low $200,000s, the annual cost for property insurance is approximately one half of one percent of the property value," he said.
One way to gauge the cost of homeowner's insurance is that it tends to be about ten times the cost of renter's insurance, said Brent Adams, a senior banking officer for Private Bank of Buckhead in Atlanta.
"The average annual homeowner's policy here in Georgia is just under $1,000, but that varies widely based on the value and type of the property and your level of coverage," he said. "Homeowner's insurance is a budget item you'll determine up front because lenders will require proof of insurance."
First-time homebuyers might face quite the sticker shock when they tally up the total amount of property taxes each year, but this is an opportunity for consumers to take a large deduction on their taxes, saving them from shelling out more money to the IRS.
"Property taxes are fully deductible, dollar-for-dollar as an itemized deduction on your federal and state income tax returns," said Adam Rimes, a CPA and CEO of Atlanta-based Administrivia, an accounting and IT solutions company. "This represents a major tax savings for most people. This effectively reduces the out-of-pocket cost of housing for homeowners."
Maintenance Costs...

If you bought a fixer upper or older home, count on spending thousands of dollars over the course of many years in renovations while a newer home is less likely to need immediate repairs after you move in. A good rule of thumb is to save up to 4% of a home value each year for maintenance and repairs, said Adams. Skipping maintenance issues in the "short term can cost you more in the long run," he advised.
If your personality lends itself to being hands-on, then consider maintaining the lawn or shoveling show yourself, because you can easily save hundreds of dollars a year. If you plan to do it all yourself, then prepare to "lay out some cash up front to purchase equipment like a lawnmower," Adams said.
"Lawn care and maintenance can be a wild card," he said. "Get some estimates, because having a service do a basic mow, blow and trim could cost anywhere from $35 to $100 or more a visit."
Home Emergencies
While they might appear to be rare, homeowners annually should prepare themselves to handle at least one unexpected major emergency such as replacing the boiler or roof in the aftermath of a major storm or flooding in the basement where water needs to be pumped out immediately to protect the foundation, said David Reiss, a law professor at Brooklyn Law School. Establishing an emergency fund would help protect a homeowner when these problems arise so consumers are not forced to turn to more expensive options of debt such as credit cards.
"If a homeowner has an emergency fund, he or she will feel like a genius when it comes time to use it," he said. "The next step, of course, is to start saving up immediately for the next problem because as most homeowners know – there will be a next problem."
Some homeowners might find that chronic problems such as the leaky roof are worse than the "acute ones such as the boiler giving out in the winter," Reiss said.
"This is because we will do whatever it takes to turn the heat back on," he said. "But we learn to live with the occasional leak and end up feeling like we can ignore it. However, water damage is bad for a house and always gets worse."
As rental rates continue to rise across the country, buying a home means you can at least estimate the amount you will spend for housing each year, said Rimes.
"The ability to plan your housing costs is key to long-term financial planning," he said. "The dream of home ownership is still a financially smart decision. The benefits such as long-term appreciation in value far outweigh the perceived downside of home ownership."