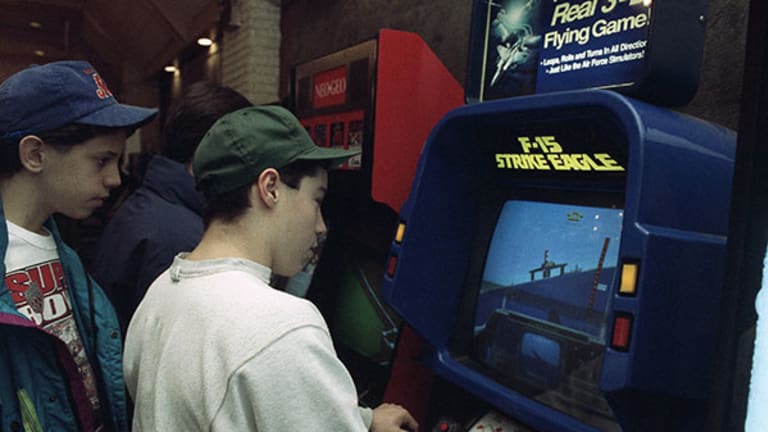 PORTLAND, Ore. (TheStreet) -- In the wake of Sony's announcement of its Playstation Now game streaming service at the Consumer Electronics Show last week, this has to be the end of retro gaming as we know it, right?
No more sales for strictly-retro vendors such as Englewood, Colo.'s JJ Games. No more classic video game tournaments at Laconia, N.H.'s gaming mecca Funspot. No more cartridge swapping and tables full of bygone consoles at the Portland Retro Gaming Expo. Now that Sony's shown the way forward, all of those fading cabinets, oxidizing cartridges and scratched discs aren't necessary for enjoying vintage games anymore, right?
Not even a little. In theory, Playstation Now would take just about all of Sony's contributions to home gaming out of the equation by making games for the Playstation 1, 2, 3 and, eventually, 4 available via streaming through Sony's Playstation Vita handheld, televisions, tablets and smartphones. Sony's presentation alone was enough to make used-game retailer GameStop's share price plummet by 8.5%. While it's still a worrisome prospect for GameStop, which took in $2.4 billion in sales from used games alone last year, even that retailer doesn't seem too fazed. In fact, this was its immediate response to Sony's plan:
We are looking forward to working with them on including the new PlayStation Now service as part of our portfolio of gaming products we offer our customers.
That's largely because the Playstation Now is still only a theoretical threat to GameStop and just about every other video game medium. In cold, unflinching reality, Playstation Now is just a cool idea that Sony's recent purchase of streaming company Gaikai makes possible, but hasn't made workable. As the folks at Ars Technica pointed out, Sony needed to drag a server to Las Vegas just to make its presentation work. Even at that, there were a whole lot of issues with latency -- the delay between a gamer pressing a button and that action actually occurring onscreen -- for those who were able to try Playstation Now firsthand.
Also see: Did CES Just Kill the Old Video Game Console?>>
Folks who own a PlayStation 4 or a Nintendo Wii U and have tried taking a Vita or a screen-enabled controller for a spin around the house may have run into similar issues, as that's basically local game streaming through your router. While services such as OnLive have tried streaming games, it's been a tough slog at best.
For now, that leaves gamers with options including the Playstation Network, Xbox Live, the Nintendo eShop's Virtual Console and Valve's Steam -- none of which include streaming among their functions. All of them, however, require a console -- or in Steam's case, a computer -- to store and play downloaded content and to access and play cloud-based games.
None of that has posed any real threat to retro gaming, despite tons of older titles being available in their original and upgraded high-definition form on those various networks. If retro gamers wanted versions of Konami's Teenage Mutant Ninja Turtles IV: Turtles In Time for arcades and the Super Nintendo Entertainment System, Capcom's Duck Tales for the Nintendo Entertainment System or Technos' original Double Dragon, they had plenty of online access to them through various consoles and devices.
But that assumes the games are all that old-time gamers value, and that's a gross underestimate of their dedication. There's a reason arcades are not only flourishing in some parts of the U.S., but making a comeback in both their original incarnations and as beer-and-cocktail-fueled adult playgrounds. There's a reason grown human beings still scour eBay, Goodwill, Craigslist, garage sales and pawn shops looking for old favorites and rare titles. There's a reason gamers still find ways to keep their old Sega Genesis and Nintendo 64 consoles up and running.
Nostalgia, you say? Eh, maybe a bit, but even that isn't enough to keep an entire niche alive in the face of continued digital and online encroachment. Carmen Nobel, an alumnus of TheStreet who now writes for Harvard Business School's Working Knowledge, this month called attention to Harvard Business School professor Ryan Raffaelli's research on the Swiss watch industry. Foundering amid the "quartz crisis" of the 1970s, when Japanese watchmakers including Seiko and Casio nearly drove high-cost mechanical watchmakers into extinction, Swiss watchmakers redefined their product as a luxury item to survive.
Also see: 10 Completely Worthwhile Collectibles>>
As Nobel notes, Raffaelli's Swiss watch model is but a "recent resurgence of independent bookstores, a renaissance of streetcars in numerous urban city centers, and the revival of several seemingly archaic products including the fountain pen and the vinyl record." That last example continues to find success not only as a nice seasonal or regional product, but as one of the few areas of the record industry that continues to thrive.
Last year, according to Nielsen SoundScan, there were 6.1 million new vinyl records sold. That's a 33% increase from the year before -- outpacing even the 32% growth rate of digital streaming through services including Pandora and Spotify -- but a 250% spike from 2002. It's also far better than the roughly 1% dip in digital downloads and 8.4% slump in overall album sales.
While video games are still in the middle of their digital moment -- with downloads providing 60% of revenue at Activision last quarter and 65% at Electronic Arts -- there's still an undercurrent of gamers and collectors that loves the physical product. Groups such as Atari Age, for example, make new homebrew games for long-"dead" consoles such as Atari's 2600 and 7800. The folks at ShopGoodwill still comb Goodwill shops around the country for consoles and games to sell in eBay-style auctions. The East Coast Barcade bar-and-video-game chain is on its third location and is eyeing a fourth in Manhattan.
Much as vinyl lovers with rave about the "warmth" of their record's sound as opposed to digital tracks, retro gamers prize the aesthetic experience of the games they love. As played in their original form -- in arcade cabinets, with original consoles or even on cathode-ray tube televisions -- old video games provide the tactile and aural experience that their mobile, online rehashes just lack. You can play a 1992 X-Men game on your smartphone, but that doesn't make it the same as the version played on a giant twin-screen console with five other people. You can fire up the Wii and play the original Super Mario Brothers on it, but not with the same two-button NES controller it was played with in 1985.
Among retro gamers and those who cherish other similarly dated and left-for-dead mediums, there's a demand for authenticity. Even among Sony's die-hards, that matters. Sony's original Playstation turns 20 years old this year, while the Playstation 2 that replaced it is now 14 -- and was taken out of production only last year. Each had controllers and an interface that, while imperfect, were unique to each system. They each had a feel to them that was tough to replicate through the consoles that came afterward, and each had a deep association for the generations who grew up with them.
There's no guarantee Sony's going to be able to pull off everything it's promised for Playstation Now. Even if it does, however, the demand for an authentic gaming experience that's driven the average price of an original Playstation game from roughly $7 after the PS3 was released in 2006 to about $20 today, according to used game pricing guide Price Charting, will still belie the race toward a streaming future.
-- Written by Jason Notte in Portland, Ore.
>To contact the writer of this article, click here: Jason Notte.
>To follow the writer on Twitter, go to http://twitter.com/notteham.
>To submit a news tip, send an email to: tips@thestreet.com.
RELATED STORIES:
>>Did CES Just Kill The Old Video Game Console?
>>Sony's Playstation Now Just Put GameStop On Notice
>>5 Best-Selling Video Game Console Of All Time
Jason Notte is a reporter for TheStreet. His writing has appeared in The New York Times, The Huffington Post, Esquire.com, Time Out New York, the Boston Herald, the Boston Phoenix, the Metro newspaper and the Colorado Springs Independent. He previously served as the political and global affairs editor for Metro U.S., layout editor for Boston Now, assistant news editor for the Herald News of West Paterson, N.J., editor of Go Out! Magazine in Hoboken, N.J., and copy editor and lifestyle editor at the Jersey Journal in Jersey City, N.J.