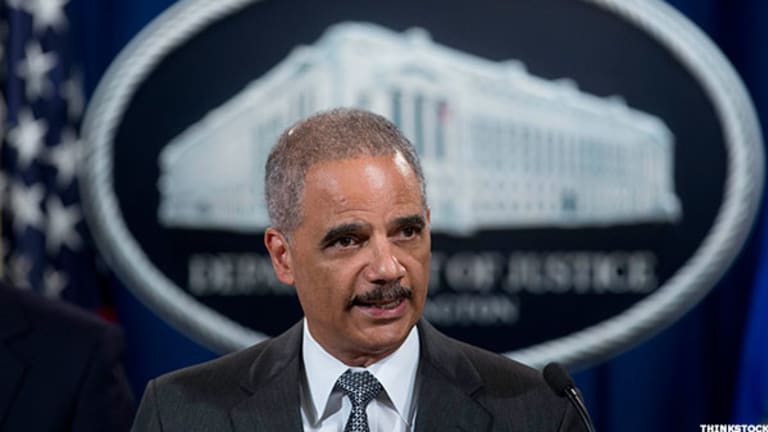 Eric Holder Questions Marijuana's Schedule I Classification As He Resigns
Eric Holder now joins the list of high profile national legal or political figures to make public pronouncements of the failed policies of the drug war.
NEW YORK (MainStreet) — Eric Holder now joins the list of high profile national legal or political figures to make public pronouncements of the failed policies of the drug war on their way out of higher office. Though Holder's statements signal progress in cannabis reform on a national discourse level, critics dismissed the outgoing A.G. for promoting empty palaver instead of concrete legislative change.
This year has marked the first where public figures have had to seriously re-examine if not retool their public positions on marijuana. Just retired Supreme Court Justice John Paul Stevens made headlines in the spring for saying essentially the same thing. Now Holder's statements during an interview with Yahoo reflect the realities of a changing national sentiment about marijuana use specifically.
"It's certainly a question we need to ask ourselves, whether or not marijuana is as serious a drug as heroin, especially given what we've seen recently with regard to heroin — the progression of people, from using opioids to heroin use, the spread and the destruction that heroin has perpetrated all around our country," he said. "And to see how, by contrast, what the impact is of marijuana use."
While far from a ringing endorsement of actual use for any purpose (as major politicians from Hillary Clinton to Senator Harry Reid (D-NV) have begun to suggest in the last year), Holder has been in an interesting position as Attorney General during this administration as the winds of reform have inexorably shaped federal Department of Justice policies, even if still far short of real and lasting change.
Under Holder, the Department of Justice has begun to move clearly now from policies of the Bush Administration that the Obama White House did not initially change. In fact, no matter how genial Obama's personal pronouncements on the topic have been, drug prosecutions in Obama's first term dramatically increased year over year for his first term in office. The selection of drug hawk DEA Chief Michele Leonhart, who answers directly to the Attorney General, only further fanned the flames in every direction and frequently escalated the sometimes public and internecine war which waged in the halls of the top legal offices in the country.
This reached a new low point this January when Leonhart's remarks sharply criticizing the Administration's few attempts in the right direction were leaked by attendees at a law enforcement gathering in the nation's capital. Since that time, the most public pronouncements out of the DEA have been in a markedly different direction.
For reform advocates and those they represent, this public policy whiplash has already dragged on for too long, particularly for those on the ground representing medical users who are too often on the front lines of this war.
Too Little, Too Late?
Kris Hermes, spokesperson for Americans for Safe Access was sharply critical of Holder's tenure at DOJ in this respect. Her group, a national patients' advocacy organization, has just released a report sharply criticizing both the Obama Administration and the DOJ in ramping up cannabis related prosecutions during this period while making repeated promises to change such policies.
"It's commendable that Holder would make comments about reclassifying marijuana for medical use, but the truth is that he had the authority all along to do just that and chose not to," she said. "The federal government has engaged in unprecedented attacks on the medical marijuana community over the past six years, while making platitudes to the public about being sympathetic to states developing and implementing their own laws."
Taylor West, deputy director of the National Cannabis Industry Association, was positive about the intent of Holder's statement even though implicitly criticizing the pace of reform. Most in the industry (from the business, bottom-line perspective) also see these statements as still symbolic window dressing.
"It's certainly a big deal for the A.G. to acknowledge that the federal government's approach to marijuana is deeply flawed," she said. "And rescheduling would have some real benefits in terms of medical research options and criminal justice reform. But simply rescheduling marijuana to a lower level of controlled substance wouldn't necessarily fix the banking issue or any of the others that arise from a federal policy that fundamentally conflicts with the will of the states who have chosen a smarter, regulated approach to marijuana."
Holder's statements come in year that has also seen indications at least from the DEA that federal policy is close to being at least reviewed again if not significantly changed. This summer the agency asked the FDA (Federal Food and Drug Administration) to again re-examine the classification of cannabis as a Schedule I substance (or one with no known medical efficacy). At the time the move was explained by agency officials as a regular review of the issue, prompted by a petition of citizen's groups. Yet the timing of the request -- on the heels of a historic Congressional vote in late May to defund DEA raids in states where marijuana is now legal -- indicated to many at least that things have really begun to change at the highest levels of policy makers if not enforcers in the country.
Holder's cautious position, even now, reflects the delicate dance the conversation has taken at the federal level and during a time when two states have dramatically challenged the authority of federal jurisdiction on the issue. When asked directly whether marijuana should be decriminalized, Holder answered tactfully.
"That is something for Congress to decide," he said. "I think we've taken a look at the experiments that are going on in Colorado and Washington, and we're going to see what happens there, and that'll help inform us as to what we want to do on the federal level."
The Pot Elections Arrive
"[Holder's] statements have the potential to steer the Obama Administration in a particular direction, but it should not take departing words from the Attorney General to shift policy on this issue," said Hermes, of Americans for Safe Access. "It will depend more on the willingness of Obama to take more of a leadership role, and the willingness of the next Attorney General to move in the direction of rescheduling marijuana for medical use or at least changing the DOJ enforcement practices."
As West concluded, however, "It speaks volumes about how far we've come in talking about these issues that the number-one law enforcement official in the land recognizes that federal marijuana policy is a problem."
--Written by Marguerite Arnold for MainStreet