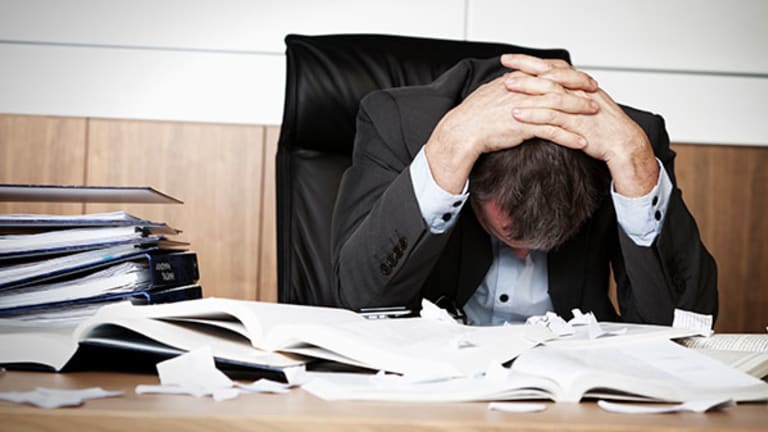 Publish date:
Employees Are Just Plain Sick Of It
Only 38.5% of workers surveyed say they found their jobs fulfilling, way down from just last year.
Only 38.5% of workers surveyed say they found their jobs fulfilling, way down from just last year.
BOSTON (
) -- The country added 204,000 jobs in October, much more than expected, according to a jobs report by the U.S. Labor Department. It's another sign the economy is recovering, but those who are actually employed are generally not feeling celebratory.
The
released by
Salary.com
shows worker confidence and satisfaction on the decline, with many in the labor force reporting a lack of fulfillment and pride in their jobs.
Only 38.5% of workers surveyed said they found their jobs fulfilling, and only slightly over half of the respondents (52.3%) said they were totally committed to them. These figures are way down from the same survey conducted last year, when 59.2% of respondents said they were fulfilled by their jobs and 71.4% claiming to be totally committed.
Additionally, people who claimed to work extra hours because they enjoyed their work plummeted, from 48.5% to 19.5%, and those who asserted they work primarily for their paycheck went up from 55% to 72%.
"I think what is happening here is some people feel they are not where they thought they would be in their career or financially in this point after the recession," says Abby Euler, CEO of Salary.com. Euler also suggested that many workers may have been rattled by the recession's effects on their salaries, savings and stock portfolios, many of which have not rebounded or recovered as many might have hoped.
Also see: Half Our Public School Students Are Officially Poor>>
An unrelated
survey by Financial Finesse
found that more people are reporting feeling uneasy or unsure about their financial futures, including retirement preparedness, investing and insurance. In particular, Financial Finesse found that 41% of employees are uncertain about their ability to achieve future financial goals, as compared with 33% in 2011.
This apparent downward spiral of worker confidence and comfort could be in part due to the kinds of jobs people are working.
According to the jobs report, the economy added nearly double the amount of jobs last month that were expected by financial analysts. But the biggest job gains were in the leisure and hospitality sector, which added approximately 53,000 jobs.
Between 2009 and 2013, low-wage jobs grew to outnumber high-wage jobs by 800,000. In 2009, low-wage jobs made up 39% of all jobs created, even though they accounted for just 19% of the overall job market.
"You're getting jobs added, but they might not be the best-quality job," John Canally, an economist with
LPL Financial
in Boston,
The Associated Press
in August.
In fact, low-paying and part-time jobs have made up the bulk of job gains not only in the past year, but since the economic recovery began. Low-paying industries have contributed to 61% of the country's job gains, while middle-income industries contributed only 22% of job gains, according to
Moody's Analytics
.
Also see: Now Is the Time to Negotiate Your Pay (Even If You're a Woman)>>
"The lower quality of the available jobs is one reason pay has stagnated," AP economics reporter Paul Wiseman
in September. The average hourly wage of private-sector employers hasn't kept pace with inflation since the end of the recession.
Since there is still an average of three people to every available job, many employers aren't feeling any real pressure to increase wages to retain their staff, while employees may feel their options to find better employment elsewhere or to improve upon their current positions are limited.
Yet Euler does not think pay is necessarily the reason behind plummeting employee pride. "Finances are not a key indicator of people enjoying their jobs," Euler says, referring to Salary.com's fall findings that many people have not negotiated their salaries in several years -- despite the fact that virtually none of the employers surveyed responded that would fire or demote someone who asked for a raise.
Negotiating the terms of one's job or evaluating whether a career change is in order might be one of the things needed to buoy worker confidence and engagement.
"Many people might want more for themselves personally, professionally and financially," Euler says. "Regarding a salary negotiation or looking for a new job, the worse thing is to assume an answer or outcome to something you haven't even asked for or attempted yet."