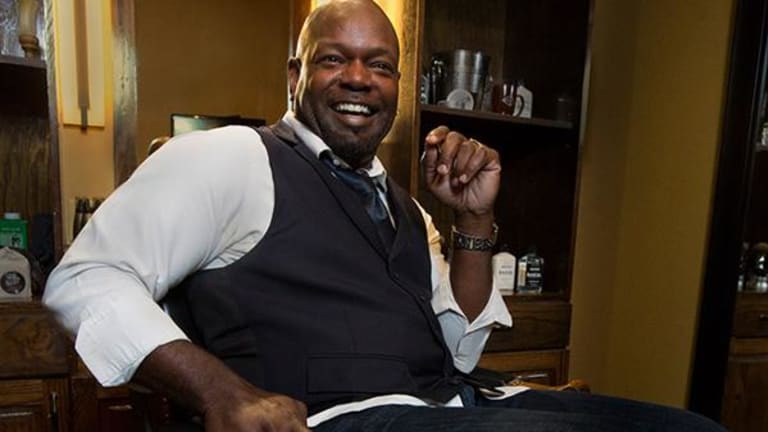 Emmitt Smith Sees Different Goal Line as Developer And Investor
The NFL Hall of Famer blends development, real estate and retail franchising into his game plan to help struggling cities meet their needs.
Emmitt Smith hasn't been a football player in 12 years, but he's opening more lanes and creating more opportunities in real estate and development than he did during his NFL career.
During 15 years in NFL, the former Dallas Cowboys and Arizona Cardinals running back set league records with 18,355 career rushing yards and 164 rushing touchdowns. His Cowboys teams won three Super Bowls -- in 1993, 1994 and 1996 -- and Smith was named the league's most valuable player in 1992 and 1993 and Super Bowl MVP in 1994.
But that career has faded into the background, along with his time as a football commentator for ESPN, the NFL Network and Fox and as the winner of the third season of ABC's "Dancing With the Stars." After studying under the tutelage of Cowboys Hall of Fame quarterback Roger Staubach, who turned a real estate career into the sprawling Staubach Company real estate firm that he sold for more than $600 million in 2008, Smith set to work building a real estate empire of his own.
His ESmith Legacy real estate development and asset management firm continues to locate multi-acre sites and turn them into big-box retailers, single- and multi-family dwellings and medical facilities. EJ Smith Construction, his Dallas-based commercial and civil construction manager and general contractor firm handles the ground work, while his ESmith Realty Partners and ESmith Capital Partners, offer brokerage and real estate services for industrial and retail properties, conduct lease administration and property management and buy up commercial real estate equity and debt.
While Smith and his wife, Miss USA runner-up Pat Smith, are still a presence in Dallas through their charitable organization, Smith's business extends throughout much of the U.S. It aims not only to bring residential development and retail to underserved communities, but also to make sure that minority workers and owners have a stake in that development. To that end, Smith bought a stake in The Gents Place, a Dallas- and Kansas City-based spa and grooming chain that intends to expand to 150 locations nationwide within the next five years.
We took an hour of Smith's time and spoke with him about his early start in construction and real estate, his views on how developers have left certain communities behind and how he's made a full-time job of attempting to rectify that disparity:
How did you first start working with Roger Staubach, and how much were you able to learn about the construction and real estate industries in that time
Emmitt Smith: Going back to when I got started in '05, prior to that happening I had spent a lot of time researching what I truly wanted to do.
I'd had friends in the real estate business prior to me retiring, and I'd been able to invest with some of those friends and I was starting to get returns. I was asking questions in terms of how the development game actually works, in terms of how the investment game actually works and investing in various properties where there are retail, office or industrial sites. [I began] understanding some of those different things and how they function and how they work and the equity that was required.
That was my training ground prior to me retiring. Once I hit retirement, I reached out to someone who was very close to me and who I admired, and that was Roger Staubach. I had invested in some things his company had invested in as a company from a funds standpoint. He mentioned to me upon retirement that I should give him a call, because I knew what I wanted to do. I wanted to get into the real-estate business, and that's what I did in 2005.
He connected me with my first partnership, or relationship if you will, on the development side, and I started that way. We held that partnership together for about three years until the downturn came. Then when Staubach sold his company to [real estate firm] Jones Lang LaSalle [for $613 million in 2008], I chose to venture off and go on my own from that point on. I've been on my own ever since.
In 2010, I decided to create a construction arm of my business with a focus on infrastructure work -- roads and bridges. We started that company and, now, we're six years in the making. In those six years, we've put north of $40-$50 million worth of contractual worth. Five years ago, we decided to start a real estate services company to complement the development company and construction company, and now we're a full-service real estate and development company.
At some point along the line, with your construction firm growing as quickly as it was, did you feel you'd amassed enough skills and resources to cut out the middle men and handle more of the real estate responsibilities in house?
Smith: No. It wasn't the fact that we were cutting out the middle man: It was the fact that we were controlling our own destiny.
There were times when we'd partner in with other folks as well, so the middle man might be there anyway. From the standpoint of controlling our own destiny and having our own personnel, that's the way we looked at it. We felt like there was not a minority player in certain spaces that was able to do a lot of the roads and bridges. When it comes down to a development, yes, there are some minority companies that do development, but how many of them are doing development on a large-scale basis? Not many.
When it comes down to brokerage, how many minority firms do you see that have the national scope to reach from one end of the spectrum to the other? We thought all of those things were very important to the success of who we would become, and we had the expertise in house -- averaging 25 to 30-plus years in the construction business from a leadership standpoint, 15 to 20 years on the brokerage side and 15, 18 or 20 years on the development side.
So we have seasoned people who understand how to look at construction projects and estimate them correctly. Not only that, but putting the work into place. We have the same kind of expertise in house for real estate as well, when it comes down to servicing our clients.
We like to earn the right to do business with people. We don't take the arrogant approach that we know everything, but we definitely take a service approach to it and we believe in quality service.
Your companies span a period of time that was very difficult for your industry. There was the housing crisis, there's a softness in big-box retail after the rise of online retailers. How does your firm pivot, and what did it learn from those bumps along the way?
Smith: Technology itself has evolved and helped us become a little more efficient about what we do.
We obviously like to pay attention to what's going on in the real estate cycle and the economy itself and the marketplace. We have our ear to the ground and certain touch points or data points, if you will, when we look at what we do. Everything doesn't stop all at once: Some things slow down before others do. Real estate is a very cyclical business, so where you are in the cycle is also important.
Thinking about it from that perspective, and what we've learned and what I've learned since the downturn, I've experienced the housing crisis and hope I won't have to do that again. But the great thing about coming through that is that we don't have any legacy issues that held us back through the downturn. We were just getting started during the downturn anyway, so it was just a matter of learning what to do and what not to do and being good stewards of what we currently had.
You noted that your business is currently looking into medical facility development right now. What are you seeing in that sector that leads you to believe it's a good path forward?
Smith: Like anything else, most of our stuff is tenant-driven.
If we have a real-estate asset that a client is extremely happy or excited about, it reduces our risk but also increases the possibility that the client may be successful. Asset clearances and the problematic portion of the real estate is just a part of what we do. Whether it's a shopping center or whether it's an office building or whether it's a mixed-use project with all of those aspects of it, the thing is that when you have office, industrial and retail relationships you look at real estate completely different. You look at it from all angles and all perspectives with all types of users in mind.
It makes anything we do from a development standpoint very useful by providing all of those lenses to look through.
As with most investments, it seems your company's diversification is critical to its success. When Roger Staubach entered this industry, he did so as a means to create income after his then lower-paying NFL career ended. With your football career already generating considerable assets, is this business more about creating multigenerational wealth or legacy?
Smith: At the end of the day, I don't overly focus on the wealth aspect of it.
I focus mainly on leaving the community in better shape than we found it in. I focus on providing quality service to the client we represent and the folks that we're in the community serving. If we do a good job, handle the product the way it needs to be handled, treat people the way they need to be treated and provide the quality of service required for that particular project, then we can walk away knowing that we have done our job, done a great community service and created a product that will be there for a long period of time.
That, there, is the true legacy of who I am and who our company aspires to be. That's our contribution to our community. If wealth is generated through that whole process, then great. If a legacy is generated through that whole process, then tremendous. That's how we look at it.
I think the way we approach our business is that we're all in the service business. The service that we're providing should be quality service and top-notch service wherever we are. Whether it's in Texas, Florida, the Northeast, California, Arizona or some other parts of the world, it's our brand and we need to keep that brand as crisp and clean as possible and provide top-notch quality of service.
Do your companies go where the need is? Does that determine the path of your company: Going where you can best serve communities?
Smith: I would say yes, we do go where the needs are, and I would say the needs are driven by the demand for -- or lack thereof -- products in certain communities.
I find it kind of appalling that some people have to drive 10 or 15 minutes to get quality service, especially when services can come to them. I also find it appalling when retailers say "if we put a store in this particular market, it's going to cannibalize it" when, at the same time, they're drawing from a 15-mile radius rather than a traditional one- three- or five-mile radius. So, yes, it would look like a store might cannibalize it, but you're forcing people who normally wouldn't have the resources to drive 10 to 15 minutes to get certain services.
There are smaller boxes, there are bigger boxes that neighborhoods may need that isn't being fulfilled right now -- especially quality grocery.
You have companies building those facilities 15 miles out in multiple directions and leaving certain communities as food deserts or devoid of fairly basic retail outlets. Is this what you're looking to assuage?
Smith: We try to do the best we can with what we have to work with.
At the end of the day, I cannot force a retailer to make a decision because I believe that they need to be in a certain community. That requires other... let's just say "other requirements" from the government to make sure that retailer is successful. What you don't want to happen is for a retailer to go into a market that they aren't in and then fail, because then it reflects badly on the community.
People are quick to talk about the negative more so than about the positive, especially in certain communities around the country.
Your business also relies on that success as its foundation. When you go into a community with a proposal, what successes do you point to when trying to win over local government and other players?
Smith: What I like to share with folks is that these communities don't operate as traditional communities would. They don't operate like suburban communities do.
Growing up in some of these communities myself, I can understand how money can sit around hanging up in a coat pocket in a closet but yet be ready to be spent. I can understand how you can see the value of a home being at $30,000 to $50,000 when you have two or three family members living in the house and you can have income from two or three family members that's over $100,000 though you're living in a modest neighborhood or low-income area. I understand how that can be misread.
At the end of the day, knowing how these communities operate gives us an advantage. The problem, still, is that you have people that don't really understand and don't want to understand these communities. They want to do it the traditional way. "Let's put it out in a suburban area because it's the easiest thing to do. We don't have to worry about theft and we don't have to worry about those other... outlying things that affect the performance of the center."
Yet, even when these folks leave their communities to go to other communities to shop, they're dealing with all other kinds of social issues. It's funny. It's absolutely funny: It's a funny thing to see, it's a funny thing to hear and it's a funny thing to observe.
It's funny, but it's funny in the worst way possible. Has any of your work chipped away at some of those barriers and helped produce more projects in other communities?
Smith: The encouraging thing is that, when you talk to some retailers like Albertsons-Safeway -- or when you hear some stuff about Whole Foods and their willingness to go into some food-desert areas -- it's encouraging. But you still want to see where the rubber meets the road. Can they put their money where their mouth is or are they selling lip service to the public?
Being a developer and being who we are as a company, we relish the opportunity to come in and penetrate those markets. We think brand visibility and the success of those locations going into urban areas, blighted areas or food desert areas are the best stories that can be told to shareholders and to the marketplace.
Where does your recently purchased stake in The Gents Place fit into the bigger picture? It seems like a somewhat different approach to you plan, but it also seems like a business that could help fill the needs of your retail projects.
Smith: The Gents Place has become a client, as well as me becoming a franchisee and an owner.
I'm looking at it from a real estate standpoint like I would any other thing. Not only the services of The Gents Place, but the quality that The Gents Place provides -- we've got to look in areas and neighborhoods and see if that's something that's needed or wanted. Any retail center that I'm doing, there's always an opportunity to look at it and say, "Where does The Gents Place fit?" A big-box may not work in every urban neighborhood, but a small food desert box might work, so what are the ancillary services that are required for that particular center? That's the way we evaluate every piece of real estate that we look at.
You mentioned Albertson's-Safeway as a potential piece of that puzzle as well. What kind of partnerships have you been able to cultivate with other retailers and restaurants that have made it easier to propose new projects?
Smith: We represent a number of clients, from furniture stores, 7-Eleven, Michael's, Mattress Firm... even quick-service restaurant clients.
We are always looking to grow our client base, but development is everywhere and having the right users is paramount. We're developing those relationships as we continue to grow on the broker services side and on the development side.
Since the housing crisis, we've seen a bit less of you in public. You were a Miss Universe judge and the winner of "Dancing With The Stars" in 2006, and your tenure as a commentator for ESPN ended in 2009. Apart from a brief return to "Dancing With The Stars" in 2012, you haven't spent all that much time in the public eye. That changed a bit when you and your wife launched a reality show -- Mrs. & Mr. Smith -- on Oprah Winfrey's OWN network earlier this year, but is your business taking up most of your time now?
Smith: Business definitely requires a lot of my time, but when you have five kids, a beautiful wife, a charity that you're running and a business that you're running from 9 to 5, there's a lot to be done.
So, no, I'm not on television quite a bit. I'm not trying to become this superstar actor, I'm not on ESPN or Fox calling football games, but I'm very active here in our community [in Dallas] and in communities around the country, and it doesn't necessarily require me to be on television.
How have the Pat & Emmitt Smith Charities grown since you first founded them in 2006?
Smith: All of this, to me, is about having an opportunity to become successful. All of that stems from the way that I was brought up and the opportunities that were afforded to me.
That's the basis of our charity: Giving back to communities that are looking for a hand up instead of a handout. Oftentimes, we confuse folks seeking help as wanting a handout instead of a hand up. Sometimes, they just want an opportunity. What we do through our charities is provide young people with the opportunity to have new life experiences: Take them from their current environment and let them see other environments so they can understand that the world is much broader than the current ghetto in which they come from or the current neighborhood in which they live.
I believe if they can see it, they can believe it, and if they believe it, they can achieve it. Someone did it for me and someone did it for my wife and we're trying to do it for others, so our mantra is this: To whom much is given, much is required. That is a Christian value, and that is a value of the United States of America. How can you have free enterprise without having the opportunity for others to engage in free enterprise? That's what we're trying to provide.
Do you remember the person who gave you that opportunity before the University of Florida and before the Cowboys?
Smith: Oh, yeah. My mom always told me I could be anything I wanted to if I worked hard and continued to pursue my dreams.
But the coach who opened my eyes to what my life could be like without the game of football in it was my [youth league] coach Charlie Edgar out of Pensacola, Florida. He taught me how to read blueprints and footprints to a construction site when I was 11 years old. From that point on, my life changed forever and I thought I just needed to finish bigger and better.
Now, along the way, people have given me the opportunity to do the things I'm doing right now. I'm not sure I could be this successful if I didn't have those opportunities. I had to do my part: Study, put myself around quality people and execute the game plan.
You received your degree in public recreation from the University of Florida in 1996. Did seeing the foundations for community parks and community centers influence this portion of your career as well?
Smith: It's part of my background, and it influences the way I think.
It's not something that I work on, in terms of my degree, every day, but, in essence, it is. It's about quality of life for everyone. Not just for the 2% or 98% -- for everyone.
This article is commentary by an independent contributor. At the time of publication, the author held no positions in the stocks mentioned.