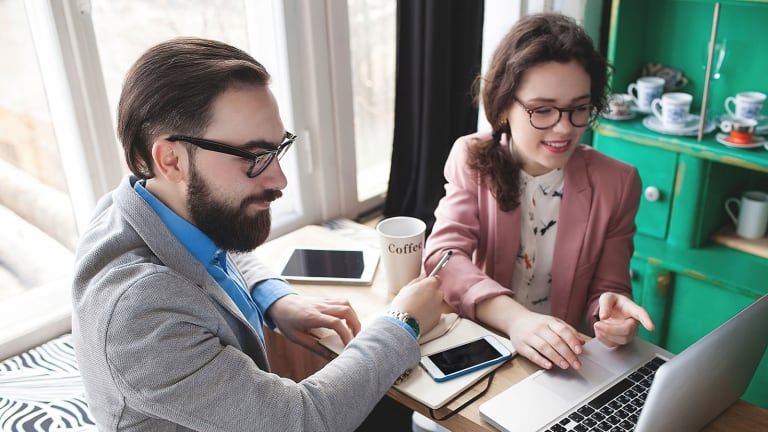 Young Americans Are Shunning Credit Cards
Many Millennials don't seem to qualify for, or even want, a credit card - and that has long-term ramifications.
Many Millennials don't seem to qualify for, or even want, a credit card - and that has long-term ramifications.
Credit card usage is fairly robust in the U.S., with 33% of U.S. adults owning at least one or two credit cards, and another 34% owning three or more cards as of 2014, according to CreditCards.com.
But there's one key demographic that's engineering a slide in credit card use: Millennials. And this trend provides a cautionary tale about future credit card usage.
According to MyBankTracker.com, 49.7% of young Americans between the ages of 18-and-34, the so-called millennial generation, don't own a credit card. Worse for the card industry, 35% of Americans aged 25 to 34 (an age group that should start earning some decent money) "has never applied for a credit card," according to MyBankTracker.
One big factor is the front row seat younger consumers had for the Great Recession, watching their parents and grandparents struggle with debt. Another is their own wrestling match with enormous debts of their own making.
"Millennials are avoiding credit cards because they belong to a generation that is more aware of the dangers of debt, especially credit card debt and student loan debt," notes Alex Matjanec, CEO of MyBankTracker. "Their sensitivity to debt was heightened due to growing up during the Great Recession and the increased susceptibility to financially-focused media -- thanks to the Internet and social media."
Matjanec believes think the reluctance to sign up for credit cards will fade as twenty-somethings get older and become more confident in their ability to manage their financial obligations. "In the meantime, Millennials may miss out on certain protections that are provided with credit cards," he warns. "For instance, fraud liability policies are much friendlier with credit cards."
Talk to a young financial consumer, though, and he or she will tell you there is no rush, and maybe even no need, to own a credit card.
"Many of my peers are graduating from college with thousands in student loan debt and they don't want to add on to it with consumer debt," notes Amanda Abella, a Millennial personal finance blogger and savings advisor for MoneySavingPro.com. "This is smart, as people who carry credit card debt have more debt on their hands than the national average. We've also found that the Millennials think debit cards help them budget better, since they carry less consumer debt than other age groups."
Other young Americans increasingly view credit cards as being unnecessary.
"If I have six months of savings available at a moment's notice, then what am I really missing out by not having a credit card -- the airline miles?" asks Mark Aselstine, founder of Uncorked Ventures, an online wine delivery services located in the San Francisco Bay area.
Aselstine, who doesn't own a personal credit card (although he does carry a business credit card), says it's financial institutions that will suffer as a result of the fact that Millennials aren't carrying credit cards, and not the other way around. "For banks, it's probably a significant issue moving forward, especially given the rise of online banking and mobile check deposit," he says. "For the consumer, other than some fraud prevention steps that most banks will give you on a debit card anyway, a credit card doesn't seem very important."
That could prove to be true, but in the meantime, maybe younger adults are just practicing good financial sense. "For us, it really comes down to spending money we don't have versus spending what we do have," says Chris Durheim, a Millennial personal finance blogger at keepthrifty.com. "A debit card or cash is transferring real money, and that makes it much harder to go beyond your budget."

Thus, spending with a credit card is playing with temptation and the "I'll pay it off later" mentality, Durheim adds. "My wife and I feel we spend less when we know money is immediately being taken out of our account, as we spend it," he says. 
Overall, the decreasing reliance on credit cards by young consumers seems to be one part necessity (they can't get one because of high student debt and low credit) and part indifference.
"As children of Gen X-ers or Baby Boomers, Millennials have seen the financial difficulties their parents got into in the last decade," says Rakesh Gupta, a professor at the Adelphi University Robert B. Willumstad School of Business. "Even if they could get a credit card, many young Americans are leery of adding credit card debt on top of their large student loan debt. Using a debit card may not help build up one's credit score, but it can provide a safety net in terms of limiting expenditures to what's in the checking account."
But what about not building adequate credit by not using a credit card? Durheim says that's no problem.
"And, if a Millennial keeps paying off his or her student loan diligently and punctually, their credit score will improve, anyway," Durheim says.