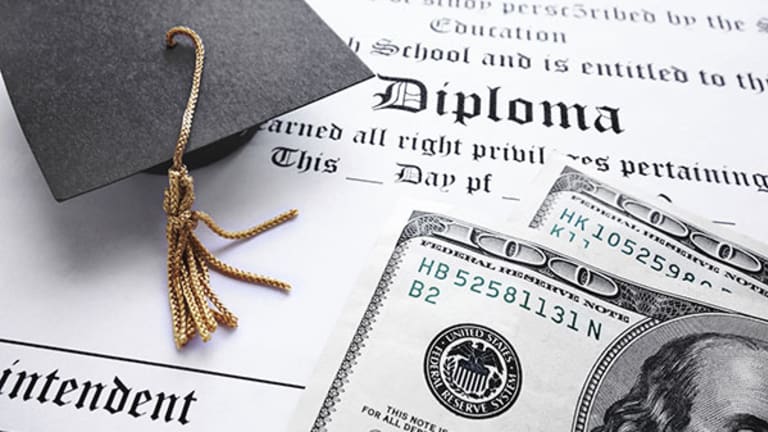 You Don't Know as Much as You Should About 529 Plans
Two thirds of Americans don't know what a 529 plan is, but even those who know it as a college savings tool don't realize it can help in other ways.
NEW YORK (MainStreet) – How are you going to set up a 529 plan when you don't know what it is?
In a discouraging assessment of financial literacy and a bad omen for the nation's college students and people with disabilities, a survey by financial services firm Edward Jones found that 66% have no clue what a 529 plan is. Edward Jones has been conducting this survey for four years, and 529 plans have been around since 1996, but it's almost as if Americans are purposefully ignorant of how it could help them save for college or for health care. Only 34% of Americans could correctly identify a 529 plan as a college savings tool from among four potential options, which is somehow down from 37% in Edward Jones' first survey from 2012.
"Despite headlines focused on the increasingly high costs of college, we still see a significant number of Americans who aren't aware of one of the most important long-term savings vehicles that can help minimize the impact that the cost of education has on families," says Steve Seifert, principal at Edward Jones. "Demographically, people are living longer and having children later in life, narrowing the time between a child's college bills and his or her parents' retirement age. This, coupled with the fact that the cost of college is increasing at a much higher rate than inflation, means that many are grappling with how to stay on track to meet savings goals."
While it's troubling that families are having a hard time identifying or implementing a savings plan that's beer around for nearly 20 years, that information doesn't bode well for new 529A plans, either. Much like a 529 college savings plan, savings in a 529A grow tax free, and withdrawals won't be taxed when used to pay for qualifying expenses. Unlike the original 529, however, those expenses include health and wellness expenses, housing, transportation, education, employment training and legal fees.
Granted, the account owner or beneficiary must meet the Social Security definition of disability and have developed or been diagnosed with the disability before age 26. But anyone who qualified for Supplemental Security Income before turning 26 will be eligible, while others will need a doctor to submit a letter certifying that the individual is blind or has severe functional limitations. The best part is that assets held in a 529A plan will not disqualify the beneficiary from Social Security benefits or Medicaid as long as the total account balance does not exceed $100,000.
"It's a big advantage because individuals with more than $2,000 in available assets outside of a 529A are disqualified from SSI," says Paul Jacobs, chief investment officer of Palisades Hudson Financial Group.
So who's aware of what a 529 plan is and who isn't? Well, investment-savvy households with more than $100,000 income correctly identified 529 plans 58%, compared with just 25% for households making less than $35,000. Also, having kids tends to put a bit of urgency behind a 529 plan. Households of three or more people who could spot a 529 plan made up 40% of respondents, compared with just 30% of those with just two people. But households with kids heading to college in a few years (ages 13-17) were actually less aware of 529 plans (35%) than those with younger children (41%).
The 529A, which stemmed from the Achieving a Better Life Experience Act Act passed by Congress last December, is a bit newer and isn't nearly as accessible. Each state is responsible for setting up its own 529A program, though none have yet.
"Since the 529A isn't available yet, you can't do anything now other than learn about them and perhaps contact your state legislator to find out the status of legislation in your state," Jacobs says.
Still, for families taking care of people with special needs, it may help to get familiar with the 529A in advance. Friends and family can contribute, but the contribution limit matches the federal gift tax exclusion of $14,000 a year per beneficiary. Beneficiaries might also need legal representation appointed if they can't manage the account on their own.
"The requirement that the account holder be the beneficiary may prove a complicating factor, since many beneficiaries may be adults with diminished capacity or minors," Jacobs says. "If the beneficiary is not well-equipped to direct his or her own investments, you'll need someone with custodianship or power of attorney to manage the account."
Families should also be aware that states can make reimbursement claims on 529A assets of a beneficiary on Medicaid if that person dies without spending them. A family could avoid that stipulation by putting assets into a special-needs trust — which could also accept securities, life insurance or property, where a 529A only takes cash — but a trust can be a costly proposition for some families and is more complicated to administer.
If costs are a concern, even for families sending kids to college, a 529 should at least be an available option. As it is, 83% of Americans tell Edward Jones that they can't afford the cost of college. Even 63% of those making $100,000 or more a year said college tuition was beyond their means.
"While the cost continues to be a major concern, Americans still recognize the value of a college education – so finding ways to manage those costs becomes paramount in the process," Seifert says."We need to remind them of the wide array of strategies that exist and help them put their goals into action through designing a plan that utilizes the appropriate tools in support of their savings goals."
— Written by Jason Notte in Portland, Ore., for MainStreet
To follow the writer on Twitter, go to http://twitter.com/notteham.
This article is commentary by an independent contributor. At the time of publication, the author held TK positions in the stocks mentioned.