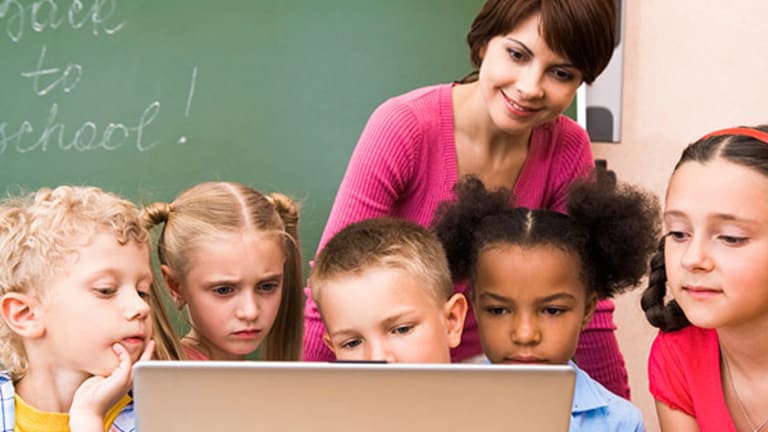 Why High-Tech Teaching Is a Win for Everyone
Classroom technology can save money for schools and parents in some suprising ways.
NEW YORK (
) -- When Lyndsey Winslett's daughter Ava was home sick last year for six weeks, the fourth-grader didn't miss a single lesson -- her smiling face was right there in class with her friends, pixelated on a computer screen. Thanks to Alabama-based Huntsville City Schools'
1:1
program, which supplies one laptop or tablet for every child in grades 1-12, Ava's teacher was able to dial her student right into the classroom via
Skype
.
"Every morning her classmates would look into the camera and say, 'Hey, Ava,' 'Good morning, Ava.' It was amazing," Winslett says. "When she finally made it back to school it didn't feel like she had been gone -- there was no tough readjustment or playing catch-up on missed lessons."
Increasingly, programs such as these are becoming more prevalent. Although many public schools in America are still struggling with budget cuts and classroom size, other school systems in Pennsylvania, California, Colorado and elsewhere are making the bold decision to put aside traditional textbooks in favor of laptops and e-readers. The goals? Improving students' grades and saving money for schools and parents.
So far, it's working, says Huntsville City Schools Superintendent Casey Wardynski. Since implementing the program last year, in-school suspension is down by 29%, discipline on buses equipped with Wi-Fi is down by 76% and some schools have seen 12% gains in math and reading skills.
To train teachers properly, keep students' devices in working order and maintain subscriptions to the school's digital curriculum will cost around $420 per student, per year, Wardynski estimates. This comes in slightly lower than the estimated $459 schools stand to save per student, per year by going digital, according to a study by Project Red, a nonprofit that analyzes the financial and student achievement implications of education technology.
"If the Project Red calculation is accurate, we're looking at roughly a $40 difference," Wardynski says. "But we expect it to be cost neutral."

Also see: How to Say 'No' When Your Child's Activities Drain Your Wallet>>
With close to 24,000 students in the system, the savings could amount to as much as $936,000 each year if the Project Red estimate is correct. For now, though, Wardynski says he's more focused on the academic achievement of his students -- although he does admit that the school system is already using a lot less paper and less electricity.
Since making the switch to a digital curriculum, the school system has had to print fewer worksheets and workbooks, he says, and costs to keep computer labs up and running -- including air conditioning to keep them cooled -- have disappeared.
For parents, there's no longer a need to supply their children with a laptop or a printer, and for many families, it's a "game changer," says Christine Sutton, a math and science teacher at Grissom High School in Huntsville. Parents need only pay a $35 technology fee every three years to make sure their child has a laptop, and those who meet federal guidelines for free or reduced lunch don't pay a dime. At similar programs nationwide, fees range from free to $200 every three years.
"It's huge," Sutton says. "There's no longer a need for mom and dad to provide a computer for their child to be able to get into college."
The cost savings is especially beneficial for parents with multiple children in school, Wardynski says.
"Families with three or four kids in school -- now they have three or four laptops coming home every night, something they never could have done otherwise," he says. "Even for families that might have had one computer at home, the issue of allotting time to each child is no longer a concern."
Also see: 5 Tips to Make Sure You Get Home Stress Free for Thanksgiving>>
With a digital curriculum, students' laptops follow them everywhere -- but the jury's still out on whether or not that's a good thing, says Jill Buban, dean of the School of Education at Post University. Buban cautions that digital curriculums must be implemented carefully and Internet access must be restricted to ensure students aren't sidetracked during the school day by email, instant messaging or social media.
"Kids are easily distracted, and one area where I haven't seen a lot of research is on the detriment of constantly being plugged in," Buban says. "We haven't been living with technology long enough to know what kind of negative effects this level of connectedness will have on children. It will be interesting to see how K-12 educators influence the way children manage technology as they transition to adulthood."
School systems that haven't already made the move toward more technology are at least thinking about it -- California State School Superintendent Tom Torlakson recently announced his support of a $9 billion bond that would build up technology infrastructure at K-12 campuses, focusing on expanding and improving internet activity at schools statewide.
This may be driven in part by teachers' needs as much as students, according to the 2013 Pew study,
How Teachers Are Using Technology at Home and in Their Classrooms
. An overwhelming majority of AP and National Writing project teachers -- 92% -- say that the Internet has a "major impact" on their ability to access content and resources for teaching. 76% of these teachers say they accept student assignments online.
But when technology enters the classroom, it's students -- not educators or parents -- who stand to benefit the most, Buban says.
"Children who have a tablet or a laptop can sit at a counter while you're making dinner, and they'll think they're playing around, but they're actually learning," Buban says. "It's giving them an advantage in so many ways. If they like a subject area, all the have to do is take an extra Spanish lesson on YouTube, or play a game that teaches math. That's something that technology is allowing children to do, no matter their socioeconomic background."