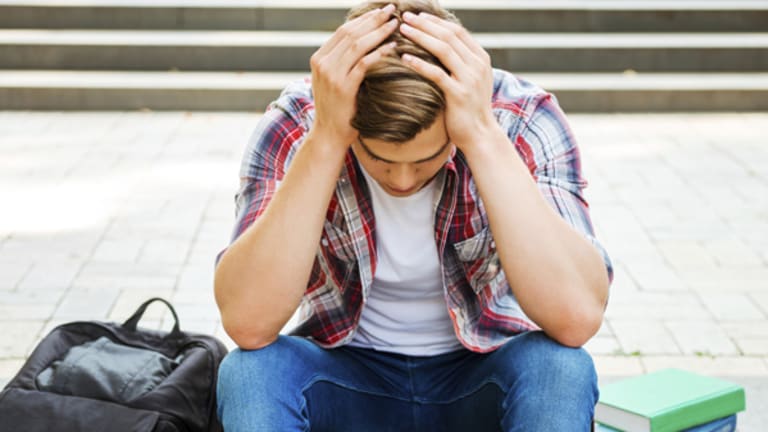 Why Emphasis on Math And Science In Schools Is Hurting Our Economy
The stress on STEM curricula in schools is heightening high school drop-out rates -- a trend that could actually have adverse effects on the economy.
NEW YORK (MainStreet) — There's been a lot of buzz about the surge of STEM (science, technology, engineering and math) fields as hot career tracks that can ensure better financial security while bolstering our overall economy. But, counterintuitively, the stress on STEM curricula in schools is heightening high school drop-out rates -- a trend that could actually have adverse effects on the economy.
Save Cash on Payments! Compare Low-Interest Credit Cards Now
According to the U.S. Department of Labor, the average starting annual salary is $62,655 for an engineer and $59,221 for those with a computer science degree. By comparison, those who graduate with degrees in the humanities and social sciences are earning an average annual salary ranging from $36,988 to $40,668 -- that is, if they are lucky enough to even find a stable job. Analyzing unemployment among 2007-08 graduates, the Bureau of Labor Statistics also found that those with degrees in computer and math had some of the lowest unemployment rates at 6%.
These findings are partially what prompted the Obama Administration to commit $3.1 billion to improve national STEM education efforts, with roughly $450 million directed toward increasing the number of trained STEM educators and developing new STEM programs.
That strategy, of course, is at odds with new research indicating that STEM emphasis in schools is raising drop-out rates. The study—which was conducted at Washington University in St. Louis, funded by the National Institute on Drug Abuse (NIDA) of the National Institutes of Health (NIH) and published this summer in the journal Educational Researcher—found that dropout rates increased by three percentage points in those schools that required six math and science courses, from 8.6% to 11.4%.
"There's been a movement to make education in the United States compare more favorably to education in the rest of the world, and part of that has involved increasing math and science graduation requirements," Andrew D. Plunk, PhD, a postdoctoral research fellow in the Department of Psychiatry at Washington University School of Medicine and lead author of the study, said in a press release. "There was an expectation that this was going to be good for students, but the evidence from our analyses suggests that many students ended up dropping out when school was made harder for them."
Plunk and his colleagues studied census data that tracked the academic performances of high school students in states with more rigorous math and science requirements as compared to students in states where these requirements were less stringent. The researchers analyzed performances in 44 states where more stringent graduation requirements went into effect during the 1980s and 1990s.
They found that dropout rates varied significantly across gender and racial lines, adding as much as five percentage points.
"As graduation requirements were strengthened, high school dropout rates increased across the whole population," said Plunk. "But African-Americans and Hispanics were especially affected."
In particular, the dropout rate increased 2.5% and 2% among Hispanic and African-American males, respectively. Though the overall dropout rate for African-American males is 19%, those who attended schools in states with the most stringent math and science graduation requirements, the dropout rate rose to 23%. Meanwhile, dropout rates for Hispanic females, increased by just over 5.3 percentage points.
"Going forward, state policymakers must understand that students can't take more math and science courses if they quit school," said William F. Tate, PhD, the Edward Mallinckrodt Distinguished University Professor in Arts & Sciences and co-author of the report.
Tate also worries about the far-reaching societal impacts of increased dropout rates.
"Individuals who drop out of high school report more health problems and lower quality of life," Tate said. "Higher dropout rates also can strain the welfare system, which can affect people's health."
This study isn't the first to imply that STEM subjects aren't for everyone or that its emphasis can adversely impact academic performance.
A collaborative study by Ralph and Todd R. Stinebrickner of Berea College in Kentucky and the University of Western Ontario for the National Bureau of Economic Research found that though STEM majors are initially popular with incoming college students, more than half the students who start out majoring in a STEM subject wind up changing over to a social science or humanities-oriented major.
The overwhelming responses of the more than 650 students surveyed at Berea College indicated that those who changed out of a STEM major did so not because of large amount of work, which they expected, but because they were getting poorer grades than anticipated; many switched in order to shore up their grade point averages.
Overall, Plunk believes having a more versatile and flexible education model is preferable to a "one-size-fits-all" method in order to maximize academic success and boost graduation rates.
"I think our findings highlight the need to anticipate there may be unintended consequences, especially when there are broad mandates that, in effect, make high school coursework harder," said Plunk.
--Written by Laura Kiesel for MainStreet