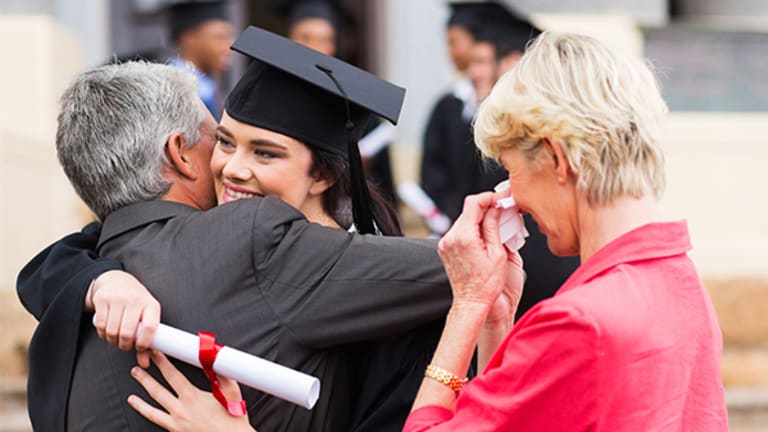 Why 529 Plans Should Be on Every Parent's List for 2017
A 529 college plan can not only cut into your 2016 or 2017 tax hit, but it can save both you and your child a whole lot of debt later.
Editors' pick: Originally published Dec. 12.
It's time to put a 529 college savings plan or contribution on your holiday wish list, or it's at least a good moment to think about making it a New Year's resolution.
At the very least, it can trim a bit off of your 2016 or 2017 tax return. The 529 plan has been around since 1996 and has allowed Americans to increase college savings tax-free. It also exempts the gains on those savings from taxes once they're withdrawn to pay for college.
Robert Steen, a certified financial planner with USAA, notes that while 529 plans are not eligible for federal tax deductions, more than 30 states, including the District of Columbia, currently offer a full or partial tax deduction or credit for 529 plan contributions. Bill Ringham, vice president and senior wealth strategist at RBC Wealth Management-U.S., cautions that while a 529 plan allows earnings to grow tax-free, the earnings have to be used strictly for qualified higher education expenses. Withdrawing those funds for anything other than education will result in an income tax and a 10% penalty.
Paul Jacobs, chief investment officer of Palisades Hudson Financial Group in Atlanta, notes that 529 plans typically come with a default "glide path" that determines how its funds will grow and how much risk is involved. His own default plan starts with a 100% equity allocation until the beneficiary is 12 years old, at which point it moves 10% of the account into a more conservative investment option each year. That results in a 100% conservative allocation by the child's final year of a four-year program, assuming the he or she goes directly from high school to college, but it may not be the best approach for everyone.
"Instead of choosing the plan's glide path, customize your allocations to achieve a better fit for your personal situation and goals," Jacobs says.
If you have a higher tolerance for risk, it may worth your while to be less conservative. Meanwhile, if you can pay college costs from other sources -- including your own taxable accounts, scholarships, financial aid or gifts from family -- a little extra risk may also be wise. If graduate school is part of the plan, shifting to a conservative asset allocation may have to wait until later in a student's college career.
However, if you catch a break and your kid wants to go to a lower-cost in-state school or public school, you can be far more conservative in your approach. You won't be alone, either. A Fidelity Investments study found that 72% of American families currently saving for their children's higher education - a 24% increase since the first year the study was published in 2007. The study has also seen a 62% increase in the use of college savings accounts, such as 529 plans. In fact, 41% of families report using a a 529 college savings account, far more than the 26% in 2007.
However, 72% of those surveyed by financial firm Edward Jones say they have no idea what a 529 plan is, including 54% of those making $100,000 a year or more. Only 28% could correctly identify a 529 plan as a college savings tool from among four potential options. That's from 37% in Edward Jones's first 529 survey from 2012 and down even from 34% in 2015.
"While families have adopted more active and effective savings habits over the past decade, this year's study still finds that on average, parents are on track to reach just 29% of their college funding goal by the time their child heads to campus," says Keith Bernhardt, vice president of college planning at Fidelity. "Parents still need help identifying how to maximize opportunities to save while meeting other family financial demands, and how to invest that savings in order to help their college dollars grow."
Even with a 529 plan, parents have to make some hard financial choices just to afford their child's college education. Among 71% of families, having a child live at home or graduate earlier is a viable option -- up from 53% in 2007. Also, three-quarters of parents are considering having their non-working spouse go back to work or having their child work on campus to make ends meet.
Among all of these parents, however, they're saving just $3,000 a year. That's up from $1,500 in 2007, but still fairly low when parents plan to pay for 70% of their child's college education -- compared to just 57% in 2012. With 80% saying that their own experience with paying for college and managing student loan debt are driving their decision, it's little surprise that, as HSBC Group discovered, 60% of parents would be willing to go into debt to fund their child's college education.
With 98% of U.S. parents looking to send their kids to college, parents are willing to take a big hit. Roughly 60% of parents say that paying for their child's education makes it more difficult to keep up with other financial commitments, but they consider student loan debt than long-term savings (40%), credit card repayment (37%), and retirement savings (37%). As a result, U.S. parents spend an average of $14,678 a year to fund their child's college education, or almost double the global average of $7,631. Even at that, students are stuck paying 37% of college costs, second only to students in Canada (39%) and well more than their contemporaries in Egypt (less than 1%), India (1%), Hong Kong (4%) and Singapore (5%).
"The financial sacrifices that parents are willing to make to fund their children's education are proof of the unquestioning support they will give to help them achieve their ambitions," says Charlie Nunn, HSBC group's global head of wealth management. "However, parents need to make sure that this financial investment is not made to the detriment of their own future well-being."
Meanwhile, a 529 plan certainly helps matters. Parents saving in a 529 plan are contributing a median of $3,500 per year, with 45% boosting their contributions within the last year. However, even with those constributions, 49% of parents think they won't hit their savings goal.
But that's no reason to stop trying. Bankrate found that 73% of U.S. workers consider college to be a good investment, including 88% of those ages 18 to 25. College-educated parents are particularly adamant about sending their kids to college, with nearly 90% of college graduates saying their education was worth the cost.
"Making an investment in higher education can lead to greater opportunities with larger income potential," says Steve Pounds, Bankrate personal finance analyst. "However, with the current tuition prices people need to mindful of the return on their investment and making sure they can manage any debt incurred."
Anything that chips away at that debt is helpful. The average 2016 college graduate is carrying $37,172 in student loan debt, according to college and scholarship site Cappex. That up 6% from last year, with debt carried by 70.1% of all graduates. That's also up from $12,759 two decades ago, when just 54% of all students graduated with debt.
According to the Federal Reserve Bank of New York, total student loan debt reached $1.26 trillion by the end of June. That's up $69 billion from a year earlier and is the second largest pile of U.S. consumer debt behind mortgage debt (at $8.36 trillion, up $246 billion from a year ago). More than one in ten (11.1%) student loans are past due. That's a worse delinquency rate that for credit card bills, of which 7.2% are past due.
It isn't as if the job market is all that helpful to recent grads, either. Though the Bureau of Labor Statistics puts the current unemployment rate at 5%, that jumps to 9.2% for people ages 20 to 24 -- or roughly the age of most recent college graduates. Only 70.7% of people that age are an active part of the workforce, compared to nearly 81% of those between 25 and 54.
Despite the cost, it's still infinitely more expensive to forego college than to get a degree and pay off your debts. According to a 2014 study by Pew Research Center, those who graduated with bachelor's degrees or better saw their unemployment rate drop to 2.5% compared to 4.4% for those with some college education or an associate's degree or 5.2% for high school graduates. More than 70% of those with bachelor's degrees or better are employed, compared to 54% to 64% of those without said degrees. Perhaps most importantly, the median annual income of college graduates ranged from $57,200 for those with a bachelor's degree to $85,228 for those with professional degrees. That's compared to $37,436 for high school graduates and roughly $40,000 for those with some college or an associate's degree.
It's why many parents are embracing opportunities that either weren't available when they were in college or that they didn't take complete advantage of -- including 529 plans. Parents with older kids in 10th grade and up wish that they had opened 529 account sooner, treated college savings like a monthly bill, boosted college savings by 1% or more each year and opened a cash-back card with rewards funneled into a college savings account.
Most importantly, they wish they could have saved more each month. With 50% saying they could have saved $50 extra each month and 46% saying they could have put away and extra $100, Fidelity notes that even those small additions can add up over time. Putting $50 more toward college at 6% interest gives parents $19,368 over 18 years. Bump that up to $100 more, and you have an extra $38,735. $200? That turns into $77,471.
"For many families, finding an extra $50 or $100 per month may seem out of reach, but these extra dollars could potentially boost college savings by nearly $20,000 or even $40,000," Bernhardt says. "This potential could be a powerful motivator to consider strategies to carve out additional savings."