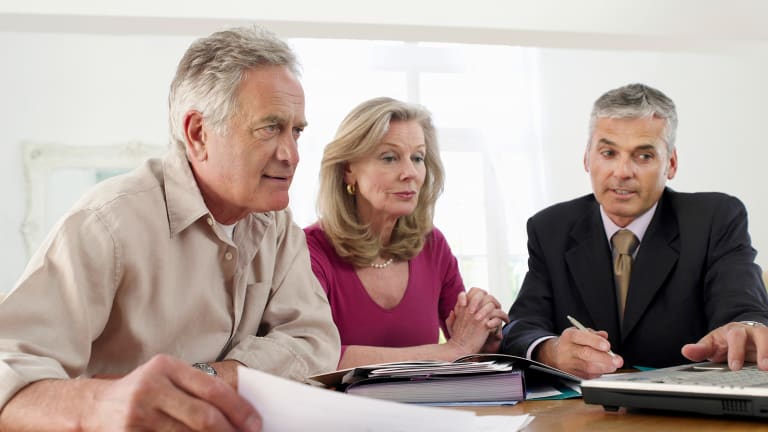 For financial consumers, understanding the term "fiduciary" could mean the difference of getting expert money management help, and earning big investment returns; or getting investment advice that doesn't put their best interest first and putting their financial health at risk.
In a word, a fiduciary is shorthand for "fiduciary responsibility"; i.e., the duty of a financial professional to act in the best interests of their client, and to provide clients with the highest standards of care and diligence. The financial professional, also known as an investment adviser or financial adviser, is the "fiduciary" in the manager/client relationship, while the client is known as the principal or the fiduciary beneficiary.
In the event the fiduciary doesn't act in the best interest of the client, or behaves unethically, the client can file a dispute that ultimately results in the client being awarded financial damages, and the money manager being fired from his or her job, or being banned from the money management business altogether.
The stakes are high in the fiduciary adviser discussion. According to data from the U.S. government, non-fiduciary investment advice annually cost U.S. financial consumers a full 1% of their annual investment returns - about $17 billion each year.
History of the DOI Fiduciary Rule
Structurally, fiduciaries must act within the boundaries of the U.S. Department of Labor's Fiduciary Rule, which established guidelines for the proper care of financial clients.
In 1974, under the Employee Retirement Income Security Act of 1974 (otherwise known as "ERISA"), all U.S. financial and investment specialists working with the public on a client basis on retirement savings issues were deemed to be "fiduciaries" - and were mandated to comply legally and ethically to meet government issued standards on advising the public on investment matters.
In 2018, a federal court vacated the fiduciary rule, expanded by the DOL in 2016, and for now, the fiduciary rule is invalidated, although most investment advisery firms say they plan to adhere to general fiduciary guidelines in their dealings with clients.
Responsibilities of a Fiduciary
How does the term fiduciary manifest itself in the financial planning market?
In real-world terms, a fiduciary means an investment adviser has an obligation to remove any conflicts of interest and build relationships with clients based on trust - the bedrock of a fiduciary relationship between a professional money manager and a client.
To fulfill the responsibilities of being a fiduciary, and to earn that client trust, the financial professional must do the following:
Make their client's interest the priority, and not their own priorities.
Always act in good faith and be as transparent as possible with clients.
Bypass any conflicts of interest that could jeopardize a client relationship, or put that client's financial assets at risk.
Do your due diligence as a money manager and only deliver advice and counsel based on facts, solid research, and professional experience and expertise.
Never mislead a client on any issue.
Never use a client's own assets for an adviser's own account, or another client's account.
Ethics Charges Against a Fiduciary Investor
If a fiduciary adviser engages in practices that are deemed either unethical or detrimental to the client, that client can file charges against the adviser, even if the financial damage done was minimal. The following money management practices can also lead to ethics charges against a fiduciary investor.
Churning investment accounts
This happens when a fiduciary engineers an excessive number of investment trades (called "churning") to rack up commissions, which they aren't allowed to do.
Dodging the truth 
When an adviser lies or makes a misrepresentation about an investment or portfolio transaction, that adviser can be held accountable.
Making trades without permission
A fiduciary shouldn't make portfolio trades without the client's approval or permission.
How Do a Fiduciary Advisers Make Money?
In general, fiduciary advisers operate under a "fee only" payment model.
Unlike the more traditional Wall Street commission payment model, which charges a small percentage of the total value of an investment purchase transaction (say, for 100 shares of stock or $1,000 to buy shares of a mutual fund), fiduciaries use a fee-based approach.
Under the fee-only model, fiduciary advisers can't sell investments, like stocks, bonds, funds, and insurance, and charge a commission. Instead, they can earn an hourly rate, a fixed annual payment, or, more likely, a percentage of the total assets they hold paid usually on a yearly basis (most fiduciary advisers charge in the neighborhood of about 1% to 2% of total assets.) Built into the fee-only model is an incentive for advisers to only offer independent advice on what investments to add to a client's portfolio, as they won't earn a commission on any investments they recommend. That avoids any potential conflict of interest.
Fiduciary vs. a Regular Investment Adviser
There are differences between fiduciaries and regular investment advisers.
While fiduciaries are registered with either the U.S. Securities and Exchange Commission or their state securities office, so-called traditional investment advisers (think brokers, registered investment advisers and insurance agents) are regulated by either their state insurance office or, on the federal level, by the Financial Industry Regulatory Authority (FINRA).
Traditional non-fiduciary financial advisers are tasked to meet a different standard than the fiduciary standard.
That mandate, called the "suitability standard," requires advisers to offer investment advice that is suitable and appropriate for their clients' unique needs. That said, these advisers are not required by government regulators to specifically act in their client's best interest, as are fiduciaries, and may make recommendations that wouldn't meet the higher standards of a fiduciary adviser.
Investors weighing their options between a fiduciary standard or a suitability standard money management model will likely come to a decision on ethics. Do they want financial advice from someone who is mandated by federal regulators to adhere to a standard where they are an absolute priority? Or, can they live with getting financial advice from a money manager who may or may not have their best interest in mind?
Ultimately, the decision on whether to go with a fiduciary adviser or a money manager who operates under the suitability statute is a personal one that comes down to a single issue: Which advisery model gives you peace of mind?
How to Find a Fiduciary Adviser
To find your ideal fiduciary adviser, tap into the National Association of Personal Financial Advisers' (NAPFA) online database, which can both identify and profile fiduciary-only advisers.
Before making any decisions on hiring an adviser, do your due diligence and make sure to ask how the adviser is compensated; get references, as well.