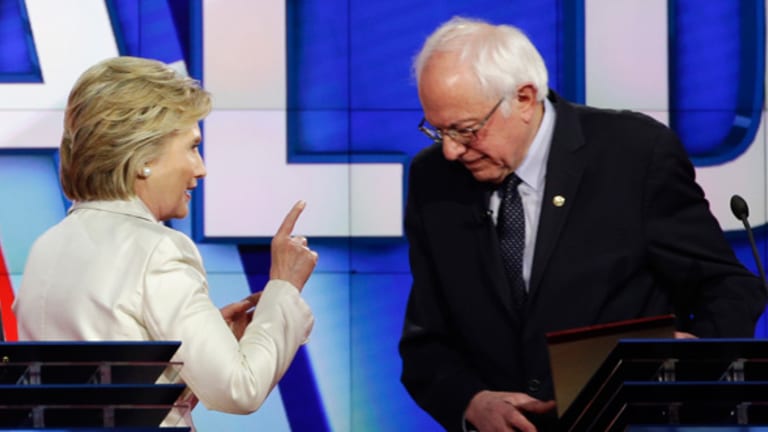 Voters Eye Clinton and Sanders Student Loan Plans as Primary Season Goes Deep
With many Millennial votes hanging in the balance, borrower friendly plans get a look.
In a fraught race for the Democratic nomination, Hillary Clinton and Bernie Sanders have targeted higher ed in the hope of driving Millennial voters to their side.
Clinton's New College Compact, which was priced at $350 billion over ten years when it rolled out in August, advocates that no student should have to borrow money for tuition at a four-year public college and make community college free while Sanders proposed College for All Act wants to make four-year public colleges free. According to Sanders's campaign, his plan "would provide $47 billion per year to states to eliminate undergraduate tuition and fees at public colleges and universities."
Free is sexier than debt-free but a heavier lift. Clinton has criticized Sanders's plan for its reliance on state money to make free college work when the Republicans control the governor's mansion in 38 states. The GOP also controls the governorship plus the state legislature in 23 states. Sanders's College for All Act would get 67% of its funding from the federal government and 33% from states through a Robin Hood tax on Wall Street to help fund tuition-free college. Sanders's College for All will not make federal money available for "administrator salaries, merit-based financial aid or the construction of non-academic buildings like stadiums and student centers."
But Clinton's College Compact relies on state aid also and requires a family contribution. She has called for states to end the "disinvestment" in higher ed. Debt-free at four-year colleges and flat-out free at community colleges won't get done without state tax dollars. Both the Clinton and Sanders plans would increase the federal government's role in higher ed.
A cost-cutting solution that doesn't seem radical—or feasible—is a plan that would allow people to refinance their student loans. Clinton wants borrowers to be able to refinance at unspecified lower rates--a non-starter when it was proposed last year by Senator Elizabeth Warren (D-Mass.). Sanders has jumped that shark by proposing a bargain basement re-fi rate, 2.32%, compared to 4.32% for subsidized Direct Stafford Loans. This will likely be DOA in a GOP-dominated House of Representatives.
Sanders has said, "it makes no sense that students and their parents pay higher interest rates for college than they pay for car loans or mortgages." Those comparisons aren't apt, however. The car and the house or apartment are collateral for those loans. Student loans are unsecured--the lender can't reposes your political science degree when you default.
Both the Clinton and Sanders plans would lower rates, but in an environment where interest rates are inevitably going to rise, despite the recently-found caution of the Federal Reserve, the U.S. central bank. Any benefits to borrowers may be short-lived, since rates on student loans are tied to the 10-year Treasury Bill—although the Sanders plan would cap rates at 8.25%. Critics point to the consumer protections that have been stripped away, leading to a continual spike in debt at graduation.

There are re-financing options in the private market. In the last year, non-bank lenders, including Common Bond, Credible, Earnest, SoFi and Lendkey, and banks--Citizens Bank and Darien Rowayton Bank-- have surfaced with refinancing products, but have significant barriers. Borrowers generally need pristine credit histories and jobs in high paying fields like finance, law, medicine or STEM.
The Clinton and Sanders refinance plans would be a win for people who have yet to enter college, but they do nothing for those who already have student loans. Alan Collinge, founder of Student Loan Justice has criticized both candidates. Collinge called Clinton's New College Compact "a significant step backward from where she as a decade ago," when her 2006 Student Borrower Bill of Rights put caps on the amount students pay on student loans while restoring bankruptcy protections on private loans removed in 2005. Collinge called out Sanders for not introducing a companion bill to HR 449, introduced by Rep. John Delany (D-Md.) that would amend the bankruptcy code and allow an "educational loan" to be discharged in a bankruptcy.
Collinge noted that of the 44 million borrowers with debt, an estimated 27 million can't make payments because they're in default, hardship forbearance, deferment or some form of delinquency.
The nation's college and universities are transitioning from tenure track faculty to adjunct faculty who are paid far less, have no job security and are less likely to have union representation. Sanders says colleges and universities will not be eligible for College for All funding if they continue to employ poorly compensated adjuncts, although "poorly compensated" isn't defined. In her July economic policy speech in New York, Clinton said, "I'll crack down on bosses who exploit employees by misclassifying them as contractors" but doesn't specifically address adjunct professors.
A forgotten footnote to the Democratic primaries was a remark by former candidate and Governor of Maryland Martin O'Malley. Before he bowed out of the race in December following his third-place finish in the Iowa caucuses, he disclosed that his wife and he had borrowed a total of $339,200 to pay for their children's college tuition.