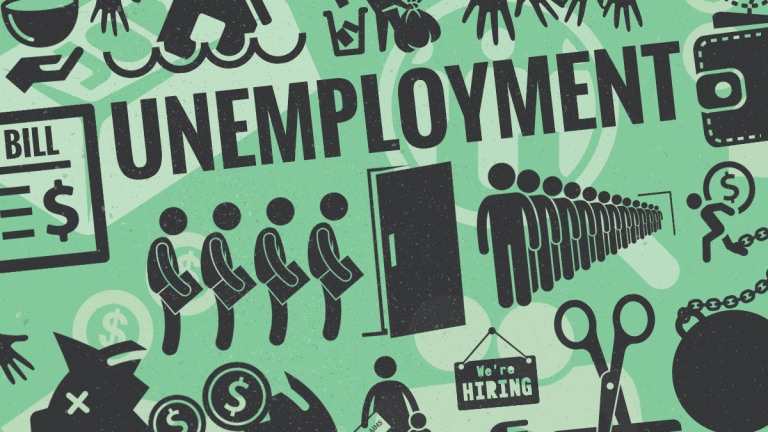 6 Types of Unemployment and What Makes Them Different
Unemployment is a key factor in the U.S. economy and it needs to be measured accurately. Here's how it's done.
Unemployment, or being unemployed, is the outcome when an individual is looking for a job but cannot find one.
While it's a negative event for both the individual and the economy, a person can become unemployed in several ways:
Voluntarily leaving a job.
The individual was fired or laid-off from a job.
The individual's job was phased out for a variety of reasons; currently technology is a big factor in job replacement-related unemployment.
The individual left the workplace for personal reasons, like maternity leave, injury or illness.
The collective picture of all unemployed Americans is compiled by the U.S. Labor Department and made public via the monthly unemployment rate. That rate is calculated by dividing the number of jobless workers across the U.S. by the number of U.S. adults currently in the labor force.
The unemployment number is a key component in regularly measuring the health of the U.S. economy.
Three Different Types of Unemployment
Unemployment isn't defined as a single factor. Instead, it's defined as having multiple components and multiple definitions. Three types of unemployment are most commonly referenced by economists when calculating the unemployment number - structural unemployment, cyclical unemployment, and frictional unemployment.
1. Structural Unemployment
This form of unemployment is largely defined as unemployment that results from perceived value and skills that an individual brings to a job against the needed, different skills required by an employer to do the job correctly.
Job skills are, after all, dynamic, and over time new skills replace current but aging skills no longer needed by an employer. These newer skills are required by employers to succeed in the marketplace.
Consider an auto brake pad manufacturer that supplies brake pads and components to automobile manufacturers, auto parts stores and car repair businesses. In the past 10 years, robotics has advanced the performance of brake pad production and installation, to the point where the need for human brake pad specialists aren't as necessary as they used to be. That definitely hurts the job prospects for long-time brake pad makers.
Yet correspondingly, that same brake pad manufacturer, now presumably producing components at a faster and less expensive clip, sees sales rise, and now needs employees with different but now necessary skills - think sales and marketing professionals, customer service representatives, and technology specialists to create, maintain, and repair those automated break pad manufacturing systems.
In this scenario, structural unemployment for the manufacturing line operator goes up, while the unemployment figure for technology specialists and sales professionals goes down, as demand for their services rises.
2. Cyclical Unemployment
Cyclical unemployment is similar to structural unemployment in that the business cycle is highly dynamic too, and changes all the time. When the economy is on the upswing, companies hire more workers, and the unemployment rate spikes upward. Conversely, when the economy is spiraling downward, the unemployment rises, as companies let workers go, and stop hiring at an accelerated rate, as they would in robust economic periods.
Consider the case of auto manufacturers in the Great Depression, in the late 1920's and early 1930's. Before the stock market crash of 1929, and resulting depression, Americans were buying autos from companies like Ford Motor Co. (F) - Get Ford Motor Company Report , Chrysler (FCAU) - Get Stellantis N.V. Report and General Motors (GM) - Get General Motors Company Report at a high rate. They could afford to do so, as the American middle class was just starting to jell, and earning good money in boom economic times.
But once the Great Depression hit, Americans focused more on keeping food on the table and bypassed large expenditures like new cars. That slashed revenues at the major car companies, who cut workforce numbers, slowed or stopped hiring altogether, and in the process, sent the unemployment rate skyrocketing.
It was only after the World War II that the U.S. economy recovered, and millions of Americans flooded auto dealerships to buy cars and trucks, putting thousands of auto workers back to work.
That cyclical turn of the U.S. economy happens on a regular basis, and has a profound impact on the unemployment rate.
3. Frictional Unemployment
Short-term factors involved in figuring out the nation's unemployment rate fall under the term "frictional unemployment."
This form of unemployment relates to the jobless rate that moves upward as career professionals drift between jobs for a variety of reasons, including:
Workers who move to another state, city, or town and are looking for a new job.
Workers who leave their jobs with a goal of finding a better one.
College graduates with advanced degrees who, after earning a post-graduate degree, return to the workforce when they find a new job related to their studies.
Consider a college graduate who's spent a few years after graduation working at a financial services company as a data analyst. But that college graduate starts hearing more about artificial intelligence and after doing some research, decides that's the field for him. Consequently, he takes two years away from the workforce to earn a master's degree in science and technology, specializing in artificial intelligence.
The time spent between his last job as a Wall Street data analyst and his new job as an artificial intelligence product developer is deemed to represent frictional unemployment.
Since full frictional unemployment never goes away, it has to be factored into the national unemployment equation. Time, like money or diamonds, is a commodity, too - and taking time between jobs to get back into the workforce makes frictional unemployment a key component of the U.S. unemployment picture.
Three Other Types of Unemployment
There are other, less common, forms of unemployment that are important, too.
These unemployment categories may also be factored into unemployment conditions in the U.S.
1. Seasonal unemployment
Specific industries may only be open for business at a specific period during the calendar year (think a Christmas tree seller operating out of a mall parking lot, an ice cream shop by the beach that closes down after Labor Day, or, on a larger scale, an Iowa farm that produces corn seasonally.) Unemployment for seasonal industries rises in off-peak periods, and the U.S. unemployment numbers reflect that seasonality issue in their monthly numbers.
2. Regional unemployment
Regional or even state-by-state unemployment is a big issue, as well. Agricultural, fishing, tourism, and other industries are dependent on their geographical boundaries, the weather, and consumer demand. No doubt, Southern Florida sees a drop off from tourists after mid-April, when the weather starts improving in Northern states. That leads to a drop-off in demand for in-season workers, and a higher unemployment rate for regional employees.
3. Voluntary unemployment
Some workers, for a variety of reasons, elect not to participate in the workforce. Think of a software industry worker who takes a big severance package from her last firm, and can live comfortably for six months on the money. She may take 90 days off, and spend the next 90 days looking for work. Or, someone on welfare may decide they'd rather collect government benefits like welfare that enter the workforce. Fair or unfair, it happens, and it's reflected in the voluntary unemployment category.
The Best U.S. Cities to Find a Job
Unemployment is an Important Statistic
All of the above factors play some role in the nation's unemployment story, as calculated by the monthly jobless number produced by the federal government.
It's an important economic benchmark, and a good barometer of just how well the U.S. financial and economic picture looks at a given time.