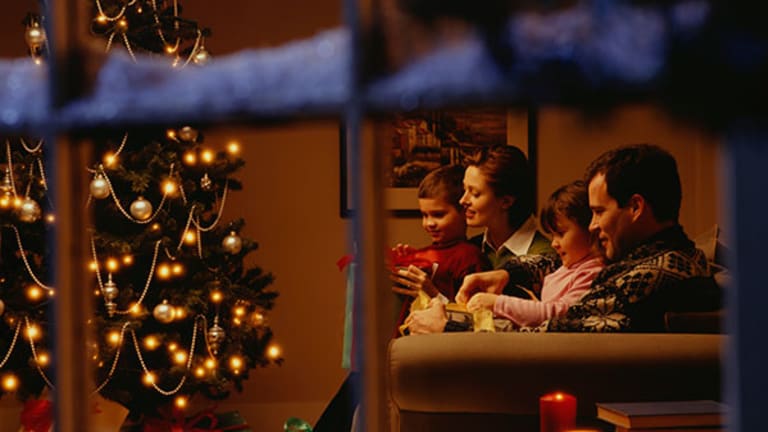 Try Giving Your Kid a College Fund This Christmas
Parents wish their parents gave them fewer gifts and more college money for the holidays, so why not start a new tradition?
Editor's pick: Originally published Dec. 19.
We realize you're elbows-deep in holiday shopping by now, but you could save yourself a lot of last-minute hassle by giving to your kid's college fund instead.
According to a survey by Fidelity Investments, holiday shoppers will spend $656 billion on gifts this year -- including $658 per child. Yet 62% of parents say their kids lose interest in those holiday gifts by July. With 9 out of 10 parents saying that a college education is the best gift they've ever received -- but just 29% of parents saying they're on track with their funding goals -- it may be time for parents to consider making college contributions an annual wish list item.
So far, parents seem up for it. Roughly 84% said they'd welcome contributions to the college fund in lieu of gifts from friends and family. In fact, 74% say they would have been O.K. receiving fewer gifts as children if it meant getting more money for college. However, for kids concerned that this means they'll never see another video game or toy for the rest of their lives, parents surveyed by Fidelity say that actual gifts should still make up 65% of holiday spending. However, maybe the stocking stuffers disappear in favor of that 35% contribution to the college fund.
As it stands, parents of college students wish they could have put away more toward college each month. With 50% saying they could have saved $50 extra each month and 46% saying they could have put away and extra $100, Fidelity notes that even those small additions can add up over time. Putting $50 more toward college a month at 6% interest gives parents $19,368 over 18 years. Bump that up to $100 more, and you have an extra $38,735. $200? That turns into $77,471.
"For many families, finding an extra $50 or $100 per month may seem out of reach, but these extra dollars could potentially boost college savings by nearly $20,000 or even $40,000," says Keith Bernhardt, vice president of college planning at Fidelity. "This potential could be a powerful motivator to consider strategies to carve out additional savings."
While Fidelity isn't advising parents to put $600 per college every Christmas, it's illustrating just how powerful a little extra savings can be. Besides, if parents are going to make huge sacrifices for their kids' college education, kids could stand to lose a tack-on toy here or there. As HSBC discovered in a recent survey of more than 6,200 parents in 15 countries, 60% of parent would be willing to go into debt to pay for their child's college education. This is especially true in the United States, where 74% of parents younger than 34 would take on that debt, compared to just 56% of those over the age of 35.
That statement has significant financial consequences, considering American parents pay an average of $14,678 per year to fund their children's college education. That's double the global average of $7,631 per year, and doesn't include the 37% of college costs that students pay themselves. By comparison, only students in Canada (39%) pay more, while students in India (1%), Hong Kong (4%) and Singapore (5%) pay far less. Meanwhile, roughly 60% of U.S. parents say that college payments make it tough to keep up with their financial commitments, but many prioritize paying for college over long-term savings (40%), credit card repayment (37%), and retirement savings (37%).
"The financial sacrifices that parents are willing to make to fund their children's education are proof of the unquestioning support they will give to help them achieve their ambitions," says Charlie Nunn, HSBC Group's global head of wealth management. "However, parents need to make sure that this financial investment is not made to the detriment of their own future well being."
It also pays for kids to sacrifice now so they aren't doing so later. The average 2016 college graduate is carrying $37,172 in student loan debt, according to college and scholarship site Cappex. That's up 6% from last year, with debt carried by 70.1% of all graduates. That's also up from $12,759 two decades ago, when just 54% of all students graduated with debt.
According to the Federal Reserve Bank of New York, total student loan debt reached $1.26 trillion by the end of June. That's up $69 billion from a year earlier and is the second largest pile of U.S. consumer debt behind mortgage debt (at $8.36 trillion, up $246 billion from a year ago). More than one in ten (11.1%) student loans are past due. That's a worse delinquency rate that for credit card bills, of which 7.2% are past due.
It isn't as if the job market is all that helpful to recent grads, either. Though the Bureau of Labor Statistics puts the current unemployment rate at 5%, that jumps to 9.2% for people ages 20 to 24 -- or roughly the age of most recent college graduates. Only 70.7% of people that age are an active part of the workforce, compared to nearly 81% of those between 25 and 54.
That approach can be a burden on the entire family. As Fidelity found in another survey, nearly half (47%) of those 18-34 have let their parents pay for certain items at some point since being on their own -- including cell phone plans, utilities, movie and TV streaming services and cable. Meanwhile, 21% of Millennials report they are currently living under their parents' roof. That said, it's a team effort. Fidelity notes that, among 71% of families, having a child live at home or graduate earlier to cut costs is a viable option -- up from 53% in 2007. Also, three-quarters of parents are considering having their non-working spouse go back to work or having their child work on campus to make ends meet.
A better college savings plan that makes college-fund contributions part of the annual holiday tradition can help prevent some of the above while giving a far better gift. According to a 2014 study by Pew Research Center, those who graduated with bachelor's degrees or better saw their unemployment rate drop to 2.5% compared to 4.4% for those with some college education or an associate's degree or 5.2% for high school graduates. More than 70% of those with bachelor's degrees or better are employed, compared to 54% to 64% of those without said degrees. Perhaps most importantly, the median annual income of college graduates ranged from $57,200 for those with a bachelor's degree to $85,228 for those with professional degrees. That's compared to $37,436 for high school graduates and roughly $40,000 for those with some college or an associate's degree.
"Aside from giving their kids a financial leg up, parents can also take credit for being money role models," says Kristen Robinson, senior vice president at Fidelity Investments.  In fact, 65% of Millennials say their parents have provided good examples of how to build a successful financial future, and the study suggests that's exactly what this forward-thinking generation is doing. Developing sound savings habits at an early age provides a number of big advantages. The impact of saving early and consistently is powerful, whether for short-term goals like buying a car or booking a dream vacation or for larger goals like buying a home or saving for retirement."