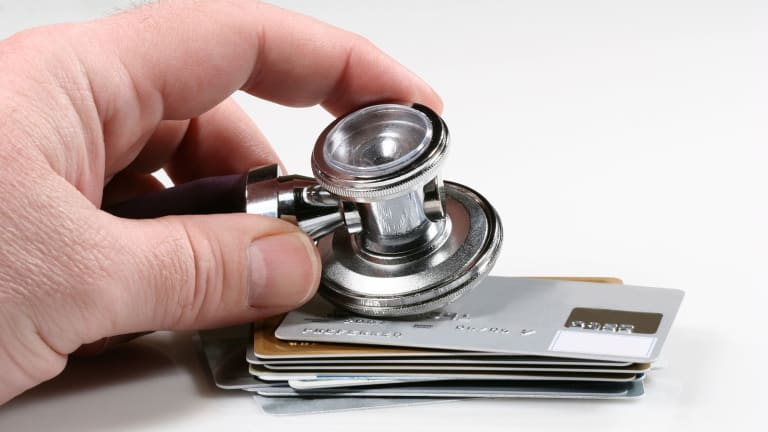 What Are the Three Credit Bureaus and Why Do They Matter?
Knowing who the three major credit bureaus are, and how they work, can make you a stronger financial consumer.
You may or may not know it, but there are three credit report bureaus paying close attention to the way you spend money, pay bills and budget your personal finances - and what they report to lenders and creditors has a huge impact on your financial life.
It may seem like eavesdropping, but in reality, what the three major credit-reporting bureaus are doing is assessing the risk of a lender or creditor doing business with you, and reporting back your risk level in the form of a credit score, which can make or break major purchases like a home, an auto, or a personal loan.
The three credit bureaus - Experian, Equifax and Transunion - do big business in the consumer risk assessment market, and there's a good reason why, as the U.S. Consumer Financial Bureau states in a recent report.
"Credit reports play an increasingly important role in the lives of American consumers," the CFP reports. "Most decisions to grant credit - including mortgage loans, auto loans, credit cards, and private student loans - include information contained in credit reports as part of the lending decision."
"These reports are also used in other spheres of decision-making, including eligibility for rental housing, setting premiums for auto and homeowners insurance in some states, or determining whether to hire an applicant for a job."
That's a big job and with so much at risk in getting consumer credit scores right (and that's not always the case), it's worth taking a deeper look into the three credit bureaus and provide some background for consumers wondering why three companies hold so much power over their personal financial situations.
The Three Credit Bureaus
There are three main credit-reporting agencies operating in the U.S. - Equifax, Experian, and TransUnion.
Headquartered in Atlanta, Ga., Equifax bills itself as a global information powerhouse, providing credit information on more than 820 million consumers across the world. It's not just individuals - Equifax also reviews credit risk profiles for more than 91 million companies across the globe.
In 2017, the company announced a massive data breach had exposed 143 million Equifax user accounts over a period of approximately 90 days from May to July, 2017. According to the U.S. Federal Trade Commission, the data hackers accessed people's names, Social Security numbers, birth dates, addresses and, in some instances, driver's license numbers in the cyber-heist.
The company's stock trades on Nasdaq under the stock symbol (EFX) - Get Equifax Inc. Report , and with 10,100 full-time employees, it's one of the largest financial services companies in the U.S.
Based in Dublin, Ireland, Experian touts itself as the world's leading global information services company, with 16,700 employees (7,000 in North America operating across 37 countries. Founded in 1980 under the name Commercial Credit Nottingham (CCN), Experian expanded into the U.S. in 1996 with the acquisition of TRW Information Services.
According to Experian, the company stores credit information on approximately 220 million U.S. consumers and 40 million active U.S. businesses, and it maintains demographic information on approximately 300 million consumers in 126 million households across the U.S. Experian is making a ton of money tracking business and consumer-credit health - it reports $2 billion in annual sales alone in North America.
Experian had data hack troubles of its own, with a system security breach in 2015 that resulted in the exposure of 15 million user accounts, primarily customers of telecommunications giant T-Mobile who had undergone Experian credit checks.
Experian trades on the London stock exchange under the stock symbol EXPN.L.
Based in Chicago, Ill., TransUnion also provides consumer reports, risk scores, analytical services and credit-decision capabilities to global companies. As with Equifax and Experian, individuals use its products, services and tools to view their credit profiles and access analytical tools to better manage their personal financial data and ideally, to protect themselves against identity theft.
TransUnion launched in 1968 when its parent company, the Union Tank Car Company, bought out the Credit Bureau of Cook County, Ill., and in the process, acquired 3.6 million credit accounts across the greater Chicago landscape.
For decades, TransUnion differed from Equifax and Experian in that it was private, not a publicly traded company on any stock exchange. That changed in 2015, when the company went public, trading under the stock symbol (TRU) - Get TransUnion Report .
It has since grown into a global financial powerhouse, with approximately 4,700 total employees. In 2018, it posted total revenue of about $2.371 billion, and the company serves one billion consumers across more than 30 countries.
Why Do the Three Major Credit Bureaus Matter?
Recognizing that there are three major credit bureaus analyzing your debt and spending habits and reaching conclusions - good or bad - on your financial credit risk, should be a big priority for Main Street Americans.
The fact is, knowing how much influence Experian, Equifax and TransUnion have over your credit score - the single most important barometer of your financial health to creditors and lenders - can lead directly to understanding how to engineer financial habits that lead to better credit scores.
That understating comes from knowing how credit scores are calculated and reported back to lenders. Knowing what actions really matter to those credit score formulas can boost your credit score.
What Are Credit Reports?
A credit report is a list of all of your credit accounts
with a numerical representation of your use of credit and repayment history called a credit score. Basically, it's a history of all of your debts and ability to repay those debts, as measured by a credit score.
Mathematically, the credit scoring model was created by Fair Isaac Corp. (FICO), which also created the formula for calculating credit scores. Credit bureaus like Experian, Equifax and TransUnion use those credit scoring calculations to come up your credit score.
By and large, the FICO credit scoring model ranges from 300 to 800, with 300 being the lowest credit score you can have and 800 the highest credit score you can obtain. Based on that credit scoring model, your credit report and score affect your ability to get credit, and get the best interest rates tied to any loans or credit.
How to Get the Best Credit Score
How can you get the best credit score from the three credit bureaus? Start that ball rolling with these action steps:
Keep reasonable amounts of unused credit. Credit scoring formulas also give great weight to keeping your ratio of spending (the balance on a credit card, for example) to your account limit. That term, known as credit utilization among credit bureau analysts, is the other largest factor in calculating credit scores.
Apply for credit only when needed. Overdoing it on credit cards and loans is a big no-no to credit bureaus - to them, it means you're taking on too much credit and are thus deemed a higher credit risk, a scenario that will lower your credit score.
Pay more than the monthly minimum on your credit and loan accounts. Credit scoring bureaus will favorably view a consumer who pays more than the minimum account due on, say, a credit card bill or an auto loan. That move helps you pay down debt faster and that's a good sign for creditors. A bonus - you'll also save on interest rate charges by paying off debt ahead of time.
Check your credit report for inaccuracies and mistakes. It's likely not your fault, but credit bureaus often use errant information to record your credit score, which can curb that score downward if you're not paying attention. That's why it's a good idea to check your credit report regularly - at least once per month.
The good news is that you can check your credit report once a year, from all three credit bureaus, free of charge. That's due to The Fair and Accurate Credit Transaction Act of 1971, which entitles any American citizen to one free credit report each year, from each of the three primary credit bureaus.
Get your own free credit report in three ways:
Annual Credit Report Request Service

PO Box 105281, Atlanta, GA 30348-5281
Getting Your Credit Score in Good Shape
There are myriad secrets to obtaining the best credit score possible, but one of the most important is knowing what credit bureaus look for when assessing credit health. In short, your ability to get approved for loans and credit, and get the best interest rates in doing so, depends greatly on your personal credit score.
In that sense, consider Experian, Equifax and TransUnion the guardians at the gate, deciding who is worthy of credit and who's not.
Thus, understanding how credit reports are created, and the criteria that went into creating them is a significant first step in ensuring that your credit score is in the best shape possible.
After all, your financial health is depending on it.