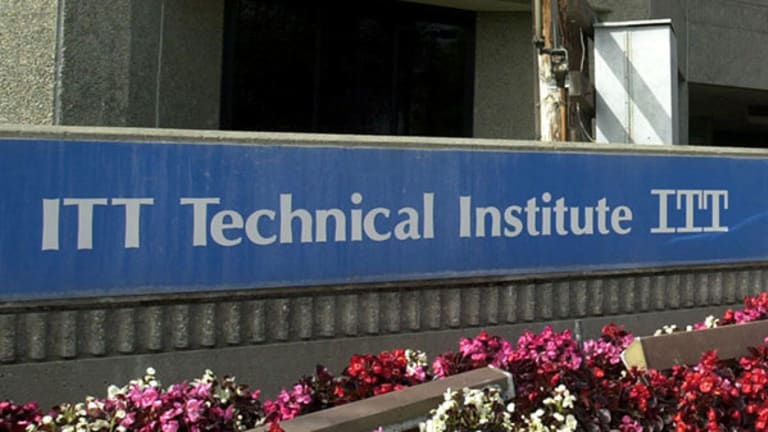 The Department of Education Drops the Hammer on ITT Tech
With a swan song about to be sung, ED withholds federal aid for new students.
Corinthian Colleges, the ill-fated California based for-profit college, was allowed to twist in the wind for a year before filing for bankruptcy in May 2015 while the Department of Education (ED) was made to look like an enabler of a fraudulent enterprise. ED seems determined not to make the same mistake again.
On Thursday ED banned ITT Education Services (ESI) , parent of ITT Tech, one of the nation's biggest for-profit colleges, from enrolling new students using federal financial aid that would use Title IV funds--student loans from the federal government, which could effectively put the Carmel, Ind.-based company out of business.
ITT, which relies on the federal government for most of its revenue, is prohibited from awarding raises, paying bonuses or making retention or severance payments to its executives or to paying special dividends or out of the ordinary expenditures without department approval. ITT CEO Kevin Modany's total 2015 compensation was $1.4 million.
"The U.S. Department of Education today took a series of actions to protect students and taxpayers by banning ITT Educational Services, Inc. (ITT) from enrolling new students using federal financial aid funds, and stepping up financial oversight of the for-profit educational provider," said Secretary of Education John King in a conference call with reporters. He added, "These actions are sweeping."
The move follows the conclusion of the school's accreditor, the Accrediting Council for Independent Colleges and Schools (ACICS), that ITT "is not in compliance, and is unlikely to become in compliance with ACICS Accreditation Criteria."
"Our responsibility is first and foremost to protect students and taxpayers," said King. "Looking at all of the risk factors, it's clear that we need increased financial protection and that it simply would not be responsible or in the best interest of students to allow ITT to continue enrolling new students who rely on federal student aid funds."
Both King and Mitchell were circumspect when it came to attributing their decisions on to ITT to lessons learned from the Corinthian debacle. "In the Corinthian Case, the Department took a series of actions that resolved the matter," said King, who was not the Secretary of Education when Corinthian was shut down. "Here again, this entity is not acting in the interest of taxpayers."
Under Secretary Mitchell said, "It is important to have a dialogue with students and we are putting up a blog post directed at ITT students." ED was not prepared for the wave of Corinthian students who petitioned to have their loans discharged—an eventuality ED is bracing for with ITT.
ED placed ITT on Heightened Cash Management 2, requiring it to cover federal student aid disbursements for current students with its own funds. ED will reimburse ITT after ITT students get their money. ITT has had to produce a Letter of Credit (LoC), a surety set aside by the school in the event that it school can't pay back what it owes the government. ED announced on August 25 that ITT is required to increase its LoC within 30 days from $94,353,980 to $247, 292,364, or 40% of all Title IV aid the school received in 2015.
The letter of credit increase may be ITT's death knell. A recent regulatory filing found that ITT had about $78 million in cash on hand.
ED is also requiring ITT to develop teach-out agreements with other colleges, which would enable ITT students to continue their educations in other schools in the event of a shutdown.
Abby Shafroth, a staff attorney for the Boston-based National Consumer Law Center's Student Loan Borrower Assistance Project, expressed approval for ED's actions, but added, "We are also concerned about current and former ITT students. We encourage the Department to investigate fully ITT's recruitment and enrollment practices and to ensure that current and former students who have been harmed by any misconduct get relief through the borrower defense process or other remedies available."
ITT has over 130 campuses in 38 states, about 45,000 students and reported almost $850 million in total revenue, $580 million from the federal government. ITT is the subject of multiple state and federal investigations. ED began to intensify its operational and financial oversight by the Department in 2014.
ITT spokesperson Nicole Elam could not be reached for comment. ESI shares closed at $1.40 on Thursday.