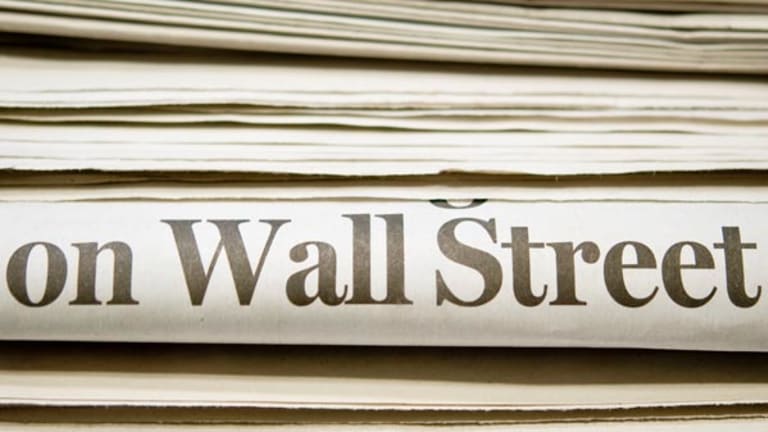 The 5 Dumbest Things on Wall Street: Jan. 28
Here is this week's roundup of the dumbest actions on Wall Street.
5. The Unabridged Guide to Financial Meltdowns
The epic known as the financial meltdown and its cast of Wall Street and government actors received its epilogue this week, and it was a long one.
In just over 633 pages, the Financial Crisis Inquiry Commission laid out its indictment of Wall Street titans including
Goldman Sachs
(GS) - Get Goldman Sachs Group, Inc. Report
and
Bank of America
(BAC) - Get Bank of America Corp Report
, extinct Wall Street species like
Merrill Lynch
( ML), and lenders that were synonymous with the mortgage crisis, like
Countrywide Financial
. Government entities including the
Securities and Exchange Commission
, and even more so, the
Federal Reserve
, are chided in a way that would make Fed-buster Ron Paul very happy.
In an inspired melding of the 9/11 Commission Report and Julian Assange's Wikileaks, the FCIC released 1,200 documents supporting its indictment of Wall Street and the government, and plans to post another 700 documents and 300 transcripts of audio interviews before its through reading the financial powers that be the riot act over the negligence, poor planning, ill-considered actions, and outright greed and ignorance of economic reality that caused a housing crisis to morph into a systemic breakdown of the U.S. economy.
Truth be told, 633 pages might not be enough to do justice to the idiocy that passed for an advanced, well-functioning economy in the period leading up to the crisis. Phil Angelides, the commission's chairman, who went head-to-head with many financial bigwigs during the FCIC hearing process -- and even forced
Berkshire Hathaway
CEO
to testify under order of subpoena -- took issue with the idea that no one could have seen this crisis coming.
Angelides was having none of this "no one is smart enough" stuff when Buffett testified, and lashed out at this simple-minded theory proffered by geniuses as a way to wipe under the rug a very preventable implosion of the economy. Speaking at a news conference to announce the launch of the FCIC report, Angelides said, "How did it come to pass in 2008 that our nation was forced to choose between two stark and painful alternatives, either risk the total collapse of our financial system and economy or inject trillions of taxpayer dollars into private companies even as millions of Americans still lost their jobs, their savings and their homes?"
It wasn't because the crisis was unavoidable. Goldman is embedded in several of the big data points, including the fact that starting from the third quarter of 2006, when housing prices were declining, the financial geniuses of Wall Street continued to create $1.7 trillion in mortgage-backed securities.
The FCIC reports that in December 2006 Goldman began selling off its own inventory or mortgage products, yet had no qualms whatsoever about creating and selling mortgage products to others to the tune of $25.4 billion in fees between Dec. 2006 and August 2007. That's a lot of sh**ty deals.
Then there's the sad tale of poor John Thain, former Merrill Lynch CEO, having to defend himself against charges that Merrill wasn't honest with
Bank of America
(BAC) - Get Bank of America Corp Report
about just how poorly managed it was, and former Bank of America CEO Ken Lewis' desperate case of post-purchase remorse, which considering the billions upon billions of losses that Lewis had purchased, is more understandable than the iPhone 3G owner who can't get over the release of the 4G model.
Former Countrywide CEO Angelo Mozilo testified to the FCIC with philosophical acuteness about the choice between a credit downgrade or putting up the 'gone fishing' sign: "When it's between your ass and your image, you hold on to your ass."
TheStreet Says: All this time later, and after the FCIC's 633 pages, Wall Street still has its ass, but the image of the financial powers that be remains in the toilet
.
4. Intel Seeks the Essence of Cool
Intel
(INTC) - Get Intel Corporation Report
showed off its new "director of creative innovation" earlier this week, none other than Black Eyed Peas front man will.i.am. The multi-platinum artist and producer, responsible for such classics as
Boom Boom Pow
, is now taking product endorsement to a whole new level, courtesy of Intel.
The chip giant
may be enjoying strong demand for its products but this is clearly not enough for CEO Paul Otellini (aka paul.i.am) and his crew. Intel wants to inject itself with a serious dose of cool.
Is this really necessary? I mean, what's not sexy about 32-nanometer chip technology, motherboards and embedded processors?
Cue will.i.am, who turned up at an Intel conference in Anaheim, Calif., on Tuesday shamelessly sporting a company ID badge.
"Nearly everything I do involves processors and computers, and when I see an Intel chip I think of all the creative minds involved that help amplify my own creativity," trilled the seven-time Grammy winner. "Teaming up with the scientists, researchers and computer programmers at Intel to collaborate and co-develop new ways to communicate, create, inform and entertain is going to be amazing."
Amazing for his bank balance, no doubt. The Black Eyed Peas are no strangers to tech endorsements and will.i.am is already a high-profile BlackBerry enthusiast while
Research In Motion's
( RIMM) forthcoming Playbook tablet even made a guest appearance in a recent Peas' music video.
As for Intel, signing up will.i.am highlights the company's desperate desire to catch up with the likes of iPhone maker
Apple
(AAPL) - Get Apple Inc. Report
in the consumer market. In addition to providing new music for Intel, will.i.am will collaborate on devices such as laptops, tablets and smartphones, it said.
At the end of the day, though, it will be products, not glitzy celebrity endorsements, that stake Intel's claim in smartphones and tablets. Unless, that is, will.i.am, is hard at work in the Intel labs helping develop the newMedfield chip ...
TheStreet Says: We take it Fergie wasn't available, or is she allergic to nerds?
3. UConn Burned by Booster
Robert G. Burton, chairman and CEO of Greenwich-based Burton Capital Management, has brought new meaning to the phrase, "I'm going to take my ball and go home." Except in Burton's case, the football is $3 million and the sandlot where the game is being played happens to be a stadium named after him.
Last week, Burton threw a hissy fit -- the likes of which would have made Terrell Owens proud -- when a major play didn't go his way. University of Connecticut athletic director Jeff Hathaway had the audacity to hire a new football coach without seeking enough input from Burton, who happened to be the football program's biggest donor.
It was the last straw for Burton, who dashed off a five-page missive to everybody from the school president to Connecticut Governor Daniel Malloy detailing how the choice of former Syracuse football coach Paul Pasqualoni had besmirched the whole of the Burton family. You could practically hear Burton stamping his feet in a red-faced tantrum as he made note of the more than $7 million he had given to UConn and its football program. He should have been consulted, his sons played football, he was drafted by the NFL and was a scout at one time and on and on.
Oh, and you'd be incorrect if you thought Burton didn't throw arguments of religious and moral superiority into the mix with his five other pages of financial, mental, athletic and managerial superiority.
"I learned a long time ago from my personal friend Dr. Billy Graham that the truth helps heal all falsehoods," Burton wrote.
Well, at least we know he didn't learn any humility from the good doctor.
Burton finished his rant by outlining eight punishments he would be doling out, all of which amounted to pulling funding from various school and football programs. Oh, and he wanted $3 million of his donations back and his name taken off the stadium. It was Burton's Al Pacino "I'd take a flamethrower to this place" moment, except there was absolutely nothing admirable behind his actions.
For all his accomplishments, and believe us, they're all in there, Burton's letter reveals him to be the smallest of men. Certainly it's his right to use his money how he sees fit, but somewhere along the line Burton confused the words "donor" and "owner." Donors look to lift up the people and organizations they love. They tend not to lift them up only to actively take part in their destruction. That's not a donor, that's just a guy who uses money as his most powerful, and maybe only, weapon.
TheStreet Says: With donors like these, who needs donors?
2. DiGiorno's Synergy in a Box
When
Nestle
acquired
Kraft's
( KFT)
frozen pizza business in January 2010
, the company said the purchase provided a "new strategic pillar to Nestlé's frozen food portfolio."
It took just over a year for the genius of purchasing this pillar to come to fruition in a physical form. Nestle has come up with the ultimate synergy in a box, packaging its DiGiorno pizza and famous frozen Toll House chocolate chip cookie dough together. And why not, right? I mean, we're just talking about two different types of frozen dough. And pizza and cookies is a totally natural combination, like toothpaste and orange juice.
There's also the environmental aspect. You've already turned the oven on and heated the darn thing up, so might as well use it, right? Heck, if you don't make the cookies, you're actually hurting the environment. Brilliant!
We decided to take a shot at this synergy magic ourselves by taking a look at the Nestle lineup of brands. Clearly management is missing out on more potential pairings. For instance, the Frosty Paws frozen dog treats would be natural addition for ice cream brands like Drumstick or Edy's. Or how about a Hot Pockets and Push-Up combo? Like pizza and cookies, it would be dinner and dessert and they'd both be in tube form.
We think we're getting the hang of this.
TheStreet Says: Get ready to preheat your calorie counters.
1. Taco Bell's Mystery Meat
Yum! Brands'
(YUM) - Get Yum! Brands, Inc. Report
Taco Bell is facing one question in a potential class action lawsuit filed this week
-- Where's the beef?
According to a suit filed by law firm Beasley Allen, what Taco Bell is advertising as beef is more of a beef filling, with heavy emphasis on the filling. In fact, the suit alleges there is so little actual beef in the filling that Taco Bell shouldn't even be allowed to call it beef.
The U.S. Department of Agriculture defines beef as "flesh of cattle." The suit, which does not seek monetary compensation save for attorneys' fees and costs, claims that Taco Bell calls its products "seasoned ground beef or seasoned beef, when in fact a substantial amount of the filling contains substances other than beef." The suit claims that Taco Bell's ground beef includes ingredients such as water, isolated oat product, an anti-dusting agent, an anti-caking agent and modified corn starch, as well as beef and seasonings. As Rachel Ray would say, "Yum-O!"
Just 35% of what Taco Bell calls its "taco meat filling's" ingredient list was a solid and just 15% of it qualified as protein, according to attorney W. Daniel "Dee" Miles III of the Montgomery, Ala., law firm Beasley Allen.
Taco Bell has had to spend the week vigorously responding to the suit, which grabbed more and more media attention as the week went on. A company representative said late this week that "our seasoned beef recipe contains 88% quality USDA-inspected beef and 12% seasonings, spices, water and other ingredients that provide taste, texture and moisture."
Taco Bell probably should have been ready for this one as it's had bad luck when it comes to the quality, or perceived quality, of its key ingredients. Sister company KFC was said to have been forced to change its name from Kentucky Fried Chicken because it served genetically engineered meat that didn't qualify as chicken. Not true, but an urban myth that has persisted.
Whether Taco Bell wins the day in court, the damage may already have been done. But the KFC myth didn't hurt them too badly, and we don't think high school and college kids will stop making a run for the border any time soon.
TheStreet Says:What was the first clue that the beef may be a bit off, the neon orange glow?
In light of all this dumbness, we now ask you: Which is this week's dumbest of the dumb stories? Take the poll below to see what
TheStreet
has tosay.
This article was written by a staff member of TheStreet.