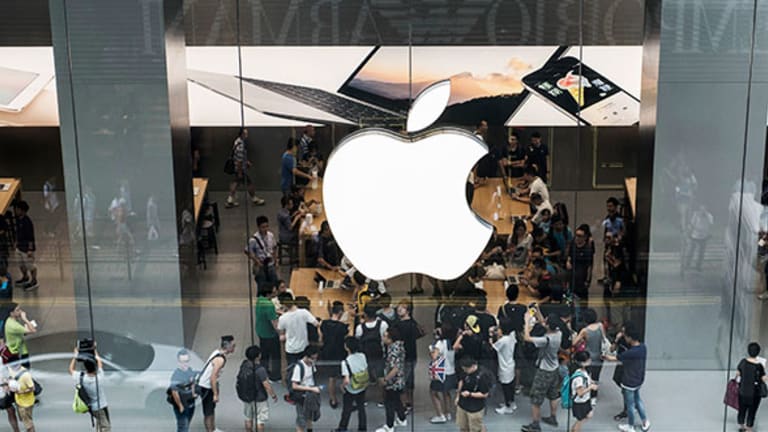 The 11 Best U.S. Companies for Students to Get Summer Internships
Instead of heading to Wall Street, college students are going to Silicon Valley for summer work experience.
NEW YORK (TheStreet) -- College students across the country are getting ready to battle it out over summer internship positions, but which companies offer the best program?
Traditionally, Wall Street offered the most coveted spots, where bright-eyed, fresh-faced newbies started and ended their days to the sounds of the opening and closing bells. These days, students are heading to the West Coast to munch on free food, play foosball and get on-site laundry service, all while getting work experience at some of the world's top technology companies.
With about 27,500 open internships across the United States, Glassdoor, an online jobs, recruiting and review site, identified the companies with the best internship programs. Although all companies on the list pay their interns, and quite handsomely from anecdotal reviews on Glassdoor, the annual ranking is based on feedback from former interns.
Companies had to have at least 20 intern reviews and ratings as well as ratings for interview difficulty to be considered, according to Glassdoor.
In conjunction with the report, Glassdoor launched Glassdoor for Students, a free job search resource to find and research the latest internships, jobs and salaries, career tips and other information for entry-level employees.
Given the younger generation's penchant for all-things social these days, it isn't surprising that Facebook (FB) - Get Meta Platforms Inc. Report was the top company for internships for the second year row.
The Menlo Park, Calif.-based company was followed by Chevron (CVX) - Get Chevron Corporation Report and Google (GOOG) - Get Alphabet Inc. Report for the second- and third-best internship programs, according to Glassdoor.
Here are the top 11 companies worth considering for internships. After perusing the list, check out the 12 best jobs in America.
11. Apple (AAPL) - Get Apple Inc. Report
Headquarters: Cupertino, Calif.
Company Rating: 4.4
Interview Difficulty Rating: 3.1
Apple offers internships for both undergraduates and graduate students.
Undergraduates can find themselves working in the tech giant's communications, design, engineering, finance, hardware, information technology, marketing, software or wellness areas. Graduate students can find opportunities in engineering, finance, marketing, merchandising, operations, real estate development and design, and software.
Glassdoor review: "I had a great time and learned a lot even though the corporate culture at Apple isn't as exciting as other companies." - Finance intern (Cupertino, Calif.)
10. Boston Consulting Group
Headquarters: Boston
Company Rating: 4.4
Interview Difficulty Rating: 3.8
Boston Consulting Group's internship program is frequently a gateway for young graduates to receive full-time job offers. Internships are generally two to three months with some consultant positions requiring travel.
The company is looking for business school, engineering, humanities and science majors nearing degree completion.
Glassdoor review: "Very sharp people. Nice to be surrounded by such talent. People are generally friendly as is management. Career development is kept front of mind." - Summer consultant (Chicago)

9. NBCUniversal
Headquarters: New York
Company Rating: 4.4
Interview Difficulty Rating: 2.9
The NBCUniversal Campus 2 Career Internship Program offers a competitive opportunity to learn about the media industry, whether it is through advertising sales, business development, communications, human resources, news and production, among others. Accounting and finance internships are offered through NBCUniversal's parent company Comcast (CMCSA) - Get Comcast Corporation Class A Common Stock Report .
Glassdoor review: "Great intern program. They have professional development sessions to go along with your experience in your department." - Intern (New York)
8. Schlumberger (SLB) - Get Schlumberger N.V. Report
Headquarters: Houston
Company Rating: 4.4
Interview Difficulty Rating: 3.0
Oilfield services giant Schlumberger offers internships in several different fields including field engineer, geoscience and petro technical, and commercial and business, such as supply chain management.
Glassdoor review: "There are plenty of learning opportunities, everyone is very helpful and you get a look into the oil/gas industry. As an intern I was given real projects and challenged." - Intern (Salt Lake City)

7. Epic Systems
Headquarters: Verona, Wis.
Company Rating: 4.4
Interview Difficulty Rating: 3.1
Epic Systems is a privately held health care software company. The company has several upcoming internships listed on its Web site, including work experience positions in software development and user experience.
To be considered for the software development internship this summer, students need to be working toward a degree in computer science, software engineering, mathematics or a related field.
Glassdoor review: "Very good compensation. Well-defined project but lots of flexibility with where you can take it. Great HR team for interns - some fun event every few days." - Software development intern (Madison, Wis.)
6.Yahoo! (YHOO)
Headquarters: Sunnyvale, Calif.
Company Rating: 4.5
Interview Difficulty Rating: 2.9
Yahoo! offers a variety of summer internships from advertising to technical to editorial positions.
Glassdoor review: "Yahoo is a great place to work. The people are energetic and dedicated. Marissa is a great leader and is taking the company in the right direction." - Technical intern (Sunnyvale, Calif.)

5. eBay (EBAY) - Get eBay Inc. Report
Headquarters: San Jose, Calif.
Company Rating: 4.5
Interview Difficulty Rating: 3.0
eBay offers internships in a variety of fields. For undergraduate students, internship positions are available in network security, product management, risk management, software engineering and other areas. eBay also has positions available for graduate students and students working toward their Ph.Ds.
Glassdoor review: "I felt appreciated, guided and really like I was a part of the team. Office culture is fantastic, as was the program for undergraduate interns, which included 'Bagel Wednesdays' (always a plus), mini-summits with John Donahoe and other executives, and, a very competitive salary." - Public relations intern (San Jose, Calif.)
4. Quicken Loans
Headquarters: Detroit
Company Rating: 4.5
Interview Difficulty Rating: 2.7
Quicken Loans, an online residential mortgage lender, offers both summer and winter internship positions in human resources, legal, marketing, mortgage operations, security, servicing and recruiting, among other positions.
Glassdoor Review: "Very fun activities for interns to participate in throughout the city of Detroit. Learned an immense amount about the mortgage industry. Highly competitive." - Mortgage banking intern (Detroit)

3. Google
Headquarters: Mountain View, Calif.
Company Rating: 4.6
Interview Difficulty Rating: 3.3
Google offers all kinds of internships from technical to product management for both undergraduate students as well as graduate students. Internship positions are available across the world.
Glassdoor review: "Generous housing stipend. Salary is not super high, but there are free food and free shuttle to make it up. Very supportive & friendly managers, host, mentors and co-workers. Lots of training classes for personal development. Lots of resources. Almost everything/everyone is accessible." - Engineering practicum intern (Mountain View, Calif.)
2. Chevron (CVX) - Get Chevron Corporation Report
Headquarters: San Ramon, Calif.
Company Rating: 4.6
Interview Difficulty Rating: 2.5
Chevron offers summer internships in several divisions. By interning with the energy company, students can get work experience in land asset management, procurement and supply chain management, health and environmental safety, and chemical engineering, among others. Chevron also offers various internships internationally.
Glassdoor review: "They treat employees very well, really invest in you. Pay well and amazing benefits! They allow a lot of movement within the company. They want you to learn and develop more the longer you are with the company." - Finance development program intern (San Ramon, Calif.)

1. Facebook
Headquarters: Menlo Park, Calif.
Company Rating: 4.6
Interview Difficulty Rating: 3.1
Facebook is looking for students to fill summer internship positions in analytics, connectivity, data warehousing, design and sales, among other areas. It also is offering internship positions in its recently acquired virtual reality startup, Oculus.
Glassdoor review: "Great culture, easy to talk to anyone you want throughout the company. I felt like I was given a challenging task and able to grow as an engineer." - Software engineering intern (Menlo Park, Calif.)