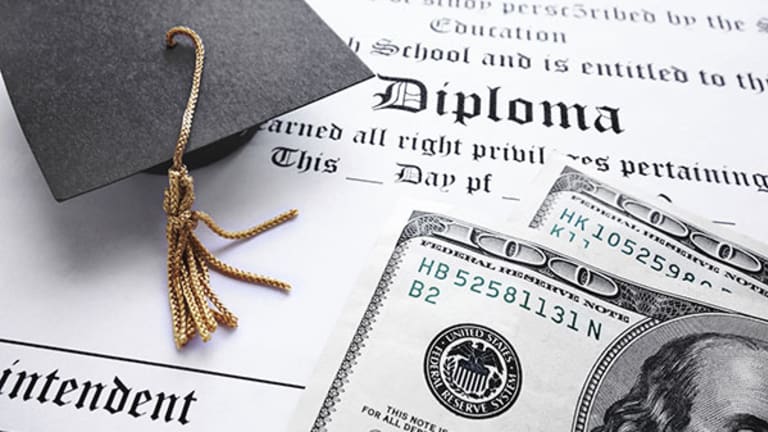 Targeted Giving Can Leave Universities With Limited Options
Bulge bracket universities go big on endowments, but most schools are have-nots in the donation game because of limitations on how donations can be allocated.
NEW YORK(MainStreet) - The balance on outstanding student loans continues to climb. So have donations to U.S. Colleges and universities. Are these two trends emblematic of the disparities between the haves and the have-nots in higher ed?
A report released this week by the New York-based Council for Aid to Education found that colleges raked in about $37.5 billion in donations during 2014, the biggest number since the survey's inception in 1957. That's dwarfed by the $1.2 trillion in overall student loan debt, but it is still a 10.8% rise in donations since the previous year and the biggest gain since 2000.
There are 2,719 four-year colleges in the U.S. according to the Department of Education, plus nearly 1,700 two-year colleges. Of that total, the Council for Aid to Education's survey looked at 1,018 colleges and universities. Of that total, the survey found that about 47 colleges have $1 billion or more in endowments. Just five institutions reported receiving single gifts of $100 million or more: Colby College, Emory University, Northwestern University, the University of Texas at Austin and the University of the Pacific. In 2013, only three institutions topped that figure.
The survey, called "Voluntary Support of Education," monitors gifts from firms, foundations and individuals—but only those whose checks have cleared, not promised donations that haven't materialized.
So with these schools awash in cash, could some money be devoted to, let's say, paying off the student loans of its graduates? It's not that simple.
Most institutions of higher learning have no endowment at all, says William Jarvis, managing director and head of research at the Wilton, Conn.-based Common Fund Institute, which helps the National Association of College and University Business Officers (NACUBO) with its endowment surveys. Endowments just aren't a big factor at most U.S. institutions of higher education.
Corporations, foundations and individual donors don't always give to a school's general fund, where there are no restrictions on how the money is used. Often, donations are targeted for department chairs and other specific programs. Prospect research, where schools search for wealthy alums, is nothing new, but predictive analytics leveraging Big Data has been changing the game. Individuals who were high achievers in academia often have two or more degrees from multiple schools—and more choice about where to donate. Competition for their money can be stiffer than with Jane or Joe College who has one degree from a single school but wants to donate to his or her alma matter.
And it is that individual donor who seems to be harder to tap even though the availability of data has exploded, with alum identifiers like email addresses and Facebook pages populating the Internet. In 2013, 8.7% of alumni donated; by 2014, that number dropped to 8.3%. Tracking down alums can be easy. Getting them to cough up a donation can be hard.
While it's a stretch to say that college endowments are a dumping ground for illiquid securities, a lot of what ends up in these campus funds isn't cash. And absent cash, college endowments will romance private equity, hedge funds, real estate and commodities—including art work. NACUBO estimates that 54% of the value of endowments are tied up in alternative investments. Turning these assets into cash that will help with the senior class with student loans isn't the way the world of endowments works. By the same token, the American Council on Education found that some restricted donations are limited specifically to student aid, which funds institutional grants that can significantly reduce the amount students pay for tuition—and the amounts they have to borrow.
--Written by John Sandman for MainStreet