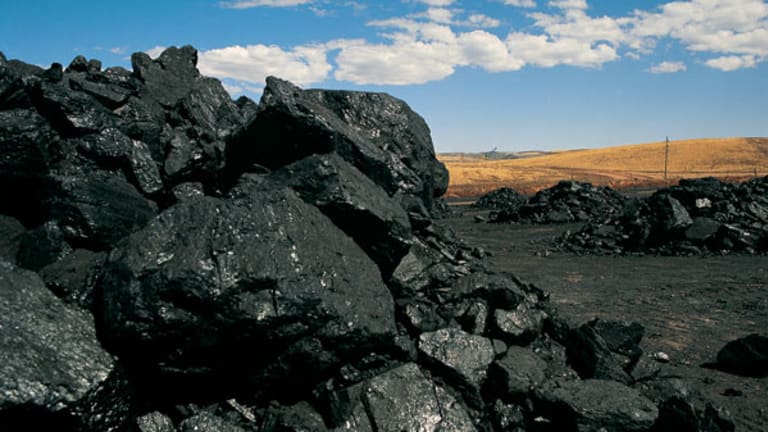 Students Put Fossil Fuel Companies to the Test
A growing campaign by students to have coal and oil stocks drop from university investments runs counter to efforts to expand public-private energy research at universities.
NEW YORK (TheStreet) -- The last thing the coal and oil companies need right now is more negative publicity.
However, there is a growing campaign movement by students across the U.S. to have their universities dump investments in fossil fuel companies. There has been some success by the Fossil Free Campaign, but by leaps and bounds the biggest victory to date came Tuesday when Stanford University said it would divest its $18.7 billion endowment fund of coal-mining stock investments.
Now that's a head turner.
Ironically, this efforts comes at a time when more public-private efforts are needed with universities on innovative energy technologies.
Right now there are about 300 universities looking to shake up endowment and pension funds, which makes me believe the move by Stanford could become a new precedent other university endowment and pension funds are forced to emulate.
Coal companies are at most risk for being targets for university stock sales. With that said, all fossil fuel companies could eventually be on the hit list since more and more students are advocating for a cleaner future.
Harvard, the biggest college endowment fund in the country with $33 billion invested, may be the next major university to sell holdings in oil and coal companies despite reports suggesting otherwise. Why? Nearly 100 professors are joining students and protesting leaders of Harvard to not invest in industries that are helping to cause climate change.
Harvard is also the first U.S. endowment to pledge its commitment to sustainability and responsible investing to meet United Nations guidelines and "drive environmental disclosure and performance of publicly listed companies." Therefore a move by Harvard to drop fossil fuels from its core financial investments really seems just a matter of time. 
According to a 2013 survey by the National Association of College and University Business Officers and Commonfund Institute, other notable college endowment funds include Yale University ($20.78 billion), Princeton University ($18.2 billion), MIT ($11 billion) and the University of Texas ($20.45 billion). 

In my opinion, the move to cut back investments in fossil fuels will likely come down to a willingness to embrace change and the potential to profit from that change. If the economic case can be strengthened, the stance by university endowment funds to divest funds away from fossil fuel investments may be harder to ignore since endowments are always seeking new, long-term growth opportunities.
However, such a move would will be rather incomplete without actually investing in innovative technologies that can challenge fossil fuel sources of energy and help offset carbon pollution. 
That may be why some of the best R&D in the energy space is now coming from university led private-public research. It's hard not to recognize all the great energy technologies coming from university labs. Storage solutions, battery advancements, efficiency concepts, smart grid applications and next-generation materials are just at the starting point for many programs including Stanford University, MIT and Stony Brook University, a growing force in energy research thanks to the Advanced Energy Research & Technology Center (AERTC). This should worry those coal companies with major endowment ownership.
If the social revolution to kick fossil fuels out of university funds also begins to penetrate the investing bias of state and teacher pension funds, coal stocks would be in even more jeopardy of selling pressure.
For example, as of Dec. 31, the New York Teachers Retirement Plan held 509,791 shares coal mining stock Peabody Energy (BTU) - Get Peabody Energy Corporation Report and the Public Employees Retirement Fund of Ohio held 392,058 shares, while California's State Teachers Fund held 490,460 shares as of March 31, and Florida's State Fund held 433,122 as of March 31, all according to nasdaq.com.
According to that same site, one of the bigger holders of Arch Coal (ACI) - Get Albertsons Cos. Inc. Report is the State Retirement fund of Ohio with 2.5 million shares held as of March 31. That makes me think owning coal stocks is really a speculative bet on clean coal technology that has yet to really materialize. 
One of the greatest rock and roll hits is The Who's Baba O'Riley. In that song, the phrase "teenage wasteland" is repeated throughout. Legendary guitarist Pete Townshend, who wrote the lyrics, said teenage wasteland was a reference to a future where the youth left home and traveled through a polluted country wasteland only to find a concert event that will shake and wake up society.
Based on the moves by today's college and university students, that concert event is now playing across the country and fostering a loud youth movement more vocal about their future and helping to create a society that no longer invests in fossil fuels. That may be the best education money can buy.  
At the time of publication the author had no position in any of the stocks mentioned.
Follow @bluephoenixinc
This article represents the opinion of a contributor and not necessarily that of TheStreet or its editorial staff.
>>Read more: Greenberg: SolarCity Flying Too Close to the Sun?
>>Read more: Tesla and the Curious Case of Elon Musk
John Licata is the Chief Energy Strategist of
.