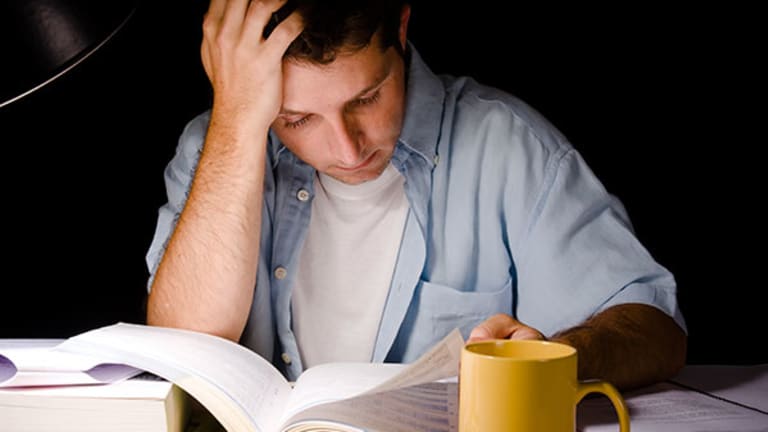 Strayer, For-Profit Education Companies Suffer Through Supply-and-Demand Lessons
Investors should avoid Strayer stock and all others within the for-profit education industry.
Investors should avoid Strayer stock and all others within the for-profit education industry.
NEW YORK (TheStreet) -- For-profit education companies are learning a tough lesson about supply and demand.
Fourth-quarter revenue and student enrollment results released Friday by Strayer Education (STRA) - Get Report suggest these institutions aren't doing well. Investors still holding shares in for-profit education companies are likely to see mainly losses.
Strayer, headquartered in Herndon, Va., reported a 6% year-over-year revenue decline for the quarter ending in December. The company said revenue totaled $116.1 million, down from $124 million last year. Revenue was hurt by lower student enrollment and lower revenue per student.
The results weren't better on a full-year basis. Strayer generated $446 million in revenue for the year, down 11% year over year from $503.6 million. And 2015 is not starting off strong, either.
Strayer said enrollment for the 2015 winter term is down 1%, to 40,728 students. And across its campus and online system, there was a 1% enrollment decline among continuing-education students. New student enrollments were essentially flat year over year, Strayer said.
This raises more questions about the long-term viability of this industry, which has been anything but profitable in the last couple of years. Strayer competes with Education Management (EDMC) and Apollo Education (APOL) , which runs University of Phoenix.
These companies and other for-profit educators have been under government investigation for alleged predatory enrollment practices. Some students end up with mounds of debt with little to show for their education.
Things are likely to get worse for these companies before they get better. There are more jobs now than there were seven years ago at the height of the financial crisis. For-profit education companies then marketed themselves by offering students a better way of life and better jobs upon graduation.
With the U.S. unemployment rate around 5%, the pool for students is running dry. These schools now have to compete fiercely with each other. And they may also have to compete with the U.S. government, assuming President Obama's free community college proposal passes.
For Strayer, competing with the government for students is the last thing it needs. It's already suffering cash-flow challenges. For the just-ended quarter, Strayer generated $77.6 million in cash from operations, down 7.7% year over year from $84.1 million. To combat this challenge, the company was able to cut operating expenses by 20% to $6.9 million.
Strayer and others in this industry need student enrollment and revenue to grow. To achieve this, they will need to invest in their business, not cut expenses.
Expense cuts may stabilize the bottom line for the near term, but they do nothing to instill investor confidence about the future. Strayer and other for-profit education stocks should be avoided.
This article is commentary by an independent contributor. At the time of publication, the author held no position in the stocks mentioned.