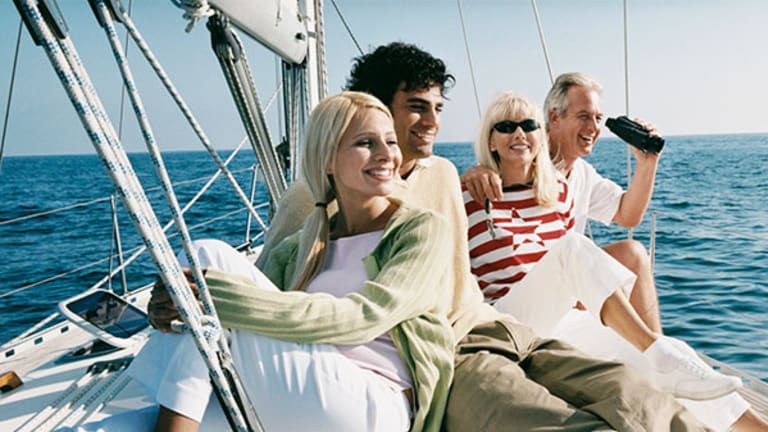 What Rich Families Know About Finance That You Don't
Wealthy parents teach children about money through support. Here's how to do the same.
Rich families are just like you: they're facing a whole lot of financial demands.
In a survey of affluent parents in households with $500,000 in investable assets or more by online wealth management firm Personal Capital, young parents are discovering that being considered rich only enhances their children's expectations. Roughly 90% of Millennial parents (ages 18 to 35) say their children will expect them to pay for big-ticket items like college, a wedding and/or a home, compared to 69% of parents overall. Roughly 70% of those affluent parents say they will prioritize college savings over their own retirement. Just 48% of parents overall say they expect to do the same. Unfortunately 56% of affluent Millennial parents expect to pay $100,000 or more for their child's college education, up from 42% for Generation X (ages 36 to 56) and 23% of Baby Boomer parents. This is especially acute among parents int he northeast, where 46% of parents have paid or expect to pay that price, versus just 31% of all parents.
They also have no issue with funding their children well into adulthood. Some 45% of affluent Millennial parents have paid or expect to pay some or all of their child's rent, with 18% paying or expecting to pay for all of it. More than half (54%; 68% for parents with $3 million or more in investable assets) of parents have helped or plan to help their child financially when their child buys a home. Affluent Millennial parents are three times more likely to cover the entire cost of their child's house, and twice as likely to contribute a full down payment, compared to parents overall. About 19% plan to support their children into the child's 30s or beyond, with 12% of parents planning to continue supporting their children into the child's 40s and beyond.
"Affluent parents, across generations, are feeling increasing pressure from their children to provide longer term support, yet they are still uncomfortable talking about their finances," says Personal Capital CEO Jay Shah. "The first step is for families to start conversations about family finances and legacy planning." 
More of What's Trending on TheStreet:
Affluent Millennial parents shouldn't be all that uncomfortable talking about money. After all, they did so with their Baby Boomer parents. A survey by UBS Wealth Management Americans of clients with $1 million in investable assets or more revealed that 74% of Millennials receive some form of financial assistance from their parents. Nearly three quarters (73%) of Millennials say they connected with their parents more than once a week during college, compared to 34% of Boomers. Meanwhile, and perhaps as a result, Millennials put off marriage and children later than Boomers did, opting for adventure and life experience: 28% say they have traveled the world for six months or more, compared to 12% of Baby Boomers.
"Boomers and Millennials are as much friends as they are parents and children," says Paula Polito, client strategy officer of UBS Wealth Management Americas. "Their unique relationship deepens their bond, and they maintain both close emotional and financial ties."
The lesson those affluent Millennials took from their affluent Baby Boomer parents was simple: If children need financial support, provide it. A majority (80%) of affluent Baby Boomer parents said they feel good about providing financial support, while only 10% say they withhold it to teach adult children financial responsibility. That doesn't mean that their kids don't want financial independence: 52% of Millennials feel shame, frustration or guilt about accepting assistance from their parents.
But that financial support varies from household to household. Much of that backing provides needs including health insurance (29%), home buying/renting (28%), auto insurance (26%) and utilities (23%). However, Boomer parents also give Millennials receive funding for vacations (19%) and spending money (21%).
As a result, Millennials are almost twice as likely to move home after college as their parents were. Though it's a money-saving measure in any case, 24% of Millennials prefer to live with their parents, while 22% say their parents wanted them to stay.
That relationship influenced not only affluent Millennials' worldview, but their investment strategy as well. A majority of affluent Millennials (73%) tend to focus on short-term needs and goals, such as homes and travel, believing retirement is too far away to worry about. Over half of Millennials with retirement accounts have or would consider dipping into them to make a large purchase, with 25% having already withdrawn funds.
"The ties that bind Boomers and Millennials are deep and long lasting," says Sameer Aurora, head of client strategy for UBS Wealth Management Americas. "The relationship has major financial implications for both generations, but few Millennials are adopting their parents' investment behaviors."
That short-sighted approach to finance, however, has made affluent Millennial parents similar to their average peers in one embarrassing way: Neither has taken the time to discuss an estate plan. According to Personal Capital, 97% of affluent parents plan to leave an inheritance to their children, with 91% planning to leave their children $100,000 or more. Just 78% tell their children their net worth, 47% say their kids are aware of it and half say their kids know what their salary is. However, of those who plan to leave an inheritance, 6 in 10 think children will be responsible with the money.
According to RBC Wealth Management, an estimated $3.2 trillion will transfer to next generation in the U.S. within the next two decades. However, just 30% of parents have an estate or wealth transfer plan in place, while another 30% have done nothing at all. Just 37% of those with an average net worth of $4.5 million or more have had conversations with benefactors about their inheritance.
"It's a trend that appears to repeat itself generation after generation," said Tom Sagissor, president of RBC Wealth Management-U.S. "But there are encouraging signs that the next generation of inheritors will fare better. Parents today are educating their children about wealth at an earlier age and doing a better job of engaging them in conversations about the inheritance they will one day receive."
That said, individuals are far more likely to have a wealth transfer strategy if they themselves have received an inheritance already: 37% of those in the United States who have inherited wealth now have a full strategy, and 58% of those have a will. Among those who've never received an inheritance, only 20% have a full wealth transfer strategy and 50% have a will. Research suggests that parents should have those financial conversations sooner than later: 70% of those who received an education before age 18 are confident in their understanding of money matters, while 58% of wealthy parents with an estate plan in place are confident that their fortunes will endure. Even if your holdings are slightly less than "affluent," advisors say it pays to have these conversations with your children, if only to give them a better foundation for their own finances.
"Discussions around estate and succession planning can be emotionally charged, so families tend to shy away from them," said Bill Ringham, vice president and senior wealth strategist, RBC Wealth Management-U.S. "But for families that want to leave a legacy and ensure the nest egg they have built is protected across generations, communication and planning are key."
Don't miss these top stories on TheStreet: