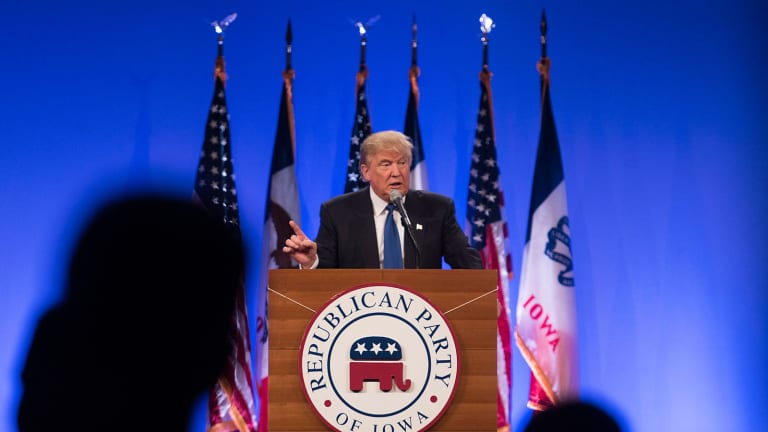 Republican Presidential Candidates Court the Millenial Vote, But Are Soft on Student Loan Solutions
Millennial voters are a key block for which GOP candidates can often be tone deaf.
NEW YORK (MainStreet) — There were ten candidates at Republican presidential debate Thursday night on a crowded stage in Cleveland. One, Florida Senator Marco Rubio, described his struggles in retiring a law school debt. Another said nothing at all about the $125,000 in student loans that he owes for his sons.
And the lucky guy whose kids are in hock? Wisconsin Governor Scott Walker, who critics say is in the process of dismantling higher ed in his state, particularly the University of Wisconsin system.
Walker's student loan exposure may actually neutralize another potential liability: he is also a college dropout. According to recent disclosures Walker left Marquette University in 1990, 34 credits short of a B.A. in political science and economics. This could become a liability or a selling point. Most American adults are not college graduates, and Walker's just-plain-folks bona fides would stand in bold relief to the likes of Jeb Bush, Donald Trump and Hillary Clinton. If elected, Walker would become the first president to hold office without a degree since Harry Truman in 1948.
Former Florida Governor Jeb Bush is enmeshed in a similar contradiction. Following the June 15 announcement of his candidacy, he advocated making college cheaper and ending student loans entirely. But he is a long time supporter of for-profit colleges, as is Rubio, which couldn't exist without access to federal money in the form of loans to their students. It's a position neither candidate has backed away from, even as for-profit colleges such as the University of Phoenix are contracting or, as is the case with Corinthian Colleges, shutting down while they come under attack from Federal and state regulators.
New Jersey governor Chris Christie has eschewed the debt-free college concept espoused by Senator Elizabeth Warren (D.-Mass) but has kids in college--Princeton and Notre Dame--and has mentioned the expense. It's not clear whether they have student loans.
Trump, who has never held elective office and whose five kids will probably never have to read student loan documents, acknowledged that he took advantage of bankruptcy laws to walk away from busted business deals -- endeavors for which he owed millions. People with federal student loans, which comprise $1 trillion of the $1.3 trillion outstanding, can have had no such luck. Federal student loans are nearly impossible to write off in a bankruptcy filing.
But Trump has slammed for-profit colleges and the Department of Education for making profits on student loans--a point on which he's aligned with Warren.
Former Arkansas governor Mike Huckabee has supported student loan refinancing, which would align him with Warren's 2014 Bank on Students Emergency Loan Refinance Act, which was shot down in the Senate. Kentucky Senator Rand Paul announced in April that all college tuition should be tax deductible. That would amount to a tax increase and put him at odds with his general opposition to tax hikes. Texas Senator Ted Cruz has mentioned his own paid-off student loans, but he's done little in support of current borrowers and voted against Warren's student loan refinance bill in the Senate.