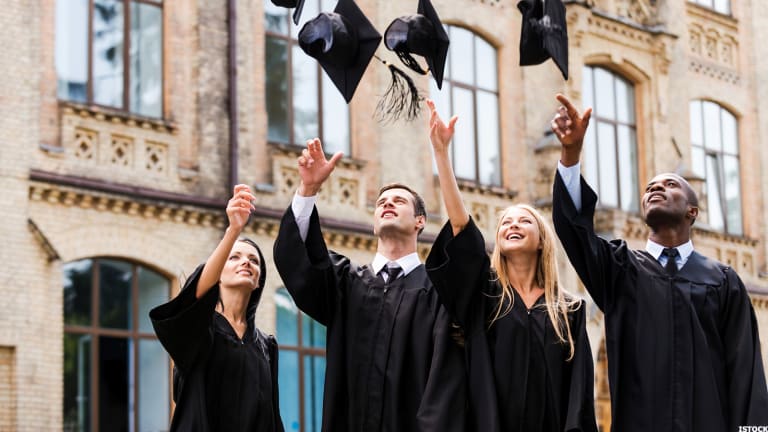 Parents Want Their Kids' College Debt
After seeing Millennials burdened by the cost of college, a new generation of parents is willing to take on those costs themselves to help their kids succeed.
After seeing Millennials burdened by the cost of college, a new generation of parents is willing to take on those costs themselves to help their kids succeed.
Editor's pick: Originally published June 23.
After watching Millennials bear the financial burden of their college education, the next generation's parents are looking to spare their kids similar debt.
Even if it means building a huge pile of debt of their own.
As HSBC discovered in a recent survey of more than 6,200 parents in 15 countries, 60% of parent would be willing to go into debt to pay for their child's college education. This is especially true in the United States, where 74% of parents younger than 34 would take on that debt, compared to just 56% of those over the age of 35.
That statement has significant financial consequences, considering American parents pay an average of $14,678 per year to fund their children's college education. That's double the global average of $7,631 per year and doesn't include the 37% of college costs that students pay themselves. By comparison, only students in Canada (39%) pay more, while students in India (1%), Hong Kong (4%) and Singapore (5%) pay far less.
"The financial sacrifices that parents are willing to make to fund their children's education are proof of the unquestioning support they will give to help them achieve their ambitions," says Charlie Nunn, HSBC Group's global head of wealth management. "However, parents need to make sure that this financial investment is not made to the detriment of their own future well being."
They should also take a few pointers from the debt-laden generation that preceded their kids. According to student loan and financial advice site Edvisors.com, the average student loan debt for a graduate who received a bachelor's degree in 2015 was $35,051. Roughly 71% of all graduating students carried that debt, compared to just 54% who graduated with an average of $12,759 in debt 20 years ago.
According to the Federal Reserve Bank of New York, total student loan debt reached $1.23 trillion by the end of 2015. That's up $75 billion from a year earlier and is the second largest pile of U.S. consumer debt behind mortgage debt. (at $8.25 trillion, up $79 billion from 2014). More than one in ten (11.6%) of those student loans are past due, which gives them a worse delinquency rate than credit card bills (8.2%). Unlike the 81% of folks between the ages of 25 and 34 in the active workforce, however, only 63.4% of those between ages 20 and 24 are actually seeking employment. Among those who are, 8.2% are unemployed, compared to less than 5% of the general population.
As 98% of U.S. parents tell HSBC they're considering a college education for their child, many are already having a tough time figuring out how to do it. Roughly 60% say that college payments make it tough to keep up with their financial commitments, but many prioritize paying for college over long-term savings (40%), credit card repayment (37%) and retirement savings (37%).
This is another area where parents can takes some cues from Millennials and either start saving or reassess their long-term goals. A recent survey by Bankrate found that 62% of Millennials (ages 18-30) are saving more than 5% of their income, up from 42% last year. Meanwhile, 29% of Millennials are saving 10% of their income, up from 22% last year.
That's far better than the percentage of working Americans saving 5% or less of income, which from 28% to 21% since last year. Americans saving more than 10% of their incomes, meanwhile increased from 24% to 28% since last year while still trailing Millennials.
"The good news is that many working Americans, Millennials in particular, are saving, and saving more than last year," says Greg McBride, chief financial analyst for Bankrate. "The bad news is that 21% of employed Americans claim not to be saving any of their paycheck - nothing for retirement, nothing for emergencies, and nothing for other financial goals."
Unfortunately, Millennials may be making ends meet by not planning to retire at all. A survey by Franklin Templeton found that 30% of those ages 18 to 24 never plan to retire. That may be the plan for tuition-paying parents as well, with 61% of respondents of all ages telling Frankling Templeton that if they didn't have the funds to retire, they'd keep working. That jumped to 74% among those 18 to 24. However, 20% of the non-retired filed say they'd keep working just because they enjoy their job, with only 28% working past retirement age for a primary source of income. It doesn't have to be that way.
"By having a financial plan to meet their family's overall needs and reviewing it regularly, parents will be better placed to support their children's studies without compromising on their own long-term financial goals," Nunn says.
This article is commentary by an independent contributor. At the time of publication, the author held no positions in the stocks mentioned.