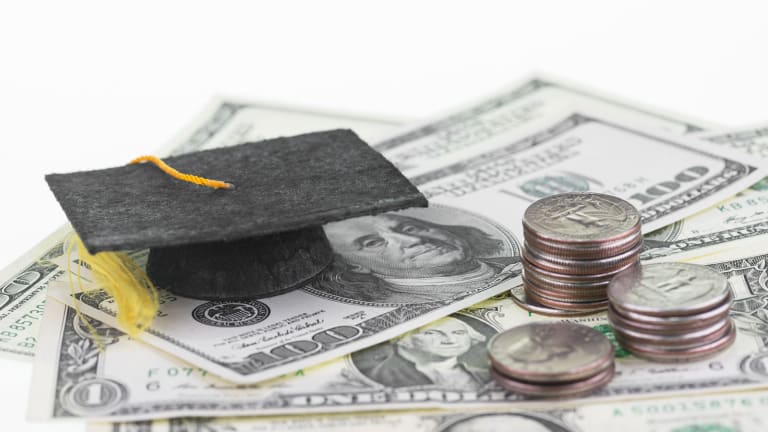 Publish date:
Parents Have No Clue How to Save For College
With no idea what a 529 plan is and unrealistic expectations for what college will cost, parents are ill-prepared. Here's how to get back on track.
With no idea what a 529 plan is and unrealistic expectations for what college will cost, parents are ill-prepared. Here's how to get back on track.
College tuition costs aren't getting lower and student debt is still climbing, but parents feel powerless to help.
According to the College Board, the cost of attending a four-year public college as an in-state student hit an average of $9,648 a year this year, while the cost of a four-year private school has climbed above $33,000. Throw in room and board, and those annual costs jump to $20,000 and $45,000, respectively. That's up from $13,500 and $30,500, respectively, with room and board ten years ago and from $5,100 and $13,500 in the early 1990s.
The average 2017 college graduate is carrying more than $37,000 in student loan debt, according to college and scholarship site Cappex. That debt is carried by more than 70% of all graduates and is up from $12,759 two decades ago, when just 54% of all students graduated with debt.
According to the Federal Reserve Bank of New York, total student loan debt reached $1.21 trillion by the end of 2016. That's up $78 billion from a year earlier and is the second largest pile of U.S. consumer debt behind mortgage debt (at $8.48 trillion, up $231 billion from a year ago). More than one in ten student loans are past due. That's a worse delinquency rate that for credit card bills, of which 7% are past due.
Those costs are a big reason why 72% of families are focused on putting away money for college, according to a survey by Fidelity Investments. However, many parents are dramatically underestimating how much they'll need. When asked what they expect the four-year cost of college will be by the time their child heads to campus (before financial aid, scholarships or other discounts), parents of preschoolers fell short by an average of $110,000, according to the current rate of college tuition inflation. Even parents with high school students underestimated the price of a four-year degree by an average of $70,000. Overall, 45% of parents admit they do not know how much they should be saving each month for their child's college education.
"Pinpointing how much you should save can feel like a moving target—especially when your kids are young and college goals for your child's education may be more undefined," says Keith Bernhardt, vice president of college planning at Fidelity. "But the key is to get started. Set a reasonable goal to start building your college fund, and take advantage of free and simple to use tools available online to refine your savings goals over time."
Though they may be falling short, parents are still saving for college with a great sense of urgency. Some eight in ten parents say they're saving to prevent their child from taking on student debt, which 85% of parents estimate will add up to $45,000 in student loans by the time their child finishes college. Parents already plan to take on 51% of college costs with their own savings and parental loans. They expect their child to take on 23% of expenses and estimate another 19% will be covered by scholarships.
This is optimistic at best, considering that 37% of parents with children in high school are still paying down their own student loans. Talk to preschool parents, and a whopping 68% are still mired in student loan debt. However, parents have a few extra tools at their disposal to help them out. Among parents saving for college, 48% are doing so in a 529 plan, where savings grow tax-free. They're saving a median of $300 a month, with (93%) believing that saving in a dedicated college account helps keep them on track. Overall, 529 plan owners have accumulated an average of approximately 50% more in their college nest egg than those who are saving, but not using a 529 plan ($32,000 vs. $21,000). While 76% of parents say they are very to somewhat familiar with 529 plans, they don't know that they can change a plans beneficiary at any time, that their kid can use funds for books and supplies as well as fees and that some states offer tax deductions or credits for plan contributions.
Just about any familiarity with 529 plans is surprising, considering that 72% of respondents told financial firm Edward Jones that thy have no idea what a 529 plan is, including 54% of those making $100,000 a year or more. The 529 plan has been around since 1996 and has allowed Americans to increase college savings tax-free and exempt the gains on those savings from taxes once they're withdrawn to pay for college. Yet only 28% could correctly identify a 529 plan as a college savings tool from among four potential options. This is somehow down from 37% in Edward Jones' first 529 survey from 2012 and down even from 34% in 2015.
It also explains why 44% of parents from Fidelity's survey believe the amount they've saved for college will decrease their chances of getting additional financial aid. That's patently false, as only 5.6% of 529 plan assets (or savings in general) are included in a family's Expected Family Contribution (EFC), as determined by the federal financial aid formula. When asked how much of their total 529 savings they would be expected to contribute per year of college, 98% of parents either significantly overestimated or couldn't answer, illustrating a critical lack of knowledge of how 529 savings are considered in the financial aid evaluation process.
"Juggling the multitude of financial priorities that are a reality for most families can be overwhelming, from saving for college, to planning for retirement, to building an emergency fund, to managing additional day-to-day financial responsibilities," says Ron Hazel, senior director of Fidelity Advisor 529 and individual retirement products.
That said, parents with a financial plan in place are more than twice as likely to feel they have a good idea of how much they need to save in comparison to those without. Those with a plan are also more likely to save regularly (72% vs 46%) and have saved nearly double of those without a financial plan ($34,000 vs. $19,000). Also, the 90% of grandparents who would contribute to a college fund if asked (though only 23% of parents ever ask), can contribute to a 529 plan as a gift, only enhancing the overall plan.
Fidelity also suggests the "2K Rule of Thumb," which provides a rough estimate of parents should be saving. Assuming that they want to cover 50% of a child's annual college costs out of savings, their rule of thumb suggests multiplying your child's age by $2,000. If your child is seven years old, you should have $14,000 saved to stay on track. That assumes you're going to continue saving at the same rate and that your child will be age 18 come time to head to campus.
If that's a little too vague, you can always drill into the details a bit. According to College Board, the current cost of a four-year in-state public college averages $20,090 per year. By comparison, the annual cost of for a four-year private college is $45,370. Covering half of either of those totals will require more than that $2,000 a year, but it depends on your goals. If you're good with your savings, grants, scholarships and even your and your child's income covering the rest, that $2,000 a year may be all you need.
"Kids grow up fast, which is why your savings plan needs regular attention in order to make adjustments as needed well before college arrives," says Bernhardt. "At least once a year, take the time to ask and answer whether you're on track to reach your goals. If you find yourself falling behind, don't be discouraged. There are steps you can take to bolster your savings efforts now to alleviate financial stress later."
With 80% of parents saying that their own experience with paying for college and managing student loan debt are driving their decision to save for college, it's little surprise that, as HSBC Group discovered, 60% of parents would be willing to go into debt to fund their child's college education.
With 98% of U.S. parents looking to send their kids to college, parents are willing to take a big hit. Roughly 60% of parents say that paying for their child's education makes it more difficult to keep up with other financial commitments, but they consider student loan debt than long-term savings (40%), credit card repayment (37%), and retirement savings (37%). As a result, U.S. parents spend an average of $14,678 a year to fund their child's college education, or almost double the global average of $7,631. Even at that, students are stuck paying 37% of college costs, second only to students in Canada (39%) and well more than their contemporaries in Egypt (less than 1%), India (1%), Hong Kong (4%) and Singapore (5%).
Despite the cost, it's still infinitely more expensive to forego college than to get a degree and pay off your debts. According to a 2014 study by Pew Research Center, those who graduated with bachelor's degrees or better saw their unemployment rate drop to 2.5% compared to 4.4% for those with some college education or an associate's degree or 5.2% for high school graduates. More than 70% of those with bachelor's degrees or better are employed, compared to 54% to 64% of those without said degrees. Perhaps most importantly, the median annual income of college graduates ranged from $57,200 for those with a bachelor's degree to $85,228 for those with professional degrees. That's compared to $37,436 for high school graduates and roughly $40,000 for those with some college or an associate's degree.
"The financial sacrifices that parents are willing to make to fund their children's education are proof of the unquestioning support they will give to help them achieve their ambitions," says Charlie Nunn, HSBC group's global head of wealth management. "However, parents need to make sure that this financial investment is not made to the detriment of their own future wellbeing."
More of What's Trending on TheStreet: