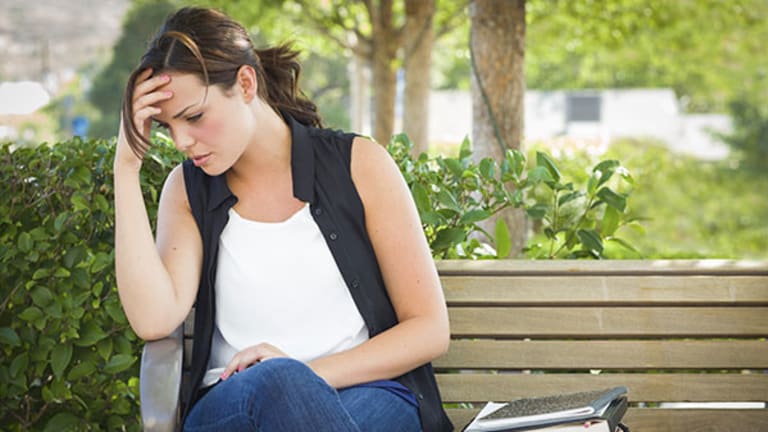 NEW YORK (MainStreet) -After working full-time for the past two years, Andrew Park is concerned whether he can establish a secure financial foothold to be able to afford to buy a house and retire at a decent age.
Park's pressures are similar to those of his Millennial peers who are stressed because of the volatility in the job market, the anemic growth in salaries and the increasingly competitive arena of finding a secure job that pays decent wages.
"A lot of people I know who have graduated years ago are either working entry level jobs or looking for work," he said. "We have this thought that going to college is supposed to secure a future for us and that just isn't the case anymore."
Compare Today's Low Mortgage Rates
The concerns facing Park, who is 25 year old and working as a PR executive in Los Angeles, mirrors the sentiment among many other Millennials. Worrying about their financial future is commonplace with 39% who said they think about it at least once a week or more, according to a recent Fidelity study. One in four of Gen Y-ers indicate they trust "no one" when it comes to advice about money although 33% identify their parents as the top choice.
The lingering impact from the recession and seeing firsthand how their parents were affected from job losses and declining retirement accounts has dampened the outlook of Millennials, said Lauren Brouhard, senior vice president of retirement for Fidelity Investments in Boston.
"They are seeking direction and have important questions on their minds about how they can start to save money and pay off debt at the same time," she said. "It's a generation which is heavily dependent on the influence of their peers and families."
Figuring out how to ensure that he can buy a home by the time he turns 30 or even by 35 and save enough money for his retirement is a constant concern, said Park. After paying for his rent and other bills, Park barely has enough money left over to go out on the weekends, let alone contribute to his retirement plan.
"With what I'm making now and my cost of living arrangements, it's hard for me to contribute to my 401(k), so I don't honestly know when that will happen - and that is really scary," he said. "I am constantly worried about my financial future or if I'll ever reach the financial goals I've set for myself."
Millennials will be in better shape if they change their current outlook on jobs and "get out of the pre 2008 mindset," by accepting the idea that switching jobs every few years is now a valid option, said Jonathan Alpert, a New York psychotherapist and author. 
"Trust is usually derived from their peers," he said. "People in their 20s and 30s are still impressionable and strive towards acceptance. They look towards their peers for support and validation."
Since the 2008 financial crisis, job hopping has become the "norm" and is on par with the data reported by the Bureau of Labor Statistics and his business coaching clients who change companies every three to four years, Alpert said. Many Gen Y-ers are receiving a different message from their parents, which has led to increased pressure and concerns, he said.
Compare Today's Low Refinance Rates
"In many respects, Millennials are striving to better themselves, searching for the next promotion or advancement in rank and they have the courage to do so," Alpert said. "On the other hand, it creates instability and spikes peoples' anxiety levels and fear."
Since many Millennials feel they should be in the same place financially that Gen X-ers were at their age, it makes them question how "they're going to fund their own futures and how secure anything really is," said Jamie Gutfreund, chief marketing officer of Noise: The Intelligence Group, a Beverly Hills, Calif. consumer research company which recently conducted a survey of 3,000 Millennials across ten countries.
"One of the largest issues affecting Millennials is that they have amassed more student debt than any other generation - 54% of Millennials surveyed say a life of debt is their generation's new reality," she said. "This affects their ability to save and plan for their financial future because they're focused on the now and paying off what they owe."
Another major concern among Millennials is they do not feel they are informed about finances.
"Money management is something of a black box to them," Gutfreund said. "While there are many tools and apps that provide financial advice, Millennials feel that most of these services don't speak to them or make the information easy to understand. They want companies to explain things in plain language, not using financial jargon."
Determining what constitutes as a trusted source is another concern, said Brouhard.
"We see skepticism among Millennials and they are making sure they are getting advice from trusted sources," she said. "This generation is looking for simple steps and they don't want information to be too complicated."
Seeking advice from their friends or family is not common among Millennials who see that both groups are still struggling, Gutfreund said.
"Millennials feel like there is so much they don't know about finances that they don't know where to begin, so they often avoid even thinking about it," she said.
The disconnect and anxiety that Millennials feel stems from the fact that they are reminded constantly of the unaffordable things they want, said Elizabeth Fielder, who is 23 and a spokesperson for the Young & Free Michigan program sponsored by Michigan First Credit Union, which educates the 17- to 25-year-old crowd about finances.
"We're used to a fast pace and expect our lives to happen quickly, but finances usually don't work that way," she said. "Financial worries can easily turn into fear and I hope to help my peers get past that fear. I remind people that they can be good managers of their finances and that there is hope."
Fielder only turns to people who have a good track record of financial security for advice and avoids people who try to sell her a product.
"When it comes to financial advice, I tend to trust people who are closest to me and unfortunately, my friends and peers are often at the bottom of the list for financial advice," she said.
--Written by Ellen Chang for MainStreet.