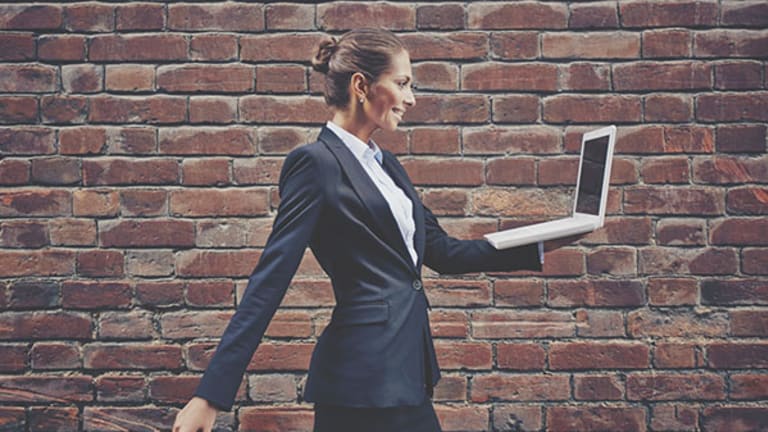 Job Hopping Could Be the New Norm for Workers in Many Fields
Changing jobs every few years is losing its previous forbidden stigma and becoming more of a norm as the economy has shifted.
NEW YORK (MainStreet) — Changing jobs every few years is losing its previous forbidden stigma and becoming more of a norm as the economy has shifted gears.
Employers today are examining candidates' skills rather than focusing just on the number of jobs they have had in the past, said Miranda Nash, president of Jobscience, a San Francisco recruiting software company.
Since more jobs are based on projects themselves now, it "naturally leads to more than the average number of job changes," she said.
Job hopping lost much of its stigma after the Great Recession which forced many workers to move around quite a bit and "many hiring managers are sensitive to that," said James Wright, a partner of Bridge Technical Talent, a North Kingstown, Rhode Island information technology staffing firm.
"Some job hopping in the past few years can be explained away a lot better than it would have 10 years ago," he said.
Justification: Overworked and Searching
Technology and jobs moving overseas have reduced the headcount at many companies, making the stigma once associated with job hopping "virtually disappearing," said Sunil Sani, CEO, of Careerglider.com, a New York–based online resource for job seekers and career changers.

WATCH: More personal finance videos on MainStreet | More videos from Lauren Lyons Cole
View Today's Auto Loan Refi Rates
"Those who are left behind often find themselves facing workloads they find to be intolerable, so they start looking," he said. "The job market is in a constant state of flux and while employees used to stay with one company, that's simply no longer the case."
As employers have sought different methods of slashing their budgets by cutting benefits and offering contract positions instead of permanent ones, more people are being forced to adjust.
"The workforce has become more accepting of moving around and increasingly there are places that consider a variety of experiences at different locations as a way people can increase their skills," Wright said.

Stressing Skills
Some industries such as information technology are "more forgiving" when it comes to switching jobs often compared to other fields because of its heavy focus on skills, he said.
Hiring managers will look more favorably upon Gen X-ers and Millennials who have changed jobs often. Gen X-ers will bear less of the stigma of changing jobs often if they have a record of being stable at a job in the past, Wright said. Millennials are given a bit more of a pass since they are so new to the market and "finding themselves," he said.
Whether you are a Millennial or Gen X-er, if your resume shows multiple job changes, package it so it focuses on your skills and accomplishments, rather than the number of jobs or employers you have worked with, Nash said.
"During an interview, it is our recommendation that you focus on the breadth of skills with specific examples of your accomplishments," she said.
What employers are looking for is someone showing a keen interest in the field or the job and its challenges.
"Showing enthusiasm will often help hiring managers overcome worries about job hopping," Wright said.
How to Combat Lingering Stigma
While the recession made it "a little less taboo to have periods of unemployment or short job tenures on your resume, employers are still cautious of job seekers who have a series of jobs on their resume with very little experience," said Amanda Augustine, a job search expert at TheLadders, a New York-based employment website.
A Bullhorn survey showed that recruiters believed a 55-year old with a steady job history was easier to place than a 30-year-old job hopper. In addition, 39% of recruiters believed that job hopping was the biggest obstacle for an unemployed candidate in regaining employment with the second reason being unemployed for more than one year.
Different industries and functions view job hopping in a different light, Augustine said. The advertising industry expects professionals to move around "quite frequently," she said.
Job candidates should focus on selling their "value" by touting their industry knowledge if they have worked in the same industry but for many different organizations, Augustine said.
If you are on the flip side and have stayed in the same function, but moved to many different industries, you can sell your ability to learn a new industry and excel in it, she said.
"Ask questions that prove you've done your homework on the organization and are committed to working there," she said. "Hiring a new employee is an expensive investment. Prove that you are not a costly flight risk."
While there is less stigma now, if you're in your 30s or 40s and still switching jobs every year, many employers are going to "wonder why your stint with them would be any different," said Mary Ellen Slayter, a career expert for Monster.com, a Weston, Mass. employment website.
"Workers today realize that to have a broad and fulfilling career, they may need to get diverse work experiences at several companies," she said.
More companies are reluctant to hire people who have been at one place for several years or their whole work history compared to someone who has too many stints which only lasted 12 months or less, said Tracy Cashman, senior vice president of information technology at WinterWyman, a Waltham, Mass.-based recruiting firms.
"Companies may feel that those people are not motivated enough in their career progression or are so ingrained in a particular culture or way of thinking that they won't be able to adapt to a new environment," she said.
While it looks better on a resume to have multiple employers because companies like to see evidence of professional growth, too much job hopping can prevent you from landing a key position, said Bill Driscoll, district director of Accountemps, Menlo Park, Calif. A Robert Half survey of human resources managers found that an average of five job changes in ten years can raise red flags.
Changing jobs sometimes is the only way to gain new skills, but before you give your notice, explore professional development options at your current firm, such as training programs, tuition reimbursement and job shadowing, he said.
If you hate your current job or boss, it is important to stay there for at least two years, said Dana Manciagli, a Bellevue, Wash. career coach.
"Only change a job when you are completely miserable," she said. "The first option should be to search for another position within the same company."
--Written by Ellen Chang for MainStreet