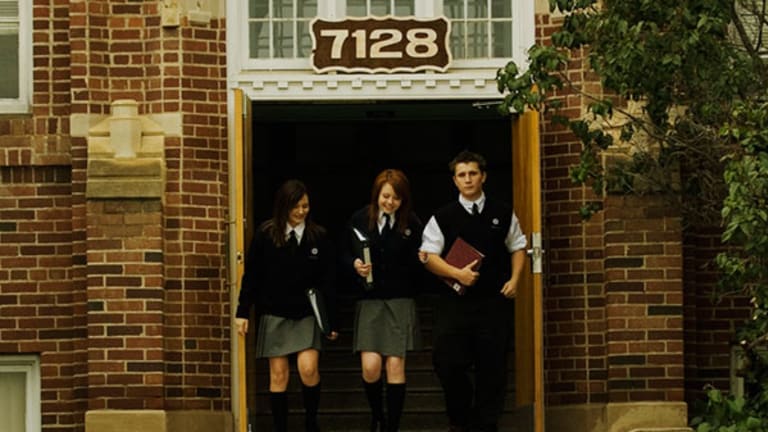 Is It Better to Spring for Private High School or College?
Most families have a limited amount of funds to put toward children's education, and private primary or high school is a calculated risk.
NEW YORK (TheStreet) Most families have a limited amount of funds to put toward their children's education. With prices on the rise for tuition at private primary schools and colleges, paying for both isn't usually an option. So where should you invest your education dollars on a private prep school or on college tuition? Experts weigh in on how best to spend your education cash.

Blowing all your money on a private primary or high school is a risk, says Brad Pine, wealth adviser and president of Bradford Pine Wealth Group in Garden City, N.Y.
"The most sensible strategy is for the student to do well academically in a good public high school with the goal of being admitted to the college of their choice," Pine says. "Parents may risk spending a lot on private high school tuition and not see their child gain admission to their desired college."
While some private high schools are so-called "feeder" schools for high-level colleges, it's definitely not a guarantee that attending one will earn you admission. Also, where someone attended high school rarely comes up in a job interview, Pine explains.
"Private schools are great. You get a great education, and they may prepare you a heck of a lot more for college, but they don't offer guaranteed entry to the college of your choice," he says.
Families with limited funds would be wise not to "gamble" that a private school will be their child's ticket to a full ride scholarship at the university of their choice.
"I wouldn't take my chances paying for private school because, then, if you get into an Ivy League college that costs $60,000 a year, now all of the sudden you can't afford the college your child wanted to go to, even with student loans. In that case, if the scholarship doesn't come through, you just can't go even if your child is smart and does well, they aren't guaranteed merit scholarships," Pine cautions.
Oftentimes, the worthiness of the investment in private schools depends on where your child wants to go to college it's hardly worth spending the money on a private primary school if your child has their heart set on attending a state university.
Also see: What If You Have Tuition and Nursing Home Bills to Pay?>>
With that said, private schools aren't just vehicles for good education they also provide important connections your child can use professionally once their college years are long passed.
"Private schools offer tremendous connections and bonds that can help you find future jobs there are benefits to who you know," he says.
Of course where you spend your money may have a lot to do with geography, too if you live in an area where the public schools aren't doing their job, it's time to seriously consider investing in a private education, says Ken Kamen, president of Mercadien Asset Management.
"If you go to a poor public school where you simply don't get the basics, then you're going to be at a disadvantage. If your school is not providing your child with the raw materials they need, if they aren't getting the fundamentals, then private school becomes a necessity," he says.
Unfortunately, children who don't get "the basics" under their belt may not perform well on standardized tests, and that may prevent them from getting into the college of their choice.
"Some areas have very bad public schools, and part of what you are doing there by sending them to private schools is giving them the skills they will need to succeed at a college curriculum," Kamen says. "If the public schools in your area don't prepare your child to do well with college work, then that's a different ballgame."
For parents considering switching their child from a public to private school because the child is at the top of their class and "over-achieving," Pine cautions that private schools are often more challenging academically, meaning your child's class ranking may be lower at a private school. With that said, when looking to get accepted at a top college, what really counts are standardized test scores the SAT and the ACT, Pine says.
Keep in mind that if your situation is confusing, it's OK every situation is different, explains Paul Sorbera, president of Alliance Consulting.
Also see: Why High-Tech Teaching Is a Win for Everyone>>
"The local Public school options, the private school options and where the individual child will thrive and do best these variables all need to be weighed," Sorbera says. "Some public high schools have very few kids that graduate to go on to top schools, while many private schools in the big metropolitan areas have a very good history of graduates attending the best universities."
By the same token, Sorbera explains, some public high schools produce just as many top-tier graduates going on to four-year universities as the local private schools. But, at the end of the day, the university one graduates from will always be more important than the high school.
For many parents, the end goal with all things educational is that your children are at an advantage once they enter the job market. Keep in mind that when your child gets out of school, they're going to be in the job market with everyone else, and oftentimes their experience internships and work during their college years will be what puts them over the top, not their diploma, Kamen says.
"If you are sending your child to private school, make sure you're doing it for your child and not your own ego," Kamen explains. "Some people can't really afford private school but they do it because they're 'keeping up with the Joneses.'"
If private school tuition turns out to be a burden for you financially, Kamen advises rethinking your strategy completely.
"If private school is taking a lot of fuel out of your engine for retirement saving, then maybe it's time you take what you're spending there and invest it. It may be worth more to you later in life than it is to your children now," he says. "Don't feel guilty about it. People like to brag about where their kid goes to school, but it's better to have money in the bank for your future."
No matter where you spend your education dollars, Pine says if you haven't already started saving, it's never too late.
"It's something people think about but they don't actually do it," he says. "People think, 'It's so far in the future, I don't need to start saving now,' but time flies by so fast, and you're going to wish you started earlier."