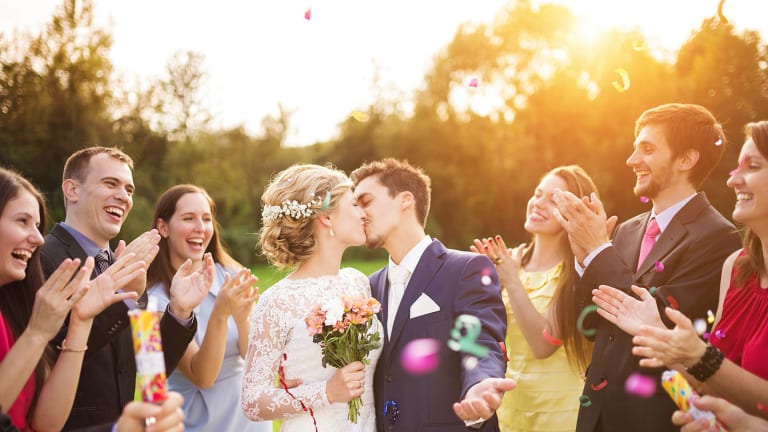 How Much Does a Wedding Cost on Average (With Breakdown)?
With wedding costs skyrocketing, it's time to get savvy about building a nuptial's budget that saves substantial cash - and still gives you a great wedding experience.
Tell an engaged couple that the average wedding cost is more than a down payment on a great home and chances are, they wouldn't know whether to laugh or cry.
Probably, they'd opt for the latter, given that the average cost of a wedding stood at $33,391 in 2017, according to The Knot's 2017 Real Weddings Study.
That is a big price tag and burgeoning newlyweds have an uphill climb in trying to keep wedding costs down. From paying for the venue to the cost of make-up for the bride on her wedding day, the dollars are flying out of family bank accounts before - and on - the big day.
Breaking Down the Costs of a Wedding
There's no shortage of moving parts to a wedding, and some of those moving parts can really pop a dent in the household pocketbook.
Consider these average wedding costs, again from The Knot:
Venue - $16,107
Photographer - $2,783
Reception band/music - $4,156
Florist - $2,534
Videographer - $1,995
Wedding dress - $1,564
Groom's attire - $280
Wedding cake - $582
Ceremony site - $2,197
Ceremony musicians - $755
Invitations - $462
Transportation - $859
Favors - $268
Rehearsal dinner - $1,378
Engagement ring - $6,163
Officiant - $278
Catering (price per person) - $71
Wedding day hair care - $119
Wedding day make-up - $100
Obviously, your wedding costs may vary depending on how many guests you're inviting, the quality of the engagement ring, and how formal of an occasion you want your nuptials to be.
Geography matters, too. Getting married in New Mexico only costs, on average, $17,000 according to The Knot. But if you get married in New York City (Manhattan), expect to pay around $76,944.
Your head-count matters regardless of budget. The cost of a larger wedding, with 100 people or more, is significantly more than that of an intimate wedding.
According to the website CostofWedding.com, 50% of couples keep their wedding costs below $15,000 by opting for an intimate wedding. Yet invite 100 or more guests for a larger wedding, and you're looking at costs totaling twice as much (or more, if you're getting hitched in a big city like San Francisco or New York City).
Traditional Wedding Cost Splits
Wedding traditions, at least from a financial point of view, haven't changed much over the years.
Exhibit "A" is having the bride's family pay the most for the wedding. According to The Knot, the bride's family pays 45% of all wedding costs. Right behind the bride's mom and dad are the actual newlyweds, who contribute 41% of wedding costs. The groom's family pitches in, too, paying 13% of total wedding costs.
While traditions remain strong, figuring out who pays for a wedding can be somewhat complicated, given that so many people are getting married (and remarried) later in life.
Historically, here's a list of who pays for what in a traditional wedding. It's an important piece of knowledge, considering that you'll need to set up a wedding budget beforehand, and you'll want to know who's paying for individual wedding costs.
What the Bride's family traditionally pays for:
The reception, complete with drinks, food, music and a wedding cake
The wedding ceremony, including flowers and any special decorations
The photographer and videographer
Limousine or special transportation to the wedding and reception
What the Groom's family traditionally pays for:
The wedding rehearsal dinner
Wedding gifts for the bride and groom
What the Bride traditionally pays for:
The wedding ring for the groom
Any wedding gift for the groom
The bride's hairstyling and make-up
Wedding gifts for her bridesmaids
What the Groom traditionally pays for:
The bride and groom's marriage license
The bride's engagement ring
Any wedding gift for his groomsmen
The officiant's wedding fee
Five Ways to Save Cash on Your Wedding
To have a champagne wedding on a Budweiser budget, you'll need to be creative, innovative and be ready to make some tough choices.
Manage those three characteristics and chances are you can pull off a great wedding, and keep more cash in your pocket.
Start that process with these five tips:
1. Avoid Saturdays
Wedding reception costs rise on the weekend - especially Saturday. But if you switch the date to Friday, you can save up to 30% off your total venue cost. And, if you switch to a Friday offseason - say in March or November - you'll save even more cash.
2. Invite fewer people
Just shaving 10 people off your guest list can save you on wedding costs, as well. With the average per-guest reception cost about $71, that would save you $710 by reducing your headcount by 10 people.
3. Check for hourly rates
Do you really need a photographer on hand for eight or 10 hours? The same goes for a florist or videographer, as well. Instead, ask wedding service professionals for hourly rates, instead of day rates or flat fees, and don't stop asking until you find a good one who'll work with your hourly based budget. This tactic works especially well with off-season weddings, or weddings that aren't on Saturday, when demand for professional wedding services is much higher.
4. Get creative about wedding reception dining
With a per-head price of $71 for reception dining, forego the traditional three- or four-course sit-down dinners and ask about buffets or "station" meals, where a particular dining option, like pasta, potatoes, roast beef, or even cheesesteaks are laid out in stations at the reservation venue. Build a meal out of stations, or a buffet, and save up to 25% or more on wedding dining costs.
5. Have the ceremony and reception at the same venue
Increasingly, traditional wedding reception venues like country clubs and fine dining spots are also open to hosting the wedding ceremony. Bundling the two together can save on paying separately for a wedding ceremony spot and a reception venue. In all likelihood, you can negotiate a better price by having both at the same place and can possibly get a smaller fee for the ceremony if you stay on for the reception at the same venue.
Get Smart About Wedding Costs
Wedding planning is pressure-packed enough without having to shoulder the burden of a $30,000 wedding.
The fact is, you really don't have to dig so deep for a decent wedding experience, and the money saved can be put to better use, like for a down payment on your dream house or saving for junior's college education.
And you'll still have the memories of a great wedding in the process.