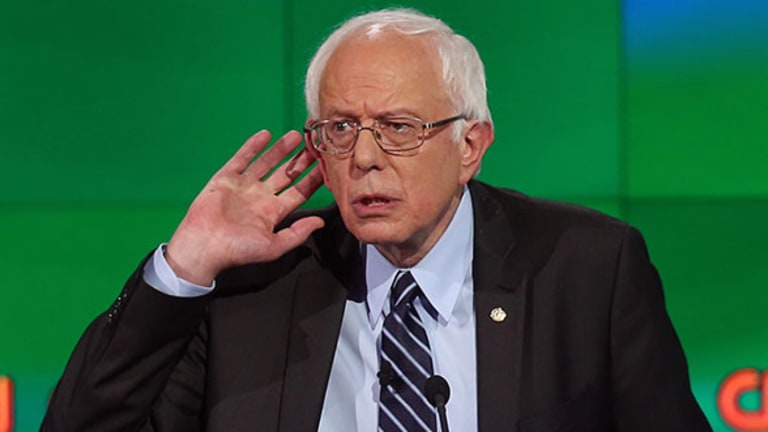 Hillary and Bernie Refine Student Loan Debt Plans During #DemDebate
At the first Democratic debate on Tuesday evening, the candidates diagnosed the student loan debt situation as dire and proposed a drastic overhaul.
NEW YORK (MainStreet) -- At the first Democratic debate on Tuesday evening, the candidates diagnosed the student loan debt situation as dire and proposed a drastic overhaul.
Vermont Senator Bernie Sanders called it "a major crisis in this country." Hillary Clinton stressed the urgent need for increased college affordability.
"All the 40 million Americans who currently have student debt will be able to refinance their debt to lower interest rates," she said. "My plan would enable anyone to go to a public college college or university for free."
Sanders has proposed something similarly grandiose: completely eradicating tuition at public four-year colleges.
Of course, there are nuances to their plans -- Clinton revealed she wants students to work ten hours a week to make the affordability possible, and Sanders, along with former Maryland Gov. Martin O'Malley, supports in-state college tuition to undocumented immigrants -- but all in all, the student loan debt antidote all boils down to a common theme: reduced interest rates.
Clinton, Sanders, and O'Malley have each proposed allowing existing borrowers to refinance student loans at lower interest rates (some at current rates, some restoring the pre-2006 interest rate formulas). They have also proposed simplifying the various income-dependent repayment plans into a single plan modeled after the Pay As You Earn (PAYE) repayment plan and making it the default choice.
But that might not be good enough, as the interest rates aren't what's causing the student loan debt crisis.
"The problem with student loans is the amount of debt, not the cost of debt," says Mark Kantrowitz, a financial aid expert and president of MK Consulting Inc. in Las Vegas. "Refinancing the loans at lower interest rates may be attractive to voters, especially students, recent college graduates and their families, but the actual relief to borrowers will be small, reducing loan payments by a few dollars a month."

This is to say, even if the interest rate were zero, borrowers would still have to repay the principal balance.
Tuition has skyrocketed more than twice the rate of inflation since the Great Recession, and the current debt amount for the average 2015 graduate was $30,867, a load that is not getting any lighter.
"Average debt at graduation increases every year, because the burden of paying for college has shifted from the federal and state government to families, and family income has been flat since 2000, forcing families to either borrow more or shift enrollment to lower cost colleges," Kantrowitz says.
Putting the onus of college cost on families has, indeed, exacerbated the situation, according to Jen Mishory, executive director of the Millennial-focused nonprofit Young Invincibles, who notes 47 states are currently spending less on higher education per student than they were before the Great Recession.
"Any plan to fix the nation's college affordability problem must encourage states to return their investment in higher education to pre-Recession levels and boost our federal investments in the Pell grant to match the national average in-state tuition," she says.
In addition to advocating for a year-round Pell program, Mishory also suggests strengthening aid programs like federal work study.
How to shift the burden back to the government is the crux of any feasible solution.
Only Sanders and Clinton seem to have proposed increasing federal spending on student aid as part of their proposals for a free or nearly free public college education.
Sanders's "College for All Act" proposes that the federal government cover two-thirds the cost of tuition at a public college and that the state pick up the rest.
"I pay for my program with a tax through Wall Street," he said at Tuesday's debate.
He'd nip interest rates to a little over 2%; they'd rise with inflation with a max of 8.25%.
Over a ten-year period, Clinton's proposed New College Compact would use $350 billion – snipped from reduced tax deductions for the rich – to help millions of students pay tuition and trim interest rates for those with preexisting loans.
Courting the Millennial vote will be essential for this election, and student loan debt is a major issue for this cohort.
"It is not surprising that the candidates are catering to this group of borrowers, as they were the swing vote in the last two presidential elections," Kantrowitz says.
"Income-dependent repayment plans are intended to be safety nets, not a default choice," Kantrowitz adds. "These repayment plans stretch out the repayment term beyond ten years, ultimately increasing the total interest paid. The loan forgiveness after 20 or 25 years is taxable, substituting a tax burden for the debt burden."
The real solution, Kantrowitz says, is to reduce debt by increasing grants and increasing federal and state support of postsecondary education.
Of course, the feasibility of the plans Sanders and Clinton have floated is certainly in question.
"But, they would pay for the cost by increasing taxes in various ways -- capital gains, Buffet rule -- which is a non-starter in a Republican-controlled Congress," Kantrowitz says.
On his campaign page, former Rhode Island Gov. Lincoln Chafee has vaguely promised to "make college more affordable by increasing Pell grants and reducing interest on college loans." Former Virginia Sen. Jim Webb has not said much of substance when it comes to the student loan debt of traditional students.
Meanwhile, the Republicans offer other ideas.