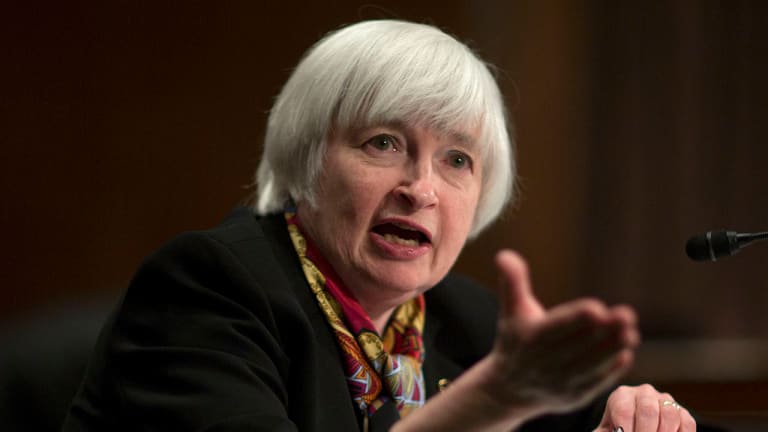 Higher Interest Rates Won't Affect Consumers for Several Years
When the Federal Reserve does raise interest rates, consumers are unlikely to feel the consequences immediately unless they have variable rate student loans or adjustable rate mortgages.
Much speculation has swirled around when the Federal Reserve will hike interest rates, but from a practical standpoint, the average American need not be concerned. That's because when the Fed does eventually raise rates, consumers are unlikely to feel the consequences immediately unless they have variable rate student loans or adjustable rate mortgages.
Yesterday the Fed again held interest rates close to zero after a two-day meeting, leaving open the option of an increase in December, their next meeting.
Experts have predicted that the Fed is likely to increase rates by only 0.25% and that the first rate hike will not occur until 2016. The last rate increase occurred in 2006, and the lower interest rates have resulted in cheaper borrowing options for consumers, helping them purchase homes and cars.
"When the Fed does raise interest rates, there will be an inconsequential impact on the household budget," said Greg McBride, chief financial analyst for Bankrate, the North Palm Beach, Fla.- based financial content company.
Short-Term Effect on Consumer Loans...
The first increase will be a nominal one of 0.25% and consumers will find that for every $100 in debt, they are paying another $0.25 over a year. A rate increase would not affect consumers with fixed rate mortgages or student loans, but the seemingly token increase adds up quickly for credit card payments and other debt.
Consecutive rate hikes mean a homeowner with an adjustable rate mortgage or a consumer with variable rate student loans could feel the pain sooner. Credit card rates and home equity lines of credit "closely mimic Fed moves," which results in consumers seeing the impact on their monthly budget within a couple of statement cycles, he said.
Adjustable rate mortgages reset once a year while variable rate student loans could increase more than once a year, depending on the terms of the loan, McBride said. The vast majority of student loans are federal loans with fixed rates and not private loans.
"Your payments can jump more significantly if the Fed has raised rates multiple times," he said.
Long-Term Effects on Savings and Debt...

Consumers on a fixed budget should be aware of what could occur during the span of the following two years when the Fed increases rates periodically. Higher rates would bring "more tangible benefits" to savers who have money in CDs or money market accounts, but McBride warns that a series of rate hikes will have to occur first before consumers notice any benefits.
Once banks and credit unions start to boost rates, higher interest rates will not be easy to find, so consumers need to shop around, he said.
"The top yielding offers are the ones that are most likely to boost rates and will remain the best offers," McBride said. "Large banks will try to hold the line so they can improve their own margins."
Since the majority of mortgages have a fixed rate for 15 or 30 years, one rate hike will not have a large impact on the current rate.
"It doesn't necessarily mean mortgage rates will go up," he said.
Mortgage rates are based on long-term rates, and the current rates already reflect a potential Fed hike in advance of the decision.
"Mortgage rates are off of their lows this year because of the expectation that the Fed will raise rates," McBride said.
While interest rates remain low, consumers should pay down variable debt or refinance them to lock in a fixed rate to reduce the impact of rising rates, he said.
Effect on the Stock Market and Retirement Portfolios...

A decision by the Fed to increase rates is a good sign that the economy is doing well, which affects the stock market and retirement portfolios in the long run.
"If the economy is doing fine, then ultimately that is going to be good news for corporate profits and stock prices," McBride said.
A rising interest rate environment should not be viewed negatively, said Edison Byzyka, vice president of investments for Hefty Wealth Partners in Auburn, Ind. Instead, they demonstrate the prospect of a stronger economy, which benefits all investors and the returns on their portfolios.
The stock market is likely to experience higher volatility in the near term, but the market "holds the best potential for wealth accumulation over any cycle of rising interest rates," he said.
"Higher volatility doesn't push us away from favoring equity market risk over the long-term," he said.
Investors should be concerned, because rising interest rates "are not good news" for the stock market, said Bob Johnson, CEO of The American College of Financial Services in Bryn Mawr, Pa.
During the period from 1966 through 2013, stock market returns were the highest in expansive Fed policy periods or when interest rates were falling and lowest in restrictive periods when interest rates rose, according to research conducted by Johnson, Gerald Jensen of Northern Illinois University and Luis Garcia-Feeijo of Florida Atlantic University published in the book Invest With the Fed.
The return differences for stocks have been dramatic. During expansive monetary conditions, the S&P 500 has averaged 15.18%, while in restrictive monetary conditions, the S&P 500 has returned 5.89%, Johnson said.
"If the Fed starts to raise rates, investors should expect to earn lower returns in both the stock and bond markets," he said.
Current interest rates are "artificially" low given the strength of the economy and a long period of low rates means investors will "outlive their retirement nest eggs," said Karyn Cavanaugh, market strategist for NY-based Voya Investment Management.

"Interest rates are indicative of economic growth, so higher rates means increased growth and that is good for investors and consumers in the long term," Cavanaugh said.
When policy makers signal that the economy is strong, it should also "help consumer confidence and spending," said Yale Bock, a portfolio manager on Covestor, the online investing marketplace and founder of Y H & C Investments, a registered investment advisor in Las Vegas, Nevada.
"If the dual mandate of inflation and employment as criteria are met, it means the economy is growing quickly enough and creating enough jobs for interest rates to gradually rise to a more traditional levels of 3% to 6% nominal rates," he said.
The inherent risk is that if the Fed acts too slowly to raise rates it will create investment bubbles like the housing market crash. If the policy makers increase rates too fast, they could "put a kibosh on economic growth," McBride said.
"The Fed has to walk a tight rope to get the timing and magnitude of interest rate moves just right," he said.