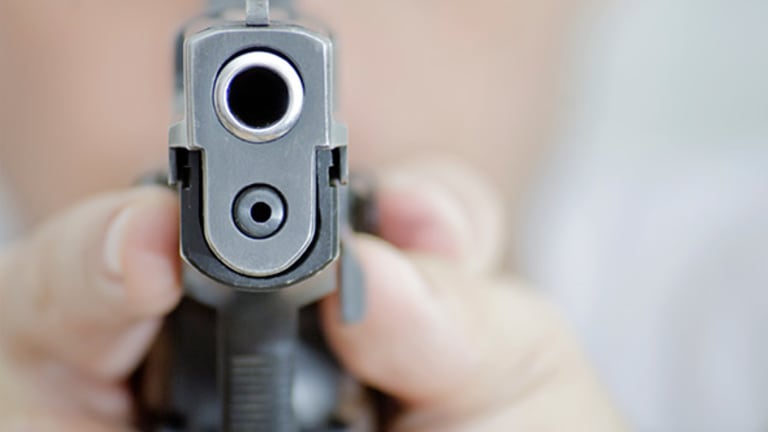 Guns on Texas Campuses Get the Blessing of a Federal Judge
Concealed carry law in the lone star state survives a preliminary challenge.
Editors' pick: Originally published August 23.
A federal judge turned down a request on Monday by three University of Texas faculty members for a preliminary injunction that would have kept concealed guns out of their classrooms. A state concealed carry law went into effect on August 1 that allows licensed gun owners to bring their weapons to campuses at public universities in Texas.
The ruling, by Judge Lee Yeakel of the U.S. District Court in Austin, came just two days before the start of fall classes at the state's flagship campus, University of Texas-Austin. The university has been reeling in response to the law.
The plaintiffs in the lawsuit — Jennifer Lynn Glass, the Barbara Bush Professor of Liberal Arts in the Sociology Department and English professors Lisa Moore, and Mia Carter, all of UT Austin — assert that allowing guns in classrooms will violate their First Amendment free-speech and their 14th Amendment equal-protection rights. All three teach courses that touch on controversial topics, such as reproductive rights and issues concerning gender, race and lesbian, gay bisexual and transgender individuals. The suit's defendant was UT-Austin President Gregory Fennes.
Judge Yeakel wrote that he had denied their injunction request because the professors had "failed to establish a substantial likelihood of ultimate success on the merits of their asserted claims." Whether by accident or by design, Yeakel's ruling appears to identify an area where the First and Second Amendments overlap.
In his 11-page ruling, Yeakel noted that the plaintiffs' assertion that classroom discussion will be 'circumscribed by the near-certain presence of loaded guns' and that their ability to 'make [their classrooms] truly a marketplace for the robust exchange of ideas will be impaired.'
Yeakel also noted their belief that they are now "incentivized to err on the side of 'trimming their sails,' academically speaking, when they push for classroom debate."
Yeakel didn't flatly reject the plaintiffs' argument, even stating that "[p]erhaps they are correct," but ultimately concluded that, "the Campus Carry Law and Policy do not direct plaintiffs either toward or away from any particular subject or point of view. The provisions do not prohibit, require, or even mention any form of speech by professors of the university. The burden of which plaintiffs complain therefore does not fit within any recognized right of academic freedom."
Max Renea Hicks, the plaintiff's Austin-based attorney could not be reached for comment. Since Judge Yeakel ruled only on a request for a preliminary injunction, the lawsuit has not been thrown out of court, but the next steps were not clear. Although the case went before a federal court, the ruling is limited only to the Lone Star State's campus gun law.
Meanwhile a UT Austin-based group planned to protest the ruling by carrying sex toys to campus instead of guns. Under the hashtag #cocksnotglocks, UT-Austin alumna and marketing consultant Jessica Jin set August 24 as a date for an anti-guns-on-campus demonstration.  In an effort to compare one phallic symbol with another, her group of activists and she plan to hand out thousands of dildos as a protest against a law that allows concealed handguns on campus, but is less tolerant of dildos.
Jin's organization is not new. The San Antonio native told the Houston Chronicle on October 12 that she formed the group after discovering that it was against University of Texas policy to wave dildos on campus. An October protest drew about 2,000 people--and threats against Jin's life.