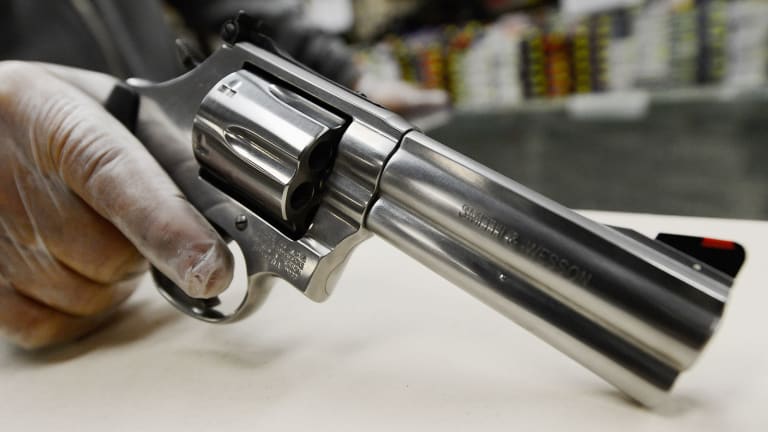 Guns on Campus: Tennessee Lawmakers Allow Licensed Faculty to Pack Heat in Class
Georgia takes the opposite tack as Governor Deal opposes campus carry law.
Editors' pick: Originally published May 5, 2016.
The Tennessee State legislature passed a law on May 2 that will allow full-time faculty and other employees of Tennessee's public colleges and universities with hand gun permits to bring their guns on campus.
Republican Governor Bill Haslam noted that he did not actually sign the bill in a letter to the Tennessee legislature. He also noted that his sign-off wasn't necessary.
"I am letting Senate Bill 2376 become law without my signature," he said in a statement. "I have long stated a preference for systems and institutions to be able to make their own decisions regarding security issues on campus, and I again expressed this concern throughout the legislative process this year." The bill, however, would appear to prevent schools from opting out of a law which permits concealed carry at state schools across the board.
Faculty and staff with gun permits must notify the local law enforcement agency with primary responsibility for security on their campus--the campus police, for example, or local law enforcement if there is no campus police force.
There are other caveats.
Gun owners with valid permit holders could not bring a weapon into a gym or stadium during school-sponsored events--or to meetings where decisions were being made on disciplinary matters or the granting or denial of tenure. It is not clear how participants to these meetings would be searched for weapons beforehand.
The legislation also puts liability on the permit holder, not the university in the event of an accidental discharge.
"Ultimately, this legislation was tailored to apply to certain employees in specific situations," Haslam said. "It provides protection from liability for the institutions, and it requires notification of law enforcement before carrying on campus. I hope that as a state we will monitor the impact of this new law and listen to the feedback of higher education leaders responsible for operationalizing it."
Opponents of guns on campus run the gamut, from the Tennessee Association of Police Chiefs, students and a significant number of faculty members at the state colleges and university. At a meeting in December, the Tennessee Board of Regents opposed all legislation that would allow guns on college campuses. Student reps at Austin Peay State University and Middle Tennessee State have opposed the bill, citing an active police department presence at both schools.
Brendan Kelly, spokesperson for the James Brady Campaign to Prevent Gun Violence did not comment. National Rifle Association spokesperson Lars Dalsede said, "The ability to protect yourself at home or at work is a constitutional right every American should be free to exercise. This campus safety measure means law abiding gun owners who work for a public college or university in Tennessee will no longer have to rely on others for their personal protection."
In a related event, Republican Governor Nathan Deal of Georgia on Tuesday vetoed another campus carry bill that would have allowed guns on campus at public colleges and universities in the Peach State. The Georgia bill wasn't limited to faculty and staff--it would have allowed students 21 or older with a license to bring guns to public colleges and universities, with the exceptions of dorms, frat and sorority houses and athletic events. Deal called the assertion that guns on campus would increase public safety "highly questionable."
Opponents of the Georgia bill included the chancellor of the University of Georgia System and the presidents of Georgia Tech and the University of Georgia.
According to the National Conference of State Legislatures, 18 states have bans on concealed carry weapons: California, Florida, Georgia, Illinois, Louisiana, Massachusetts, Michigan, Missouri, Nebraska, Nevada, New Jersey, New Mexico, New York, North Carolina, North Dakota, Ohio, South Carolina and Wyoming.
The decision to ban or allow concealed carry weapons on campuses is left to individual colleges and universities in 23 states: Alabama, Alaska, Arizona, Arkansas, Connecticut, Delaware, Hawaii, Indiana, Iowa, Kentucky, Maine, Maryland, Minnesota, Montana, New Hampshire, Oklahoma, Pennsylvania, Rhode Island, South Dakota, Vermont, Virginia, Washington and West Virginia.  The remaining states have more permissive laws allowing guns on campus at public colleges and universities.