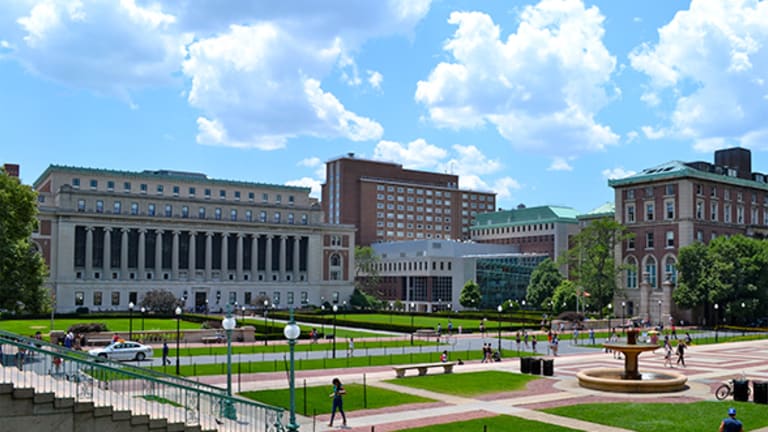 Graduate Students Now Have the Right to Unionize the Ivy League
National Labor Relations Board strikes a blow against the empire; now about those student loans...
Editors' pick: Originally published August 24.
Graduate students who are research and teaching assistants at the nation's private universities have won the right to form unions--and the right to strike--thanks to an August 23 ruling by the National Labor Relations Board.
The NLRB was created in 1935, a product of the Great Depression and the first Roosevelt administration. It investigates unfair labor practices and helps determine whether or not employees in a given industry want union representation. Graduate students at public universities have long had the right to unionize. But private universities, particularly those with big endowments and including the entire Ivy League, have denied their graduate students the same right.
The decision was the result of an attempt by Columbia University graduate students to start a union. It will in effect overturn a 2004 NLRB ruling at Brown University. An even longer-standing precedent will also be reversed: externally-funded research assistants now have the right to collective bargaining.
In a Tuesday statement, Columbia said that it "disagrees with this outcome because we believe the academic relationship students have with faculty members and departments as part of their studies is not the same as between employer and employee."
The Columbia statement also said that "students serving as research or teaching assistants come to Columbia to gain knowledge and expertise, and we believe there are legitimate concerns about the impact of involving a nonacademic third party in this scholarly training."
Columbia allowed that it's weighing its legal options, and added, "we will continue our ongoing efforts to make Columbia a place where all students can achieve the highest levels of both intellectual accomplishment and personal fulfillment."
Yale University Peter Salovey said in a separate statement that the "mentorship and training that Yale professors provide to graduate students is essential to educating the next generation of leading scholars." He said that he had "long been concerned that this relationship would become less productive and rewarding under a formal collective bargaining regime, in which professors would be 'supervisors' of their graduate student 'employees.'"
Salovey said that while he disagreed with NLRB's decision, "it presents an opportunity for our campus to engage in a robust discussion about the pros and cons of graduate student unionization. We should embrace the chance to debate this important issue, and we will conduct this campus discussion in a manner that is proper for a university -- free from intimidation, restriction and pressure by anyone to silence any viewpoint."
The NLRB decision is evidence of a larger trend. Adjunct professors, who make up about 75% of the nation's classroom workforce, and who themselves may be just out of graduate school, have begun to unionize. Some have formed their own unions, others have aligned with major unions. New York University adjuncts, for example, are represented by Local 7902 of the United Auto Workers Union.
Indeed, universities have been bracing for just such a decision by the NRLB. Cornell Graduate Students United, which is seeking to start a union affiliated with the American Federation of Teachers (AFT), reached an agreement with Cornell last spring that called for "fair and expeditious union elections" in case the NLRB ruling went against Columbia.
Graduate students who wear several hats--student, pedagogue and research assistant--also invariably carry the added burden of student loans. About 40% of all student debt, which hovers near the $1.3 trillion mark, was used to finance graduate and professional degrees, according to Student Loan Hero.
While the NLRB has historically waffled on whether graduate student assistants are employees or students, Tuesday's decision asserts that they can be both. Industry sources say that the NRLB's ruling opens the door for nearly all graduate students to be unionized.