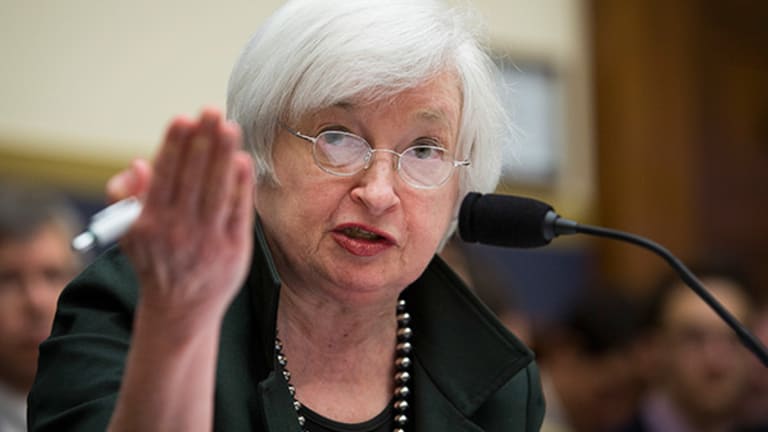 Fed Interest Rate Hike: What Do I Need to Do to Plan Ahead?
Sooner or later, the Fed will raise interest rates, and that will require consumers to be tactical when it comes to real estate, credit cards, student loans and retirement.
NEW YORK (MainStreet) -- Last Thursday marked "decision day" for the Federal Reserve, which opted to keep interest rates unchanged amid a weakened global economy and volatile domestic markets.
But, sooner or later, the primary U.S. economic policy body will raise interest rates, and that will mean consumers need to be tactical when it comes to their real estate, credit cards, student loans and retirement.

Real Estate
When the Fed raises interest rates, that will mean higher mortgage rates and higher home prices for homebuyers and homeowners looking to refinance.
"Homebuyers were granted a bit more time to lock in today's incredibly low mortgage rates before the era of low interest rates ends with the Fed's decision to postpone raising its short-term target rate," says Realtor.com, in a statement following the Fed's decision. "However the move by the Fed just substantially increased the odds of the important symbolic move occurring in December. And like we've seen this week and in prior periods when the Fed was widely expected to tighten monetary policy, mortgage rates may move up before they officially act." 
Among other top-tier issues, that could mean advantages to buying a home sooner rather than later, experts say.
"Those planning to get into the housing market in 2016 may want consider a home purchase before the end of the 2015," notes Jonathan Smoke, chief economist at Realtor.com. "When rates go up, not only will monthly mortgage payments increase, that increase will also lessen some buyers' ability to get approved for a home loan -- due to an increased debt-to-income ratio."
Not surprisingly, U.S. mortgage consumers are primarily concerned about just how much home mortgage prices will rise when the Federal Reserve acts, because homebuyers know that someday fairly soon, the Fed will.
Realtor.com's Smoke takes a good crack at the question of how much home prices will rise, when rates rise, and his answer clocks in at a 6% rise in mortgage prices.
"The potential move away from zero interest rate policy, for short-term rates, is a harbinger of higher mortgage rates ahead and the beginning of the end of this seven-year era of incredibly low mortgage rates and corresponding high affordability," he says.
He sees a potential increase of 50 basis points over the next year, which would trigger that 6% hike in monthly mortgage payments. Last May, the average loan with a 30-year fixed mortgage stood at $231,000, with a monthly principal and interest payment of $1,107, at an average interest rate of 4.03%. When rates reach 4.53%, that same loan amount would result in a monthly payment of $1,175, an increase of 6%, Smoke concludes.
A 6% rate rise would also increase the number of mortgage applicants rejected by lenders. "Based on analysis of loan-level ratios for a large sample of loans approved in the first half of this year, as much as 7% of mortgage applicants would have failed to get approval as a result of higher debt-to-income ratios caused by higher rates," said Smoke.
Some U.S. geographical real estate sectors will be impacted more than others. Realtor.com predicts Honolulu (at a rise of 14%); Stockton and Fresno, Cal. (at 12%); and El Paso, Texas (at 11%) will see the strongest mortgage price hikes in the U.S. after the Fed acts to hike rates.
That said, homebuyers shouldn't expect any immediate effect on borrowing costs for residential mortgages. "In fact, the Fed rate is not even directly correlated to the average 30-year fixed mortgage rate," explains Arvin Sahakian, a vice president BeSmartee and a 12-year veteran of the mortgage lending industry. "For example, between the years 2013 and 2014 the Fed Funds Rate was close to zero, but during this same time the average rate on a 30-year fixed mortgage actually rose from about 3.4% in January 2013 to 4.4% in Jan. 2014."
Sahakian says mortgage rates actually have a more direct connection to mortgage-backed securities, which have a connection to big financial institutions. "This is one of the reasons why Wall Street is glued to their Bloomberg Terminals when the Fed meets to discuss the Fed Funds Rate," he adds. "Typically, when there is inflation in the economy, the value of mortgage backed securities declines, which in turn means that borrowing costs for mortgages will increase and vice versa."
Still, with 30-year fixed-mortgage rates standing at 4.0% this week, according to the BankingMyWay weekly rate tracker, rates are highly reasonable right now. That likely won't be so once the Federal Reserve raises interest rates, eventually making U.S. homes more expensive - maybe by 6% or more.
It's also important for those with adjustable rate mortgages to be mindful that rates could rise quickly. Strategically, it might be a good time to get out in front of the pitch and refinance to a lower interest rate in anticipation of a rate hike. 

Credit Cards
When the Fed decides to raise interest rates, credit card interest rates will jump in turn -- typically within 90 days.
The current average credit card interest rate is 15.76%, and although a rate hike of 50 basis points may have a marginal effect on your bottom line and your household budget, it's the cumulative effect in a series of rate hikes that will get you. 
Your 15% APR could quickly turn into 17%, and the longer you hold off paying your debt, the more problematic the debt you accrue will be.
While rates are low, if you have outstanding credit card debt, work toward paying it down -- with either the snow ball method (starting with paying off the accounts with the smallest balances first) or the avalanche method (taking on the account with the highest interest rate). Be on the offensive here and be proactive.
Also, if you are thinking of opening a new credit card, now may be the time. The number of introductory and 0% balance transfer offers will also disappear as the Fed moves away from a zero interest rate environment.
"Credit card issuers will do the same and there will be fewer and less generous offers," McBride told MainStreet. "Grab the 0% offers now while they are still available."

Student Loans
Once the Fed hikes interest rates, student loan borrowers should anticipate a rise in their current private loans if they have a variable interest rate loan.
Some with student loan debt are in luck: interest rates on federal student loans do not change during the duration of a loan, and the same goes for those who took out private loans with a fixed interest rate.  
Of course, for those with private loans subject to increased rates, the future is not dire. 
"A potential Fed rate increase of 0.25% wouldn't have much of an impact on the monthly payment for the average student loan borrower," said Bruce McClary, spokesman for the National Foundation for Credit Counseling, a Washington, D.C.-based nonprofit organization. 
Of course, any way the consumer can make an extra student loan payment or two while rates are lower would be well served in getting out ahead of rising rates. 
Another strategy would be to refinance current student loans. Private lenders, such as Wells Fargo, offer modification programs based on such factors as employment status and salary. Those with improved credit scores or creditworthy co-signers can also take advantage of the low interest rates before they rise.

Retirement
Retirees will definitely feel the effects of a rate hike when it arrives when it comes to fixed income.
As MainStreet has reported, rising interest rates would mean that bond yields decrease. 
For retirees who tend to be more conservative in their investments and gravitate toward bonds, that spells trouble. 
"Most retirees hold substantial amounts of bond mutual funds in order to be more conservative and these could potentially lose principal as rates rise," Paul Taghibagi, senior partner at Los Angeles-based Signature Estate and Investment Advisors, told MainStreet.
Be sure to watch your long-term care insurance That because the LTC premiums paid each month are usually invested in the bond market. 
As we know, rising rates are bad for bonds -- and that could leave your LTC arsenal a little more meager than before. 
Of course, rising interest rates are good for retirees' savings accounts -- balance in your financial universe. 
Current low interest rates have been terrible for CD -- currently at 0.15%. For those who have sought a safe haven in cash amid the stock market volatility to protect their cash in old age, the Fed's coming interest rate hike spells good news.