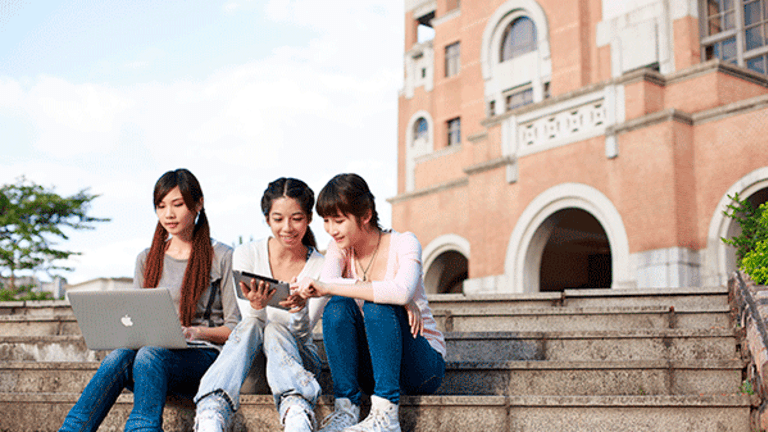 Families Finding New Ways to Pay for College
With the soaring costs of college showing no signs of relenting, American families are looking at more ways to finance school bills beside loans and savings.
Your Money, Your Retirement, and the 2016 Presidential Election - What changes will you need to make to your portfolio should Hillary R. Clinton become president? What happens to your investments should Donald Trump become president? Join us on September 12 as our panel of the world's top financial experts provide trusted information on the investment risks and opportunities that arise with the upcoming presidential election in November. [Learn more about the event and RSVP.]
Editors' pick: Originally published August 25.
With the soaring costs of college showing no signs of relenting, American families are looking at more ways to finance school bills beside loans and savings.
Families actually paid on average 7% less out of pocket for college in 2015-16 than in 2014-15, according to Sallie Mae's "How America Pays for College 2016," taking advantage of more scholarships and grants.
"The most promising part of the report shows that more Americans than ever are taking advantage of scholarships," said Fred Bara, a CPA and senior manager at WeiserMazars. "This can most likely be attributed to the internet offering increased access to scholarship information."
Zack Perkins, co-founder of CollegeVine, added that along with adequate saving and future loan refinancing, scholarships and strategic university targeting is the second thing families can use to reduce the burden of affording college.
"Many families simply do not do enough to reduce the out-of-pocket expenditure of tuition through a mixture of scholarships and financial aid targeting," Perkins said. "External scholarships are readily available and currently are in excess of the total number of applicants. Students that are smart about researching these opportunities can unlock thousands of free dollars in scholarships."
According to the annual study, scholarships and grants covered 34% of college costs. That represents the largest proportion of any resource used to pay for college in the past five years, and nearly half of all families used a scholarship or grant to help pay for the cost of college. On average, families paid $1,100 less out-of-pocket for college this past year than previous.
"The cost of college can be mitigated even further by receiving an academic scholarship for good grades," Bara said. "There are billions of dollars available in scholarships, but parents and students need to take the time and do their research."
Bara said spending the time applying for as many scholarships as possible can pay off significantly for students and their families.
"A key point to remember though is that receiving four or five smaller scholarships can often times be more realistic than qualifying for one large award," he added.
Even with a focus on scholarships to help brunt the cost of college, students and their parents are becoming more selective as they try to find that right fit academically and financially. Two-thirds of families trimmed their college choices due to cost, although it ranked third — trailing academic programs and personal choice — when it came to making a final decision. On top of that, community college is playing an enhanced role in getting a bachelor's degree for many, with one-third of students saying they were attending a two-year school as a first step toward a degree.
"Student debt plagues Millennials, there's no denying that," said Marcos Cordero, CEO and co-founder of Gradvisor, a college savings solutions for employees. "What matters now is how we deal with it. For many recent graduates, student loans limit their choices."
Cordero said parents need to be educated about college savings options, like 529 plans.
"By knowing how much they need to put away a month to cover their child's education, they ensure the child isn't facing enormous debt after graduation," he added.
Perkins said families should aim to start a 529 plan once their child enters 8th grade — even sooner if possible.
"There are huge advantages to these plans, as investments into the plan are tax-exempt and there are no eligibility requirements to start one," Perkins said. "Families are also in much stronger control of the plan relative to Roth IRA accounts, and are able to change investment options twice per year."
If flexibility and investment growth are of paramount concern, parents can open up a brokerage account for their child, Bara adds.
"While these accounts don't offer tax-free growth like the 529 plans, they do offer the most flexible investment options," he said.