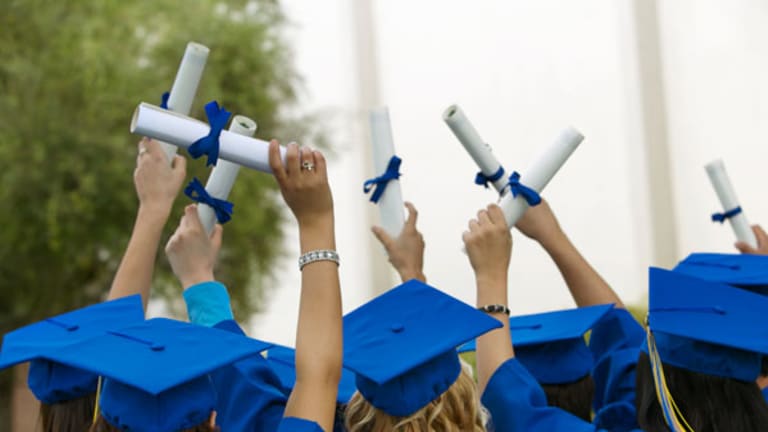 Education Stocks: A Remedial Lesson
What have we learned when it comes to these stocks? Not much.
NEW YORK (TheStreet) -- My time spent in the world of education taught me students will always rise to expectations.
But investors in for-profit education stocks including Corinthian College (COCO) - Get The Vita Coco Company Inc. Report and Strayer (STRA) - Get Strategic Education Inc. Report, which have declined by 26% and 37%, respectively, for the year to date, have learned  expectations can also yield disappointment. COCO closed Friday up 2.8% at $1.82, STRA was down 8 cents to $35.20.

Given the frustration investors are likely feeling already, I wonder at what point reality sinks in when it comes to these stocks? After having peaked in early 2009, this entire industry has suffered from low student enrollment and stricter government regulation, thus underperforming the market for years.
Strayer and Corinthian have posted a five-year decline of 83% and 88%, respectively. So this is not a situation where investors were blindsided by the lack of execution. Given the significant amount of scrutiny surrounding issues like poor student loan repayment rates, the Street "dropped out" of these stocks a while ago. The business economics of this industry no longer works.
Essentially, with the government's involvement -- particularly the gainful employment provisions of the Higher Education Act, which seeks to protect students from (among other things) predatory lending practices -- weakens the effectiveness of these institutions. As it stands, the Street believes irreparable damage has already been done, given that several names within this industry have had some serious struggles with "ethics."
Take, for instance, Apollo Education (APOL) , which owns the University of Phoenix program, the leader in enrollments by a meaningful margin. Despite the company's nearly 30% stock gains for the year to date, Apollo has dealt with the Securities and Exchange Commission, which once investigated the company regarding how it recognized portions of its revenue.  Apollo has resolved these issues and the shares are up 30.5% from 2012.
Don't think this stock is cheap. On the flip side, I would be careful about getting too impressed with the stock's gains, most of which occurred in the last three months --  which means it can easily be lost. Not to mention, Apollo continues to receive more than its share of criticism about the quality of its academic offerings.

At the same time, I'm not willing to paint the entire industry with a broad brush. I do believe there are strong performers such as DeVry (DV) - Get DoubleVerify Holdings Inc. Report that deserve credit for consistently raising the bar not only on education, but on their ability to produce above-average results.
With stock gains of close to 50% for the year to date, the Street appreciates DeVry's transparent approach, which makes its well-diversified business very easy to understand. Not only does DeVry own one of the best job placement rates in the industry, but from an investment perspective you will not find a rival with a better balance sheet.
Likewise, Capella Education (CPLA) - Get Capella Education Company Report, with gains of 136% for the year to date, really stood out. Unlike some of the other surprises, however, Capella significantly outperformed both its three-year and five-year averages. Same goes for ITT Educational Services (ESI) - Get Element Solutions Inc. Report, which enjoyed stock gains of nearly 102% for the year to date. What this tells me is that the Street values education -- but not those companies that are constantly fighting government regulation.
That said, other than the enforcement of new laws like loan repayment and/or issuance, I don't believe long-lasting damage has been done to the industry. Nor do I believe these laws diminish the importance of the service this industry provides. But expectations will have to change, particularly from the standpoint of revenue and earnings.
The valuation of these companies jumped during the recession as students/workers went back to school to retrain and/or acquire new skills. However, as the economy and employment rate improved, it wasn't surprising that student enrollment declined.
Heading into 2014, I don't expect this trend will change. Essentially, I've learned my lesson. I'm not willing to bet my own money on the industry's 2014 performance.
At the time of publication, the author held no position in any of the stocks mentioned.
Follow @saintssense
This article was written by an independent contributor, separate from TheStreet's regular news coverage.