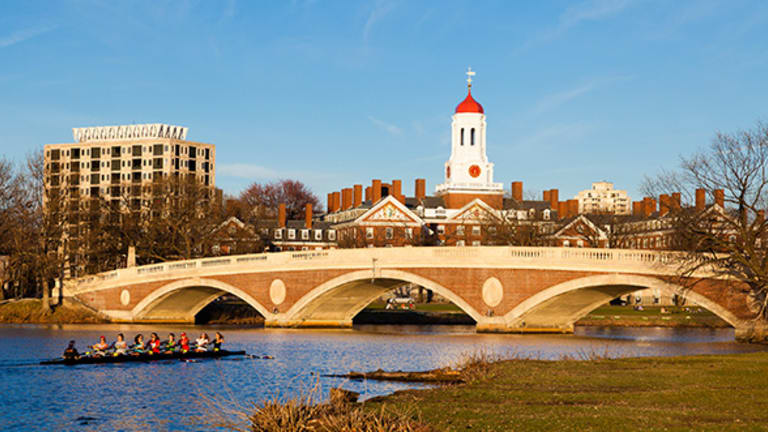 NEW YORK (TheStreet) -- Harvard's $32.7 billion endowment would generate significantly lower returns if climate-change activists convince the university to abandon fossil fuel investments, according to a new study.
Such a strategy might cost the fund more than $100 million a year, according to the report, which was commissioned and financed by the Independent Petroleum Association of America. It examines the effects of divestment on five universities with large endowments and indicates cutting out those stocks would have "material impacts" on the ability of the portfolios to meet schools' funding goals.
At the same time, "divestment is likely to have little impact (financial or otherwise) on fossil fuel companies," the study states. Basically, energy giants like ExxonMobil (XOM) - Get Exxon Mobil Corporation Report , Chevron (CVX) - Get Chevron Corporation Report and BP (BP) - Get BP p.l.c. Sponsored ADR Report , wouldn't feel a thing, but the endowments would take a big hit, especially over long periods of time.
The August-dated working paper, titled "The Divestment Penalty: Estimating the Cost of Fossil Fuel Divestment to Select University Endowments," was written by Bradford Cornell, visiting professor of financial economics at the California Institute of Technology. He holds a doctorate in the subject from Stanford.
In addition to Harvard, the study looked at four other schools with big endowments: Columbia University, Massachusetts Institute of Technology, New York University and Yale University. Cornell picked them because of the size of their endowments and the fact that all were recently in the crosshairs of campaigners urging them to abandon their oil investments, he says. 
Indeed, the global "Divest" movement pushing educational and government institutions to abandon fossil-fuel holdings has gained momentum this year with the release of an encyclical from Pope Francis on climate change and a day-long conference in Paris last week. That followed clashes at Harvard between the administration and student activists seeking a change in the university's investment strategy last spring.
Cornell's study required him to make some assumptions because, as he says, there is little detail on all holdings for the endowments. So he set up proxies with three different mutual funds in each of seven broad asset classes, building more than 2,000 portfolios weighted to reflect "actual or target" allocations of each of the universities' endowments.
What did he find? "Divestment almost always generates long-term investment shortfalls due to reduced diversification, and the shortfalls are typically substantial, given the size and importance of the energy sector being divested," the report states.
In fact, in 91% of cases, the proxy portfolios would produce a risk-adjusted shortfall for the relevant fund. And it's not like these are trivial amounts: Harvard would be hit the worst of all the universities, with an annual reduction in returns of $107.8 million, according to his analysis. The other schools collectively would have a total shortfall of another $87.2 million each year.
A difference of $100 million might not seem much in the context of a $30 billion-plus fund, but it could have an impact over a long period. Cornell's analysis says the Harvard fund would be almost 16% smaller over a 50-year period than it would have been without divesting.
While Harvard declined to comment on the study, University President Drew Faust noted in a 2013 statement on fossil fuel holdings that the endowment funds more than 30% of the institution's spending each year and cautioned against using it to achieve political ends.
"The funds in the endowment have been given to us by generous benefactors over many years to advance academic aims, not to serve other purposes, however worthy," Faust said. "As such, we maintain a strong presumption against divesting investment assets for reasons unrelated to the endowment's financial strength and its ability to advance our academic goals. " 
The other universities in Cornell's study stand to take a smaller hit, an average of about 12%, according to the analysis.
That still might have "material impacts on a university's ability to achieve its institutional goals," the report states. "Endowments fund a material share of the operating budget for all five universities, and reductions in returns specifically harm key institutional objectives, such as funding research and student support."
This article is commentary by an independent contributor. At the time of publication, the author held no positions in the stocks mentioned.