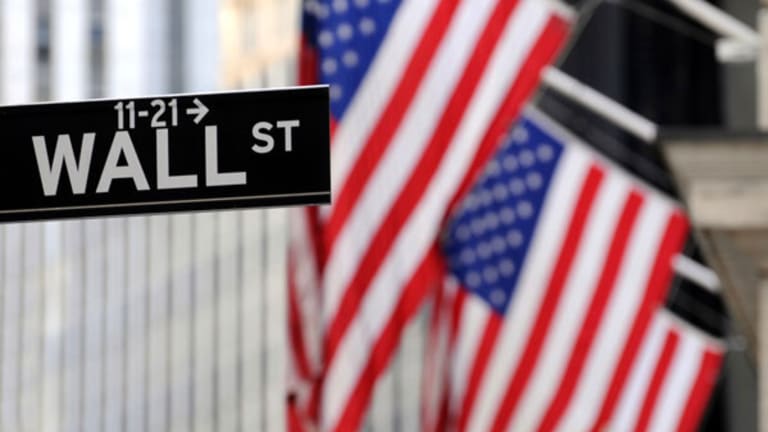 Dumbest of This Week's 5 Dumbest: UConn Burned by Booster
About 37% of voters found it dumb that Burton Capital Management CEO Robert Burton believes the University of Connecticut should have sought his approval on hiring a new football coach.
NEW YORK (TheStreet) -- Burton Capital Management chairman and CEO Robert Burton's reaction to University of Connecticut hiring a new football coach without his approval was considered the dumbest thing on Wall Street this week by readers of TheStreet.
As of late Friday, about 37% of the 465 readers that
took our poll
thought that Burton's five-page missive to UConn regarding his disapproval of the newly hired football coach was particularly dumb.
Last week, Burton threw a hissy fit when UConn's athletic director Jeff Hathaway hired a new football coach without seeking his input.
Burton, who happens to be the football program's biggest donor, wrote a five-page statement to UConn explaining how the choice of former Syracuse football coach Paul Pasqualoni had besmirched the Burton family. He didn't forget to make note of the more than $7 million he had given to UConn and its football program.
Burton also outlined eight punishments he would be doling out, all of which amounted to pulling funding from various school and football programs.
Certainly it's his right to use his money how he sees fit, but somewhere along the line Burton confused the words "donor" and "owner."
The Financial Crisis Inquiry Commission's 633 page report concerning the factors that led up to the financial meltdown in 2008 was considered dumb by 27% of voters.
In a report released on Jan. 27, the FCIC laid out its indictment of Wall Street titans including
Goldman Sachs
(GS) - Get Goldman Sachs Group, Inc. (GS) Report
and
Bank of America
(BAC) - Get Bank of America Corp Report
, extinct Wall Street species like
Merrill Lynch
( ML), and lenders that were synonymous with the mortgage crisis, like
Countrywide Financial
.
The report chides government entities such as the
Securities and Exchange Commission
and the
Federal Reserve
in a way that would make Fed-buster Ron Paul very happy.
Truth be told, 633 pages may not be enough to do justice to the idiocy that passed for an advanced, well-functioning economy in the period leading up to the crisis. Phil Angelides, the commission's chairman, who went head-to-head with many financial bigwigs during the FCIC hearing process -- and even forced
Berkshire Hathaway
CEO
to testify under order of subpoena -- took issue with the idea that no one could have seen this crisis coming.
Angelides would have none of this "no one is smart enough" stuff when Buffett testified, and lashed out at the theory that the meltdown was unavoidable.
"How did it come to pass in 2008 that our nation was forced to choose between two stark and painful alternatives: either risk the total collapse of our financial system and economy or inject trillions of taxpayer dollars into private companies," Angelides said at a news conference to announce the FCIC report, "even as millions of Americans still lost their jobs, their savings and their homes?"
Close to 17% of voters found it dumb that
Nestle
has started packaging its DiGiorno pizza and famous frozen Toll House chocolate chip cookie dough together.
When Nestle acquired
Kraft's
( KFT)
frozen pizza business in January 2010
, the company said the purchase provided a "new strategic pillar to Nestlé's frozen food portfolio."
It took just over a year for the company to come up with the ultimate synergy in a box, packaging its pizza and cookies together in a natural combination, similar to toothpaste and orange juice.
We decided to take a shot at this synergy magic ourselves by taking a look at the Nestle lineup of brands. Clearly management is missing out on more potential pairings. For instance, the Frosty Paws frozen dog treats would be a natural addition for ice cream brands like Drumstick or Edy's. Or how about a Hot Pockets and Push-Up combo? Like pizza and cookies, it would be dinner and dessert and they'd both be in tube form.
The news that
Yum! Brands'
(YUM) - Get Yum! Brands, Inc. (YUM) Report
Taco Bell is facing a potential class action lawsuit
was considered dumb by 10% of voters.
According to a false advertising suit filed by law firm Beasley Allen, there is so little actual beef in Taco Bell's beef filling that it shouldn't even be allowed to call it beef.
The U.S. Department of Agriculture defines beef as "flesh of cattle." The suit, which does not seek monetary compensation save for attorneys' fees and costs, claims that Taco Bell calls its products "seasoned ground beef or seasoned beef, when in fact a substantial amount of the filling contains substances other than beef." The suit claims that Taco Bell's ground beef includes ingredients such as water, isolated oat product, an anti-dusting agent, an anti-caking agent and modified corn starch, as well as beef and seasonings.
Just 35% of what Taco Bell calls its "taco meat fillings" ingredient list was a solid and just 15% of it qualified as protein, according to attorney W. Daniel "Dee" Miles III of the Montgomery, Ala., law firm Beasley Allen.
Taco Bell has had to spend the week vigorously responding to the suit, which grabbed more and more media attention as the week went on. A company representative said late this week that "our seasoned beef recipe contains 88% quality USDA-inspected beef and 12% seasonings, spices, water and other ingredients that provide taste, texture and moisture."
Almost 9% of voters think that it's pretty dumb that Black Eyed Peas front man will.i.am is
Intel's
(INTC) - Get Intel Corporation (INTC) Report
new "director of creative innovation."
The multi-platinum artist and producer, responsible for such classics as
Boom Boom Pow
, spoke at an Intel conference in Anaheim, Calif., on Tuesday while wearing a company ID badge.
"Nearly everything I do involves processors and computers, and when I see an Intel chip I think of all the creative minds involved that help amplify my own creativity," the seven-time Grammy winner said. "Teaming up with the scientists, researchers and computer programmers at Intel to collaborate and co-develop new ways to communicate, create, inform and entertain is going to be amazing."
The member of the Black Eyed Peas are no strangers to tech endorsements.
Research In Motion's
( RIMM) forthcoming Playbook tablet even made a guest appearance in a recent Peas' music video.
Signing will.i.am may demonstrate Intel's desperate desire to catch up with the likes of iPhone maker
Apple
(AAPL) - Get Apple Inc. (AAPL) Report
in the consumer market. In addition to providing new music for Intel, will.i.am will collaborate on devices such as laptops, tablets and smartphones, it said.
Of course, at the end of the day, it will be products, not glitzy celebrity endorsements, that stake Intel's claim in smartphones and tablets.
-- Written by Theresa McCabe in Boston.
>To contact the writer of this article, click here:
Theresa McCabe
.
>To follow the writer on Twitter, go to
.
>To submit a news tip, send an email to:
.
Disclosure: TheStreet's editorial policy prohibits staff editors and reporters from holding positions in any individual stocks.