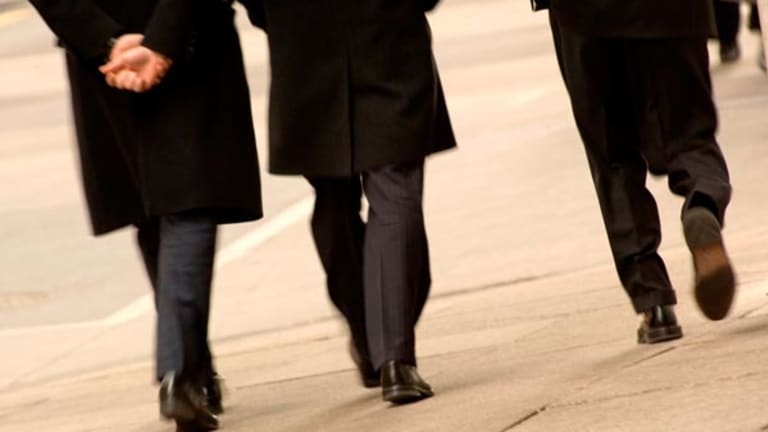 DeVry Beats Despite Lower Enrollment
DeVry beats Wall Street's quarterly expectations with higher profits and revenue despite a decline in new student enrollment.
(DeVry earnings report updated with analyst commentary and raised price target.)
OAKBROOK TERRACE, Ill. (
) --
DeVry
(DV)
shares jumped higher in premarket trading Wednesday after the education stock topped Wall Street's quarterly expectations late Tuesday with higher profits and revenue despite a decline in new student enrollment at its namesake university.
DeVry said late Tuesday it booked a 22.3% jump in quarterly profits to $88.7 million, or $1.25 per share, compared with year-earlier earnings of $72.5 million, or $1 per share.
>> Education Stocks: 2011 Outlook
Fiscal-second quarter revenue came in 16.6% higher at $551.5 million, from $473 million in the 2010 fiscal-second quarter.
Analysts had been looking for DeVry to post earnings of $84.6 million, or $1.19 per share, on revenue of $548.5 million in the three months, edded Dec. 31.
DeVry shares jumped 3.4% ahead of the opening bell Wednesday after falling 1.7% on Tuesday ahead of its earnings report.
Oppenheimer analyst Scott Schneeberger had an outperform rating on DeVry shares following its better-than-expected earnings report, and raised his price target on the stock by $7 to $56.
The analyst increased his earnings outlook, citing strength at DeVry's Chamberlain College of Nursing and Becker Professional Education accounting school.
Schneeberger said he expects enrollment, revenue and earnings-per-share to slide this calendar year, though he anticipates a rebuild in calendar 2012 reflecting stabilization at DeVry's Business Technology and Management unit, Carrington (medical and healthcare-related school), Ross University of Medicine and sustained strength at Chamberlain.
Vote: Which For-Profit Education Stock Will Outperform in 2011?
He also expects improvement from Devry's "diligent management of efficiencies vs. investment, share repurchases and moderate regulatory impact."**
DeVry University's new undergraduate enrollment decreased 4.7% and total undergraduate enrollment rose 14.9% in the fall. At DeVry University's Keller Graduate School of Management, the number of course takers in November 2010 increased 11.9%.
>> Education Stocks: Winners & Losers of 2010
At DeVry's Chamberlain College of Nursing, new student enrollment in the fall increased 42% and total students increased more than 58%.
An attractive segment in the education space this year is with schools that offer nursing programs, as DeVry does through its Chamberlain school. Citi analyst James Samford said schools should benefit from nursing student enrollment after U.S. nursing schools turned away nearly 55,000 qualified applicants in 2009 due to budget restraints and an insufficient number of faculties. The analyst noted that the Bureau of Labor Statistics has indicated upwards of 581,500 new registered nurse positions will be created through 2018, boosting the RN workforce by 22%.
"DeVry's Chamberlain College of Nursing...provides DV with advantages such as lower exposure to 90/10, since many nursing students tend to pay with cash or receive tuition reimbursements," Samford noted recently. "Additionally, higher demand for nursing graduates ensures that these students contribute to high repayment rates and thus lower default rates. Chamberlain's 90/10 is 69% and the school has one of the lowest default rates at DV (2008 CDR of 1.7%) and a 2009 repayment rate of 49%." He expects Chamberlain College of Nursing enrollment growth of 38% in 2011 year-over-year to over 12,000 nursing students.
Wetenhall tapped DeVry as his "best mid-cap growth idea," saying "we think that its diversified business model can sustain long-term EPS growth of 15%+."
Citi's Samford cautioned that revisions to the gainful employment rule could negatively impact DeVry, as with Career Education, by 40%, though some level of bearishness seems already priced into the stock. Based on his "bear case scenario," DeVry would trade within 4% of its historical average price-to-earnings ratio.
Samford expects enrollment at DeVry to increase 9% year-over-year in 2011. Still, DeVry offers relatively high tuition rates which present a competitive disadvantage for its performance "in 2011 and beyond, when for-profit schools will be facing regulatory hurdles," he noted.
Vote: Which For-Profit Education Stock Will Outperform in 2011?
Wetenhall recently reiterated an outperform rating on DeVry shares but lowered his price target on the stock by $7 to $50. He expects enrollment in DeVry's programs to grow 17% this calendar year, EPS to grow 15% and revenue to grow 13% even as pricing should decrease 5%.
Stocks in the education sector underperformed the
S&P 500
undefined
last year for the second consecutive year. Performance in 2011 is expected to remain volatile amid
regulatory uncertainty, but
TheStreet
takes a closer look at key industry players and how each is expected to perform.
The Department of Education is expected to unveil a final version of what is known as the "gainful employment" rule which would cut federal aid to schools with more than 65% of students unable to repay hefty loans. Federal aid to for-profit education providers came to nearly $150 billion in the last academic year.
RBC's Wetenhall said he expects the final version "will be comparable to or less onerous than the previously published draft version." Still, he told
TheStreet
that it's "tough to get excited about the
education sector's outlook" for 2011 given the lack of a hard catalyst, or "something dramatically material likely to provide torque to the stocks."
The
Obama administration's proposed education regulations cover everything from restricting incentive-based recruiting practices, the need for new job-training courses, and taking action against schools which fail to advertise honestly to
requiring schools to notify students of graduation and job placement rates. Institutions would also be required to limit student enrollment to those who have high school diplomas or can readily demonstrate their readiness for university-level education. Schools must also comply with what is called the 90:10 rule in fiscal 2012, a rule stipulating that no more than 90% of a for-profit education provider's revenue may be generated from the DOE's federal student aid program.
Bob Phillips, managing partner at
Spectrum Management Group
, told
TheStreet
"the general macro outlook for the sector is not good." He views the education sector as "a bubble fueled by free government money."
Citi
analyst Samford suggested investors "stick with the clicks," meaning schools that offer online postsecondary education programs as opposed to more traditional classroom and campus settings. He estimated that nearly a third of all students took at least one course online in 2010. Nearly half of students taking at least one online course, around 3 million, were taking programs exclusively online he said, a number he expects will grow to 5 million by 2015.
Samford also encouraged investors to consider schools with lower-priced programs. Even as the nationwide unemployment figure is expected to drop by 60 basis points this year, "sustained unemployment levels above 9% will continue to offset a complete tailwind reversal" that would normally affect school stocks during a recovery.
School stock peers
Apollo Group
(APOL)
and
ITT Educational Services
(ESI) - Get Element Solutions, Inc. Report
each topped Wall Street's expectations for their recently reported quarters.
Apollo Group, the parent company of University of Phoenix and other for-profit postsecondary education programs, posted fiscal-first quarter profits of $235.4 million, or $1.61 per share, down 2% from year-earlier earnings. Despite the profit decline, Apollo handily beat expectations for earnings of $1.35 per share, or $197.7 million.
Revenue came in at $1.33 billion, up 5.4% year-over-year.
>> Apollo Rebounds on Expectations Beat
RBC Capital Markets analyst Robert Wetenhall said that "investors are starting to give Apollo credit for improving the quality of its business model, but remain cautious due to poor enrollment visibility."
Degreed enrollment at University of Phoenix declined 3.8% year-over-year to 438,100, though average enrollment during the quarter increased slightly, helping to boost Apollo's revenue.
The company added that it does not expect materially unfavorable findings from the Department of Education's review of the education sector that began in December of last year, looking into for-profit school programs funded with federal aid.
Following ITT's better-than-expected 2010 fourth-quarter earnings report, Barrington Research analyst Alexander Paris maintained an outperform rating on ESI shares and lifted his price target by $5 to $80, but he lowered his revenue and earnings-per-share expectations for 2011. The analyst now expects ITT to book full-year earnings of $9.15 per share, down from his prior estimate for $12.20, and expects 2011 revenue to come in at $1.47 billion, down from $1.74 billion.
Deutsche Bank analysts lifted their price target on ITT shares by $25 to $75, maintaining a hold rating on the stock. Analysts from RBC Captial Markets also raised their price target on ITT, from $64 to $76, and set a sector perform rating on the stock. Zacks Investment Research, meanwhile, downgraded ITT to underperform, from neutral.
While total enrollment grew, new enrollments fell 9.4% in the October-December quarter, compared with a 3.9% decline in the prior quarter, and the school cautioned that enrollments would continue to drop in coming quarters.
ITT forecast 2011 EPS of $10.50 and said profit margins will decline as student enrollments drop.
Barrington's Parris noted that while "management has been relatively quiet on the issue of gainful employment, especially with the potential significant impact to earnings, we were encouraged that management decided to include an estimate (although we're still unclear as to what extent it is included) of its impact in their 2011 guidance," underscoring that "guidance provides a slight relief of uncertainty surrounding gainful employment risks."
-- Written by Miriam Marcus Reimer in New York.
>To contact the writer of this article, click here:
Miriam Reimer
.
>To follow the writer on Twitter, go to
http://twitter.com/miriamsmarket
.
>To submit a news tip, send an email to:
.
READERS ALSO LIKE:
>> 10 Top Dividend Stocks for 2011
>> 10 Top Buy-Rated Real Estate Stocks for 2011
>> Education Stocks: 2011 Outlook
>>See our new stock quote page.
Get more stock ideas and investing advice on our sister site,
Disclosure: TheStreet's editorial policy prohibits staff editors and reporters from holding positions in any individual stocks.