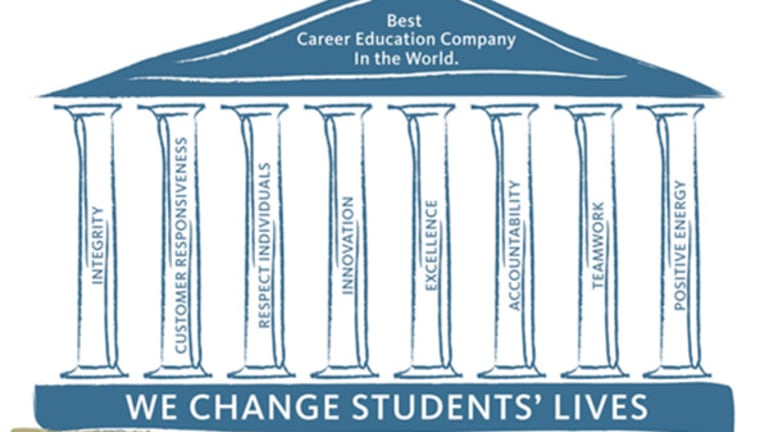 Declines at For-Profit Colleges Take a Big Toll on Their Stocks
After meteoric growth in the '90s, for-profit colleges have come under intense government scrutiny that's sent shock waves through the industry. Just ask Corinthian College, Education Management and Career Education.
NEW YORK ( TheStreet) -- After meteoric growth in the '90s, the for-profit education sector has come under intense government scrutiny that's sent shock waves through the sector -- with fallout especially noticeable this past week.
Federal regulators believe the problem goes beyond a few badly managed schools. And in a recent S&P report on the sector, analyst Christopher Thompson warned that because many for-profit schools are publically traded, their financial struggles are transparent. Thompson said, "This can lead to more instances of weekly capitalized for-profits succumbing to the concurrent pressures of a declining stock price and limited access to government funding." 
One of the most spectacular failures was the recent demise of Corinthian College (COCO) - Get Vita Coco Company, Inc. Report, which recently shuttered the last of its college campuses and declared bankruptcy, ending a 20-year run as one of the country's largest for-profit centers for higher education.
The death knell for Corinthian sounded last fall when the Consumer Financial Protection Bureau sued the company, claiming that it lured thousands of students to take out private loans to cover expensive tuition costs by convincing them that lucrative job opportunities awaited them after graduation.
The CFPB claimed that Corinthian used job-placement agencies to temporarily hire graduates, some for as short a stretch as one day, in order to inflate placement rates. Corinthian also was alleged to have used illegal debt-collection tactics, barred delinquent students from access to classes or education services and refused to give graduates their diploma if they were late on their payments. Hit by multiple government suits, Corinthian lost its pipeline to government funds, according to The Washington Post.
With little to no revenue and its future looking bleaker by the day, Corinthian found its share price plummeting from $1.76 at the start of 2014 to just a fraction of a cent at the beginning of this month.
After the recent closure and bankruptcy of Corinthian College, two more for-profit colleges headed for the exits this week. Education Management Corp. (EDMC) said it will gradually close 15 of its 52 Art Institute campuses. And Career Education Corp. (CECO) - Get Career Education Corporation Report announced a restructuring plan that includes selling all but two of its university holdings.
The CFPB also filed a lawsuit, in July, against ITT Education Services (ESI) - Get Element Solutions Inc Report for misrepresenting its employment statistics and pushing students into high-cost private student loans. Since then, shares of ITT Educational Services have lost 74% of their value.
In addition, the largest for profit-university system in the country has come under government scrutiny. Last July, the Department of Education launched an investigation of how the Apollo Education Group's  (APOL)  University of Phoenix administers Title IV federal student aid.
The Education Department's review of the University of Phoenix, as The Arizona Review reported, "paints a picture of a school so hungry to enroll new students that it has threatened and intimidated its recruitment staff in meetings and e-mail, pressured them to enroll unqualified students and covered up its practices to deceive regulators."
While most of these corporations reached their peak valuations in the waning years of the recession when their enrollment swelled, federal scrutiny, lawsuits and dwindling student participation have taken a toll on their stock prices.
Besides Corinthian, the biggest loser has been Education Management, whose stock price has declined 99% from its 2011 peak. ITT Educational Services is following close behind with a loss in share price value of about 96%. Career Education and Apollo Group have seen their stock price erode 80% or more from 2009 or 2010 levels, although both stock prices seem to have bottomed out, at $4.40 and $17.08, respectively at Friday's market close.
Only DeVry (DV) seems to have weathered the feeding frenzy in for-profit stocks, but with a decline of 50% in its stock price, its performance over the past five years could still be considered dismal.
But for-profit colleges will soon face another hurdle should the federal government cut off one of their most lucrative sources of revenue: student aid for U.S. veterans. President Barack Obama's proposed budget for 2016 would make student loans through the GI bill eligible for inclusion in the 90-10 rule.
The 90-10 rule prevents educational institutions from receiving more than 90% of their revenue through federal student aid. Since student loans to veterans are currently excluded, for-profit colleges have a nearly unlimited source of revenue. If the budget is passed, for-profits would lose more than $2.9 billion in funding.
According to Sameer Gokhale of Janney Capital Markets, the "disproportional default rate at for-profit schools" has resulted in "substantially curtailed lending by private lenders to students at for-profit colleges." Since 2007, Gokhale said, private lending has dropped by at least 30%.
And the challenges for-profits face are not just financial, but dwindling demand. As criticism about the quality of education intensifies and costs continue to swell, schools like the University of Phoenix are experiencing a devastating drop in enrollment. University of Phoenix lost more than half its students in the past five years.
Plus, there's the adverse effect the economic recovery is having on enrollment. During the recession, enrollment swelled at both for-profit and nonprofit secondary institutions as Americans struggled with soaring unemployment and dwindling blue-collar jobs. With the jobless rate nearly cut in half from its 2009 peak above 10%, more abundant job prospects translate into less need for additional training or a change in career. As a result, enrollment in postsecondary education institutions has fallen for three consecutive years.
The fate of for-profit education depends on whether the industry can reinvent itself as a viable competitor to nonprofit education by lowering costs, raising the standards and promoting realistic academic goals that are affordable to many low-income students. That might be a daunting task for an educational system that answers to shareholders not students.
This article is commentary by an independent contributor. At the time of publication, the author held no positions in the stocks mentioned.