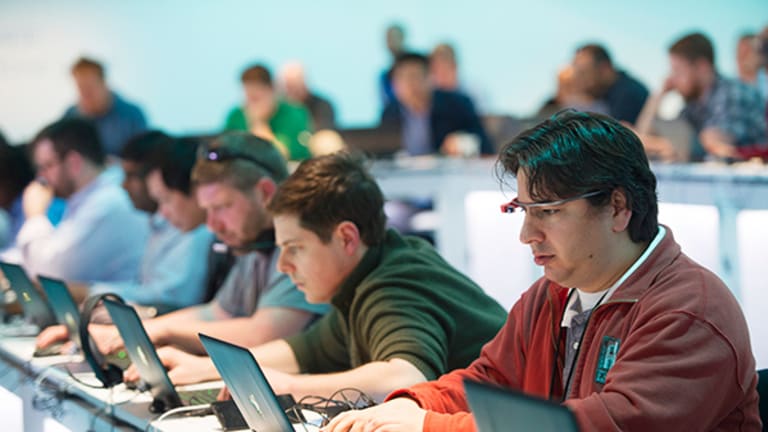 Could Computer Coding Academies Ease the Student Loan Crisis?
Full stack programmers can get trained without a high school diploma at West Coast boot camp.
Code monkeys, especially entrepreneurial ones, do indeed tend to break stuff, and the new schools that train people for the space are no exception. First it was what people studied: information technology, but outside a traditional two- or four-year college. Then it was financing: you don't need a student loan. Now it's entry-level academic qualifications. No high school diploma? No problem.
The Holberton School, which bills itself as a project-based alternative to traditional colleges and a peer learning software engineering school, is open for business with a tuition model that requires no upfront costs to students and no secondary school credentials. It's a brick-and-mortar school, located in San Francisco and open seven days a week.
Holbertson's emphasis is on developing full stack engineers, where, for example, a front-end web developer would understand how the back end was designed and the application programming interface (API).
Applying to the school consists of four levels. Level Zero requires filling out an online form, and Level 1 involves completing small, online projects plus tests applicants do at their own pace. Level 2 requires applicants to build a website in two weeks. Candidates do an onsite or Skype interview for Level 3. Specifics can be found at holbertonschool.com.
Holberton is taking online applications for its first classes which begin in May 2016, with the second semester scheduled for October. However, one of it's founders says the school really doesn't do semesters.
"There are no formal semesters or credits," said Julien Barbier, co-founder of Holberton. "Our school emphasizes the importance of learning how to learn in order to teach students to be adaptable to the constantly evolving technologies around them." The school was named after Elizabeth Holberton, a 1940s programming pioneer who was involved in the development of COBOL and FORTRAN.
"Students are assigned programming challenges that become increasingly difficult and are only given minimal direction on how to find the solution," said Barbier. "With the guidance of mentors from different industries and areas of expertise, students have a network of successful software engineering professionals at their fingertips."
Students are fully immersed in the full experience of the school and are expected to complete the program in two years.
"The tuition model is based on the success of the student," said Barbrei. "The school requires that students pay 17% of their internship earnings during their time in school. After graduation, students continue to pay 17% of their salary to Holberton School for the next three years."
"If a student is not offered a position after graduation they are not required to pay Holberton School in any amount until they receive a job," Barbrei added.
Holberton grads can also try to pry a placement fee loose from their employers to be paid to Holberton School in lieu of tuition, which would likely result in a salary reduction until tuition was paid off.
Student loans aren't off the table.

"Holberton's tuition model does not eliminate the possibility of paying the cost of tuition with federal loans; it is just not possible to do yet," said Barbier, as the Department of Education (ED), which must give its approval, is playing catch up in its ability to deal with these new schools. "In the future, we want students to be able to pay fully using federal loans. We're in the process of the certifications we will need, but it will take time," Barbier added. "Typically new schools take years to get a Title IV approval."
In October, ED announced that it will loosen restrictions on federal loan availability to "alternative education providers," including massive online open course (MOOCs) developers and coding bootcamps, through its Educational Quality through Innovation Partnerships program, known as EQUIP. Students in select programs will be eligible for Title IV federal financial aid--subsidized and unsubsidized Stafford loans, Pell Grants and the like. Interested schools were required to submit a letter of interest by December 14, 2015.