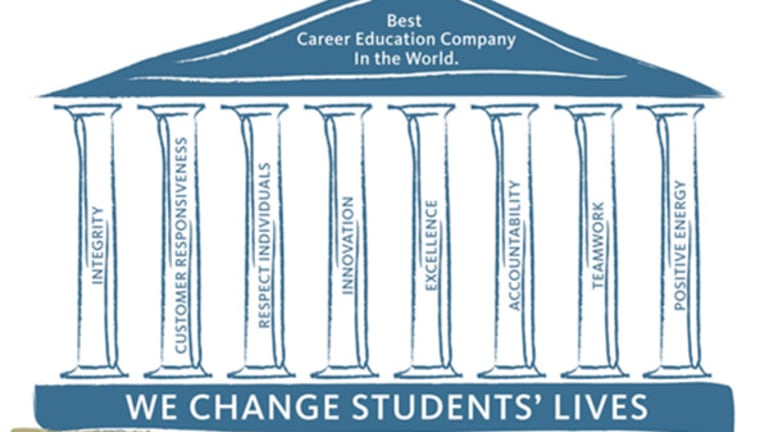 NEW YORK ( The Deal) --  Corinthian Colleges  (COCO) has filed for bankruptcy following multiple lawsuits and a regulatory action from the U.S. Department of Education.
The Santa Ana, Calif., for-profit college operator and 24 affiliates on Monday, May 4, submitted Chapter 11 petitions in the U.S. Bankruptcy Court for the District of Delaware in Wilmington with plans to liquidate after it recently shuttered all its campuses.
Judge Kevin J. Carey on Tuesday is set to consider first-day motions, including requests for joint administration of the cases, interim use of cash collateral and permission to complete de minimis sales of $25,000 or less without further court orders.
Corinthian announced on April 26 that it had ceased operations at its remaining 28 campuses -- 13 Everest and WyoTech campuses in California; Everest College Phoenix and Everest Online Tempe in Arizona; the Everest Institute in New York; and its 150-year-old Heald College, which had 10 locations in California, one in Hawaii and one in Oregon. According to court papers, the immediate closure left 16,000 students without a school to attend and 2,700 employees without a job.
The debtor said it expected to be able to reject many leases relating to the remaining campuses but that the grounds contained various furniture, electronic blackboards, lab equipment and other assets they need to get rid of before the leases can be rejected. The de minimis sale motion noted Corinthian may just abandon some of the miscellaneous assets to reject the leases as soon as possible.
The debtors said seeking approval for every little sale would be "administratively burdensome to the court and costly for the debtors' estates." The larger impediment, though, is the abbreviated time frame the debtors seek to reject the leases vs. the time normally required to obtain a sale order. Corinthian said it likely would seek to reject multiple leases in the opening days of the bankruptcy proceeding.
"Accordingly, the debtors do not have the luxury of waiting an extended notice period for approval of each asset sale, as the additional accruing rent under the leases would likely outweigh any benefit to be realized from the sale transactions," Corinthian said.
Offers for the miscellaneous assets would be due by May 8.
The company faced troubles for allegedly misstating employment placement rates for students. On April 14, the DoE fined Corinthian $30 million for misleading current and prospective students at the company's Heald College system. The DoE said it found 947 misstated placement rates. In conjunction with the penalty, the DoE also barred new students from enrolling in Heald Colleges.
In a statement issued the same day, Under Secretary of Education Ted Mitchell said: "Instead of providing clear and accurate information to help students choose which college to attend, Corinthian violated students' and taxpayers' trust. Their substantial misrepresentations evidence a blatant disregard not just for professional standards, but for students' futures. This is unacceptable, and we are holding them accountable."
A source told The Deal on April 27 that once the fine was levied against the company, everyone knew the DoE wasn't going to cooperate with a potential buyer of Corinthian's campuses, and buyers wanted to be sure they wouldn't be liable for successor liabilities.
"We believe that we have attempted to do everything within our power to provide a quality education and an opportunity for a better future for our students," Corinthian CEO Jack Massimino said in an April 27 statement announcing the closure of its campuses.
"Unfortunately, the current regulatory environment would not allow us to complete a transaction with several interested parties that would have allowed for a seamless transition for our students," he continued. "I would like to thank our employees for their selfless dedication and commitment to fulfilling the educational and career goals of all of our students."
According to a first-day declaration from chief restructuring officer William J. Nolan of FTI Consulting  (FCN) - Get FTI Consulting, Inc. Report, the DoE's legal inquiry into Corinthian's education statistics began in January 2014 when the federal agency contacted the company requesting information; Corinthian produced more than 1.2 million pages of data for the DoE from January to August 2014.
On June 12, the company received another letter from the DoE, which made additional information requests and said some of the facts and figures requested in the January 2014 letter remained outstanding. The DoE also put a 21-day delay on Corinthian's ability to draw down funds obtained under Title IV, a federal statute of the Higher Education Act that governs federal student aid. 

Nolan explained this put Corinthian in a "significant liquidity crisis," as nearly 90% of the debtors' revenue came from the federal government, and it could not have come at a more inopportune time. "This impact was exacerbated by this event occurring in the last month of the fiscal year -- historically a low point for Corinthian liquidity," Nolan said.
Corinthian reached an agreement with the DoE on July 8 that required the sale and closure of all of its campuses.
In February, Corinthian closed the sale of 53 of its Everest and WyoTech campuses to Zenith Education Group for $24 million. The sale includes 12 schools that are being taught out and closed.
Zenith is an affiliate of ECMC Group, an Oakdale, Minn., nonprofit corporation involved with higher education finance. Educational Credit Management, a nonprofit affiliate of ECMC Group, is one of the largest student loan guaranty agencies in the U.S.
The sale of three of Corinthian's campuses -- Everest College Phoenix campuses in Phoenix and Mesa, Ariz., and Everest Institute in Rochester, N.Y. -- wasn't completed, though, the company said on April 26.
Corinthian also faces a $500 million lawsuit for an alleged illegal predatory lending scheme in the U.S. District Court for the Northern District of Illinois in Chicago. The Consumer Financial Protection Bureau filed the action on Sept. 16, and it remains pending. Corinthian had not yet responded to the initial complaint.
The company listed $10 million to $50 million in assets and $100 million to $500 million in liabilities in its petition.
Corinthian has a $145 million first-lien credit facility with Bank of America NA, U.S. Bank NA, Union Bank NA, Bank of the West and OneWest Bank NA. The credit facility consists of a $135 million domestic facility and a $10 million Canadian facility. The loan is priced at either prime plus 1,475 basis points or Libor plus 1,575 basis points. Some $145 million is outstanding on the loan.
Barclays Capital (owed $1.25 million), Ambassador Education Solutions ($1.23 million) and eLoyalty LLC ($562,784) are the company's three largest unsecured creditors. All hold trade debt.
Mark D. Collins, Michael J. Merchant, Marisa A. Terranova and Amanda R. Steele of Richards, Layton & Finger PA are debtor counsel. Collins could not be reached for comment.
The DoE could not immediately be reached for comment.
Read more from: