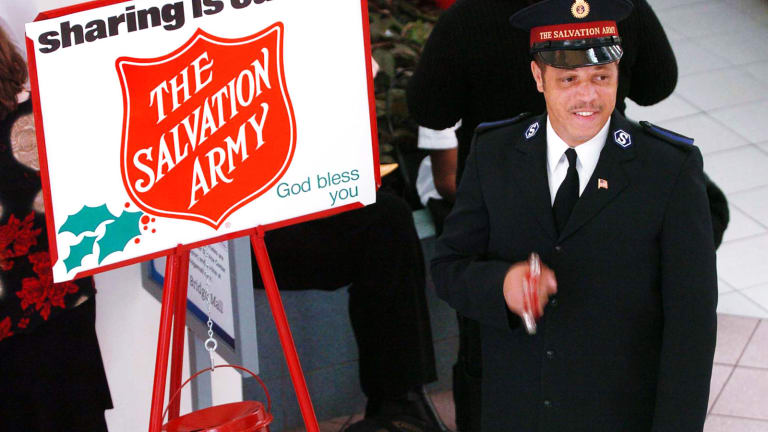 What Are Charitable Gift Annuities and What Are the Benefits?
Charitable gift annuities can be a good idea for older Americans looking for extra income, and who like giving to charity.
Americans seem to be of two minds when it comes to charitable giving.
They want to give, and give generously - the U.S. by far is the global leader in charitable giving. Yet they also aim to gain a financial benefit from charitable giving, usually from a charitable tax deduction.
But what if charity-minded individuals could give to a favored charity and get back fixed cash payments for the rest of their lives?
That's the promise of charitable gift annuities, a financial vehicle that aims to bridge the best of two personal finance worlds - charitable giving and investment payouts for life.
Here's all you need to know about charitable gift annuities and how they work.
What Is a Charitable Gift Annuity?
A charitable gift annuity enables a charity giver (an individual or couple) to make a donation and, in doing so, receive fixed annuity payments for life.
The annuity is basically a contract between the donation provider and the intended charitable organization that establishes specific terms:
The donor makes a charitable gift via financial assets (usually in cash or stocks, but some people donate real estate or other large financial assets).
For making the charitable donation, the donor not only gets a tax deduction, he or she also gets a fixed flow of income from the charitable organization for the rest of his or her life.
While not all charitable organizations offer gift annuities, many do (especially colleges and universities). You'll need to contact your intended charitable group to see if they do offer charitable gift annuities; if they do, the process for opening one works as follows:
An individual makes a sizable donation to a charity. Usually, the minimum amount you can give to qualify for a charitable gift annuity is $5,000 or $10,000, but by and large, the gift is much larger.
The charity sets the gift aside in a bank or other interest-accruing account.
Depending on the donor's age when you make the donation, he or she receives a scheduled annuity payout (normally monthly or quarterly) for the duration of his or her life.
When the donor passes on, the charity receives the remainder of the gift.
Typically, the ideal charitable gift annuity participant is older, likely retired, and someone who is looking for an additional income stream in retirement, and who likes giving to charity.
Charitable Gift Annuities and Taxes
On the tax side of charitable gift annuities, the donor can take a tax deduction at the time he or she makes the donation, at an amount based on the size of the charitable gift after all of the annuity cash has been paid out. Estimated life expectancy factors into the equation, too.
The donor can receive partial annuity payments tax-free for a specific period of time, depending on how long the donor is expected to live - the charity will work with the annuity provider to make that estimate. This "partial" tax break is due to the fact that the Internal Revenue Service breaks the charitable gift annuity issue down into two components:
Your contribution to the charity, which can be put into use by the charitable organization
Your annuity payouts, which are viewed by the IRS as investment assets
Donors can earn a capital gains tax if they give stock or property to a charitable group, if the group accepts non-cash donations. In this scenario, the donor gifts long-term appreciated stock and earns a capital gains tax break, as the donation is treated differently by the IRS than if the donor sold the assets first and then donated the proceeds to a charitable group.
On the downside, tax-wise, charitable givers should know that a portion of their gifted annuity can be taxed by Uncle Sam (as federal taxes) and in some cases, can be taxed additionally by the state in which the donor resides. It's highly advisable to consult with a tax specialist experienced in charitable giving before you sign any annuity agreements with a charity.
Tax breaks for charitable gift deductions
Let's break it down and see what potential tax breaks you can earn with a charitable gift deduction:
The gift provider receives a federal income tax deduction for any donated assets;
The donor also receives a deferral of federal and state capital gains taxes upon the sale of any donated appreciated assets to a charitable group;
The donor can avoid any taxes on future capital gains;
The donor earns an IRS exclusion of the entire value of the gifted assets from the value of his or her estate for federal and state estate tax purposes.
Potential Payouts for Charitable Gift Annuities
A big question for charitable annuity givers after donating to a favorite cause is this - how much is my annuity rate payout?
The answer really depends on age, the amount of money or assets given, and on the charity. By and large, the older the giver is, the higher the annuity payout, while younger donors see lower annuity payout rates.
Let's consider the case of a 60-year-old male who gives $10,000 to a favored charity. That donor could see an annual payment rate of 4.5%, or an annuity payout of $440. Correspondingly, an 85-year-old donor might see a higher annuity payout rate of 8.9%, or an annual annuity payout of $890 by the charitable group.
The thinking is that the older 85-year-old donor has a shorter life expectancy and therefore qualifies for higher payout rates, than for the 60-year-old donor. The charity will likely receive the entire charitable gift sooner with an 85-year-old donor than with a 60-year-old donor.
Benefits of Charitable Gift Annuities
There are myriad benefits in participating in a charitable gift annuity. Let's take a snapshot of the major benefits:
You get an immediate income stream for the rest of your life.
You earn an immediate tax deduction, depending on your life expectancy and the amount of the annuity payout.
There is a strong possibility that a portion of your annuity payout stream could be tax-free.
You have some flexibility in what you donate beyond cash or stocks. In many cases, real estate or other personal property may qualify.
You can curb your capital gains tax rate when you donate stocks, bonds or personal property.
You're helping out a favored charitable group.
Disadvantages of Charitable Gift Annuities
You lose control over the funds you give to the charity that created the annuity.
Some annuity payouts are taxable.
Annuity payments are fixed and aren't adjusted for inflation.
Annuity payments can be lower in value compared to traditional insurance company annuities, as the charitable gifting component tamps down annuity payments.
You need multiple annuities to establish multiple charitable gift annuities.
Get started with your charitable gift annuity by checking your favorite charity's website or mobile app and see if they offer an annuity program. Or, call up the charity's director or fundraising specialist for more information.
Have the charity specialist walk you through the gift annuity process, with a special focus on payment amounts, taxes and any specific charitable gift tax deductions.
Make sure to discuss the gift annuity with an accountant or money manager, and see if charitable gift annuities make sense for you.
'