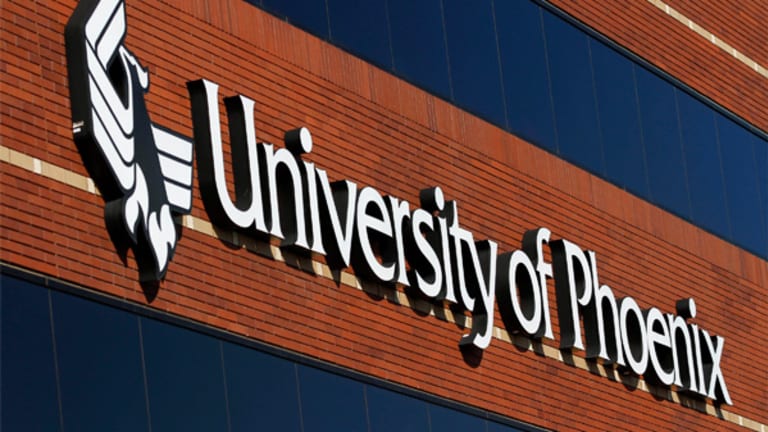 Can For-Profit Colleges Police Themselves? (Update2)
Leaders in this sector are suffering from the crimes of the laggards.
(Clarifies to say that APSCU, not Ashford, leaders were at Tahoe resort.)
NEW YORK (
) -- Unlike most Democrats, I'm a big supporter of for-profit education.
It's not that I hate teachers. My brother's one. It's just that I see a technology revolution overtaking education in the next several years, as the Internet attains the maturity to both present information and test student achievement.
I see for-profit schools as more aggressive in using the new tools, capable of pushing the rest of the industry toward taking out the sage on the stage and putting in the guide at the side.
This also matters to investors. While we seldom get a sniff on social or mobile start-ups until private equity has sucked them dry, many for-profit colleges are publicly traded, and have been for years.
These companies, like
Apollo Group
(APOL)
(the University of Phoenix),
DeVry
(DV)
and
American Public Education
(APEI) - Get American Public Education, Inc. Report
have billions of dollars in market cap riding on them.
So far in 2012 that market cap has mostly been circling the drain. APOL is down 44%. DV is down 39%. APEI is down almost 11%. Margins are under pressure.
Worse, the damage appears to be self-inflicted, by smaller competitors.
In most tech sectors there are industry standards and ethical guidelines that keep the crooks or those who are clueless from gaining a foothold. For-profit education has a trade group, the
Association of Private Sector Colleges and Universities
, but their mission appears to be entirely defensive. Rather than pushing for excellence, even at the risk of industry consolidation, they're defending the industry's worst practices.
APSCU has gone to court and
beaten government efforts to police the sector.
A Senate report this year accused the industry of squandering $32 billion in government aid,
reported by The Chronicle of Higher Education
.
Rather than wash its hands of the worst offenders, the group seems more eager to embrace and defend them, as
It doesn't look good when one of your members, Ashford University,
is denied in its bid for accreditation
from the Western Association of Schools & Colleges -- it's appealing and reapplying, as the school is already accredited by the Higher Learning Commission -- and the APSCU leaders are unwinding at lavish resorts,
To its credit
APSCU does offer courses on compliance.
But it seems more focused on controlling what's said about the industry, pushing services that let schools
hit back quickly against Internet criticism.
Still, the money keeps rolling in from every side.
Grand Canyon
(LOPE) - Get Grand Canyon Education, Inc. Report
has operating margins of nearly 25%. Apollo Group has been averaging $1 billion a year in profits the last three years. If you're careful, as
Will Ashworth writes at InvestorPlace
, you can make money here.
There is a lot in for-profit education worth defending, but the way to defend it is to demand excellence. Internet economics mean these schools have a great case to make and a great path to growth. They can do more with less money than private and public competitors that have to support huge campuses and aging workforces.
But they're blowing it. By defending every actor, the best get tarred with the sins of the worst, and the whole industry suffers. It is well past time the industry began policing itself, before their political enemies do it for them.
If you won't do it for the students, do it for the shareholders.
At the time of publication, had no investments in the companies mentioned in this story.
This article is commentary by an independent contributor, separate from TheStreet's regular news coverage.